Are you looking to make a delicious cup of coffee? Then you have come to the right place. This article will talk about the best coffee makers that are available in the market today.
Bonavita Connoisseur
Have you heard about the Bonavita brand? They are known to make amazing coffee makers, and with the Bonavita Connoisseur, they have managed to make an affordable drip coffee maker that does not sacrifice on the quality of coffee while maintaining a cheap price tag. The one touch operation of the Bonavita Connoisseur makes it a very easy product to get a hold of, and its 1500 watt heating element will deliver a deliciously tasting cup of coffee in quick time.
Bunn Velocity Brew BT
The Bunn Velocity Brew BT is known for making coffee in a very speedy time. If you are someone who can't wait to have your morning cup of coffee, then this is the product for you. It takes less than 4 minutes for the Bunn Velocity Brew BT coffee maker to deliver delicious drips of coffee, so if you are in a hurry with your coffee, then you should definitely think about purchasing this product.
KitchenAid Siphon Brewer
The KitchenAid Siphon Brewer is an amazing piece of hardware that delivers rich tasting coffee that has a deep aroma and consistency to it. The vapor method utilizes the vapor pressure and vacuum suction technology to make a seductively flavorful cup of coffee in vintage style.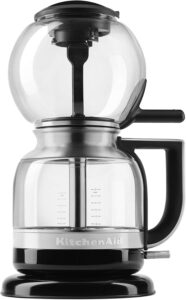 [home]
Visited 1 times, 1 visit(s) today