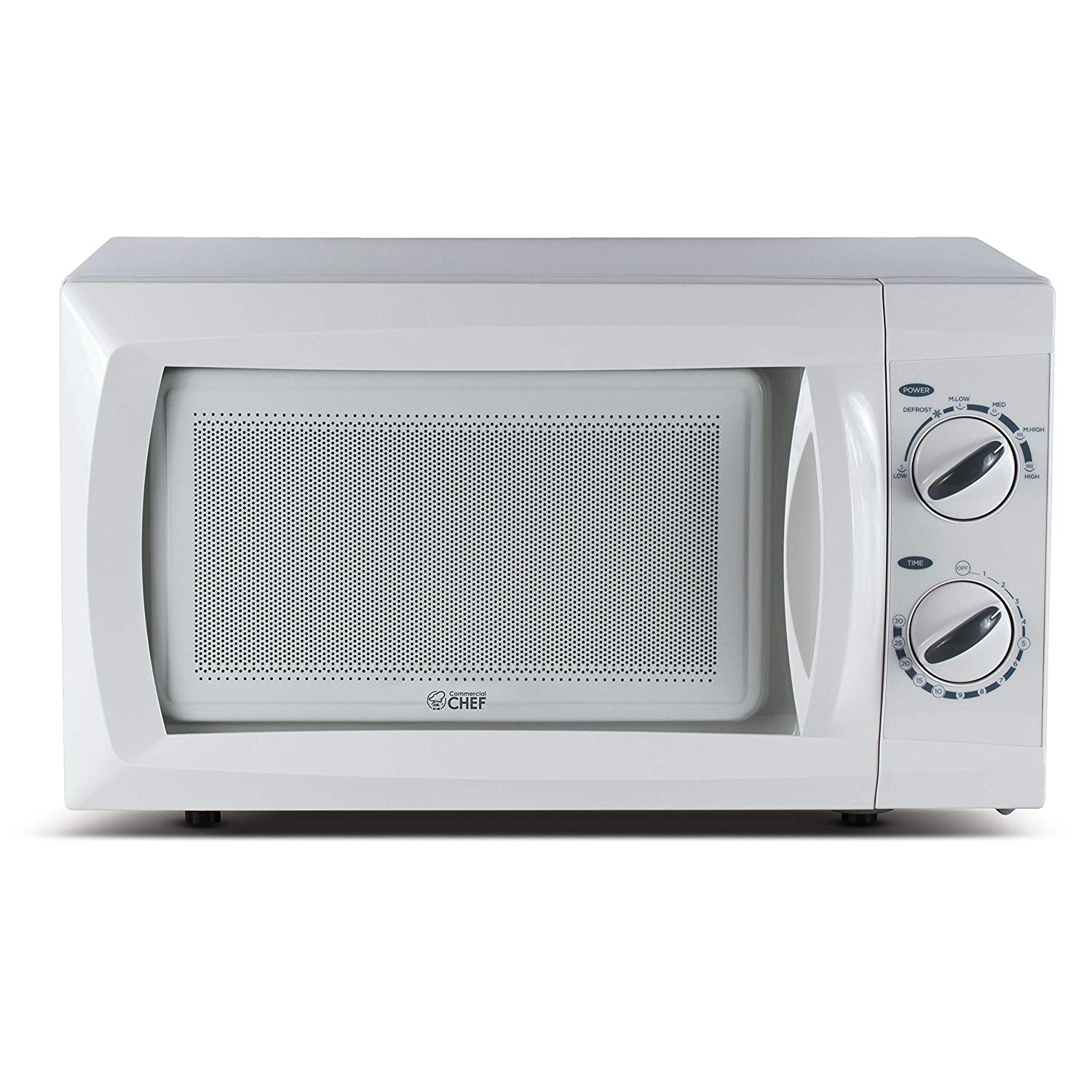 If you are looking to buy a low price microwave oven, which delivers the best cooking performance, please check Commercial Chef Counter Top Rotary Microwave Oven as well. It comes with 0.6 cubic foot cavity, which is perfect for cooking foods for small and medium size family.
Commercial Chef 600-watt microwave oven is perfect for preparing snacks, heating up leftovers and other meal preparation requirements.
It carries solid construction, and comes with white-color front display and cabinet for the compact durability.
Like other popular microwave ovens, this Commercial Chef Microwave also comes with speed and weight defrost options.
Using these speed and weight defrost option, you will be able to perform multiple uses in your kitchen.
The cavity size of this microwave oven is 0.6 cubic foot and 9.5 inches turntable size.
Further, it comes with mechanical, rotary dial controls, so this microwave is perfect for those want simple and basic microwave operation.
Commercial Chef Counter Top Rotary Microwave Oven features grip-type handle for opening and closing door.
0.6 cubic foot capacity and 600 watts cooking power mean quality and simplicity in just one small package.
Further, the Commercial Chef microwave oven lets you choose your own power level because it comes with 6 power levels so it is perfect for many different cooking tasks.
You can easily re-heat food or defrost veggies on the middle power levels. You will be able to use the high settings for the heavy cooking works such as preparing a frozen dinner.
Apart from all these, the microwave oven is an energy-efficient unit because it will not consume electricity when not in use. Also, there is no glow from an electronic display to disrupt sleep if used in a studio or dorm room.
Not only doesn't it come in a compact size, but the microwave unit is very easy to clean and requires very less maintenance.
Further, it comes with detachable glass turntable, which can go in the dishwasher and there are no electronic controls to malfunction.
Also, it comes with simple-to-use mechanical dial controls, which can easily be used by senior citizens and people with vision problems.
Amazingly, you will be able to soften butter or chocolate on the lower settings. Read more…