BLACK+DECKER TO1303SB 4-Slice Toaster Oven is mainly made to toast up to 4 slices of bread at one time. This is a perfect top brand toaster oven for 9-inch pizza and 4 slices bread. There are different styles of ovens, like the retro toaster oven. BLACK+DECKER TO1303SB 4-Slice Compact Toaster Oven fits perfectly on the countertop.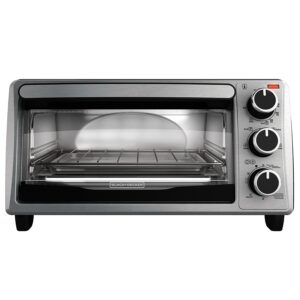 It has curved interior with enough space for 9-inch pizzas and 4 slices of bread. It has 4 important functions such as baking, broiling, keeping food warm and toasting. BLACK+DECKER TO1303SB 4-Slice Toaster Oven is made with stainless steel materials in black color that looks amazing in any kitchen.
The 4-slice toaster oven comes with 30-minute timer with required toasting settings and stay-on functionality. It also has a detachable crumb tray so that you can keep the oven clean all the time with the help of this convenient removable crumb tray. Important specifications are: black color, 14.5 X 8.8 X 10.8 inches dimensions, four functions (bake, broil, toast and keep warm), stainless steel material and ready indicator light. BLACK+DECKER TO1303SB is a lightweight 4-slice toaster oven that weighs just 7.5 pounds and comes with 2 years of warranty.