Panasonic NB-G110P Flash Xpress Toaster Oven has FlashXPress double infrared light that cooks 40% faster than convection toaster ovens. It is a smart toaster oven that automatically calculate cooking time function and control over the heat for many foods.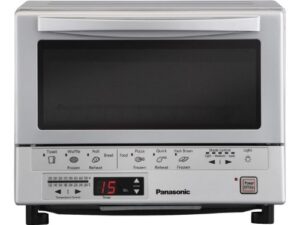 Panasonic NB-G110P has simple control panel with six menu illustrated presets for toasting bread, pizza, frozen foods and faster reheating.
This compact design Panasonic toaster oven comes with small footprint on countertop, has front removable tray and nonstick interior for easy to clean.
Panasonic NB-G110P Flash Xpress looks great in silver color and it is a perfect fit for pizza up to 9 inches in diameter and up to 4 slices of bread. Read more…