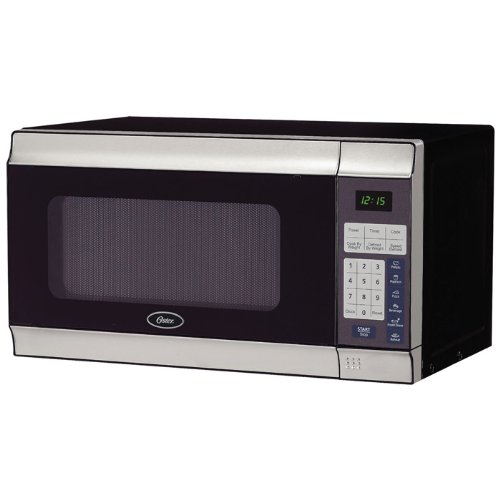 Oster 0.7 Cu. Ft. 700W Digital Microwave Oven comes with good capabilities to provide easy oven handling experience.
This 700W Oster microwave comes with 10 adjustable power levels, one-touch cook settings for popular items such as potato, popcorn, pizza, beverage, frozen dinner and reheat. It also comes with defrost function for the easy defrosting.
If you are looking to buy a microwave oven for a small size family then this Oster 0.7 cubic foot microwave can be the best kitchen appliance for you. This is a digital microwave oven that has all the required features for the ease of cooking.
The 0.7 cu. ft. microwave by Oster has 700 watts of cooking power, which is good for preparing meals quickly and evenly. Because the 700-watt of cooking power generate sufficient amount of stream to cook food properly.
The digital Oster microwave oven also comes with 1-touch settings, defrost functions and 10 adjustable power levels for all your cooking convenience.
The product dimensions are 13 x 17.8 x 10.3 inches and the weight is 23.1 pounds. This microwave oven is made of stainless steel material that is good for cleaning. And the stainless steel material looks good with any kitchen appliances.
The 0.7 cubic foot interior is a good size to accommodate most dishes, dinner plates and food packets. Since it is a 700 watts microwave oven so it has impressive cooking power to reheat rapidly and to deliver even cooked food. Read more…
---
1.1 Cu. Ft. 1000 Watt Digital Microwave Oven - Stainless Steel OGJ41101



@ Amazon.com
Product Details
1.1 Cu. Ft. 1000 Watt Digital Microwave Oven - Stainless Steel OGJ41101
---
Oster Digital Air Fryer Oven with RapidCrisp, Stainless Steel, 12-Function Countertop Oven with Convection



$98.99

@ Amazon.com (Save 51%)
Product Details
| | |
| --- | --- |
| Brand: | Oster |
| Model #: | 2108867 |
| Size: | One Size |
| Color: | Silver |
| Dimensions: | 16.5 X 15.8 X 14.5 Inches (Length X Width X Height) |
| Price: | $98.99 (Save 51%) |
Oster Digital Air Fryer Oven with RapidCrisp, Stainless Steel, 12-Function Countertop Oven with Convection
---
Oster Toaster Oven, 7-in-1 Countertop Toaster Oven, 10.5" x 13" Fits 2 Large Pizzas, Stainless Steel



$159.99

@ Amazon.com (Save 11%)
Product Details
| | |
| --- | --- |
| Brand: | Oster |
| Model #: | TSSTTVDGXL-SHP |
| Warranty: | 1 year manufacturer limited |
| Size: | Extra Large |
| Color: | Stainless |
| Dimensions: | 21.65 X 19.29 X 12.91 Inches (Length X Width X Height) |
| Price: | $159.99 (Save 11%) |
Oster Toaster Oven, 7-in-1 Countertop Toaster Oven, 10.5" x 13" Fits 2 Large Pizzas, Stainless Steel
---
Oster Air Fryer Oven, 10-in-1 Countertop Toaster Oven, XL Fits 2 16" Pizzas, Stainless Steel French Doors



$267.99

@ Amazon.com (Save 19%)
Product Details
| | |
| --- | --- |
| Brand: | Oster |
| Model #: | 2142008 |
| Size: | Extra Large |
| Color: | Silver |
| Dimensions: | 20.71 X 24.61 X 17.01 Inches (Length X Width X Height) |
| Price: | $267.99 (Save 19%) |
Oster Air Fryer Oven, 10-in-1 Countertop Toaster Oven, XL Fits 2 16" Pizzas, Stainless Steel French Doors
---
Oster Convection Oven, 8-in-1 Countertop Toaster Oven, XL Fits 2 16" Pizzas, Stainless Steel French Door



$269.99

@ Amazon.com
Product Details
| | |
| --- | --- |
| Brand: | Oster |
| Model #: | TSSTTVFDDG |
| Size: | Extra Large |
| Color: | Stainless Steel |
| Dimensions: | 20.15 X 23.8 X 15.1 Inches (Length X Width X Height) |
| Price: | $269.99 |
Oster Convection Oven, 8-in-1 Countertop Toaster Oven, XL Fits 2 16" Pizzas, Stainless Steel French Door
---
Oster Designed for Life 6-Slice Toaster Oven, Silver



$86.95

@ Amazon.com
Product Details
| | |
| --- | --- |
| Brand: | Oster |
| Model #: | TSSTTVDFL2 |
| Color: | Silver |
| Dimensions: | 16.65 X 14.29 X 9.8 Inches (Length X Width X Height) |
| Price: | $86.95 |
Oster Designed for Life 6-Slice Toaster Oven, Silver
---
Oster Sangerfield Stainless Steel Cookware, 11" Everyday Pan w/Steamer & Lid



$64.99

@ Amazon.com
Product Details
| | |
| --- | --- |
| Brand: | Oster |
| Model #: | 82926.03 |
| Size: | Stainless Steel |
| Color: | 11" Everyday Pan w/Steamer & Lid |
| Price: | $64.99 |
Oster Sangerfield Stainless Steel Cookware, 11" Everyday Pan w/Steamer & Lid
---
Oster Toaster Oven | Digital Convection Oven, Large 6-Slice Capacity, Black/Polished Stainless



$119.99

@ Amazon.com (Save 25%)
Product Details
| | |
| --- | --- |
| Brand: | Oster |
| Model #: | TSSTTVMNDG-SHP-2 |
| Warranty: | 1 Year limited warranty |
| Size: | Small |
| Color: | Black |
| Dimensions: | 14.6 X 18.1 X 22.5 Inches (Length X Width X Height) |
| Price: | $119.99 (Save 25%) |
Oster Toaster Oven | Digital Convection Oven, Large 6-Slice Capacity, Black/Polished Stainless
---
Oster Blender | Pro 1200 with Glass Jar, 24-Ounce Smoothie Cup, Brushed Nickel



$79.99

@ Amazon.com (Save 11%)
Product Details
| | |
| --- | --- |
| Brand: | Oster |
| Model #: | BLSTMB-CBG-000 |
| Size: | 24 oz |
| Color: | Brushed Nickel |
| Dimensions: | 14.25 X 7.25 X 8 Inches (Length X Width X Height) |
| Price: | $79.99 (Save 11%) |
Oster Blender | Pro 1200 with Glass Jar, 24-Ounce Smoothie Cup, Brushed Nickel
---
Oster Baldwyn High-Carbon Stainless Steel Kitchen Knife Cutlery Block Set, 22-Piece, Brushed Satin



$52.99

@ Amazon.com (Save 30%)
Product Details
| | |
| --- | --- |
| Brand: | Oster |
| Model #: | 70562.22 |
| Warranty: | Limited warranty |
| Size: | Knife Block Set (22-Piece) |
| Color: | Brushed Satin |
| Dimensions: | 14 X 12.75 X 15 Inches (Length X Width X Height) |
| Price: | $52.99 (Save 30%) |
Oster Baldwyn High-Carbon Stainless Steel Kitchen Knife Cutlery Block Set, 22-Piece, Brushed Satin
---