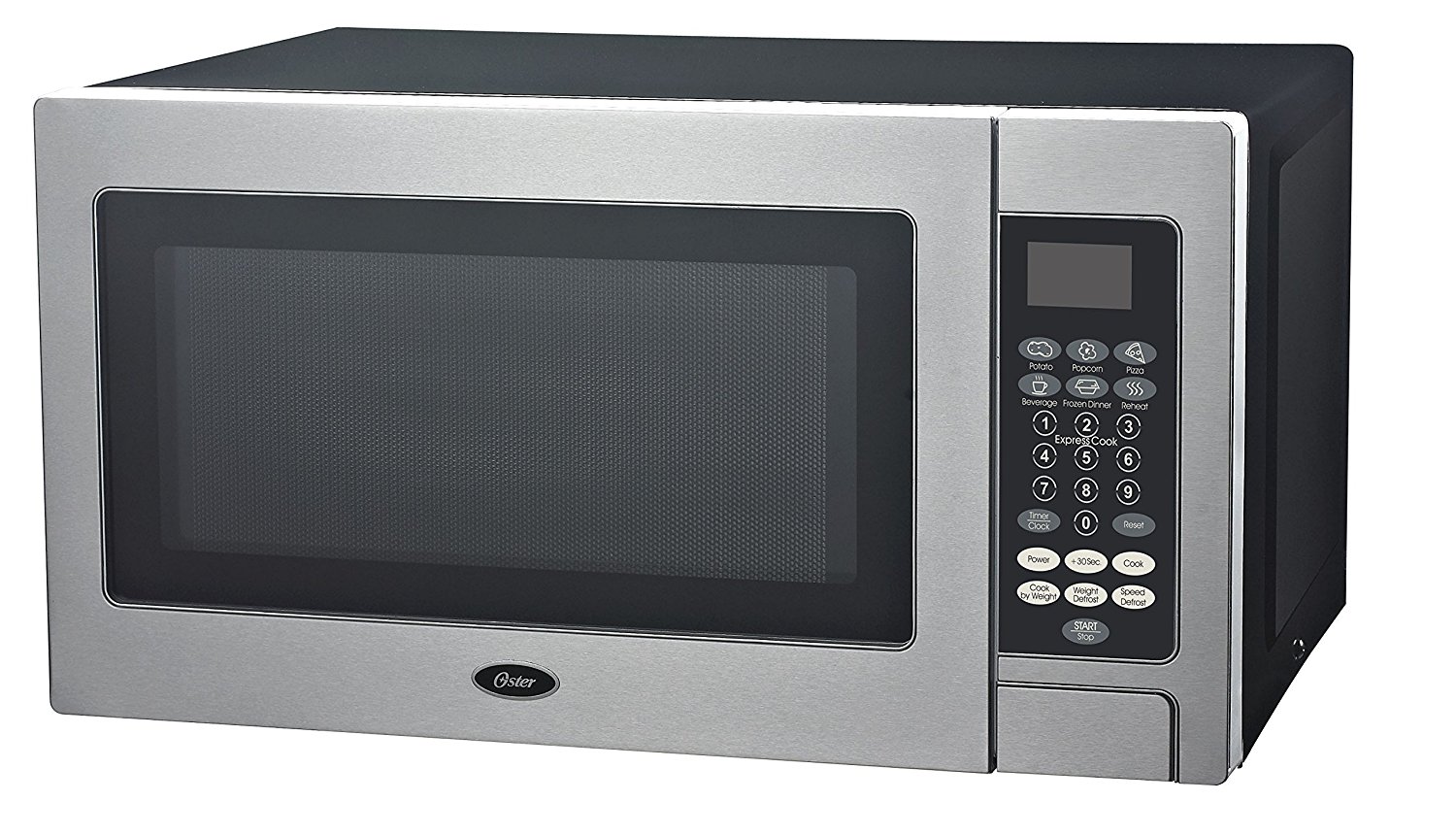 If you are going to buy a microwave oven, then please check with Oster. Because Oster has become a popular brand for a wide range of microwave ovens.
You can check Oster OGZD0701 Microwave Oven that comes with impressive cooking features for all your cooking ease. This Oster OGZD0701 0.7 Cu. Ft. microwave oven delivers 700 watts of cooking power, and has 10 power levels for personalized cooking requirements.
Further, Oster OGZD0701 has six convenient cooking functions for all your cooking ease. You can also perform one-touch cooking for your most-used recipes including popcorn, potatoes, pizza, beverages and frozen dinners.
Oster OGZD0701 microwave oven also comes with child safety lock that prevents unsupervised access to the unit. This high grade Oster microwave oven features a stainless steel door that can surely bring modern style to your kitchen. Read more…
Oster Microwave Oven, 1.3 cu. ft, Stainless Steel/Black



$93.00

@ Amazon.com (Save 22%)
Product Description
Cooking complete reminder
Time and weight defrost
Melt & soften settings
Kitchen timer
Glass turntable
Product Details
| | |
| --- | --- |
| Brand: | Oster |
| Model #: | OGZE1304S |
| Size: | 1.3 cu. ft. |
| Color: | Stainless Steel/Black |
| Dimensions: | 23.94 X 19.88 X 14.41 Inches (Length X Width X Height) |
| Price: | $93.00 (Save 22%) |
Oster Microwave Oven, 1.3 cu. ft, Stainless Steel/Black
---
Oster OGSMJ411S2-10 1.1 cu. Ft. Microwave Oven, Stainless Steel



$123.13

@ Amazon.com
Product Description
COMPACT-SIZE MICROWAVE OVEN: The Oster 1.1-cu. ft. countertop microwave oven features 1000 watts of power and 10 power levels for no-hassle heating, reheating, and defrosting of food.
ONE-TOUCH SETTINGS: 6 Quick Cook settings include your favorites - popcorn, potato, pizza, beverage, frozen dinner, and reheat.
CONVENIENT FEATURES: This stylish kitchen solution includes a 12.4-inch glass turntable system, green LCD menu action screen, clock, independent timer, and defrost by time / weight.
CHILD LOCK: Our programmable child lock prevents unsupervised operation to keep children safe (Reset button).
DIMENSIONS: Countertop size is 16.1 D × 21.25 W × 11.8 H inches @ 35 lbs. / Oven Cavity is 14.1 D × 13.9 W × 9.4 H inches
Product Details
| | |
| --- | --- |
| Brand: | Oster |
| Model #: | OGCMJ411S2-10 |
| Warranty: | 1 year limited |
| Color: | Stainless |
| Dimensions: | 16.1 X 21.25 X 11.8 Inches (Length X Width X Height) |
| Price: | $123.13 |
Oster OGSMJ411S2-10 1.1 cu. Ft. Microwave Oven, Stainless Steel
---
Farberware Professional FMO13AHTBKE 1.3 Cu. Ft. 1000-Watt, Microwave Oven with Blue LED Lighting, Stainless Steel



@ Amazon.com
Product Description
1000 watts of cooking power and 10 power levels allow you to adjust the power from 10% to 100%; Multi-stage cooking for custom-cooked meals and snacks
1 through 6-minute Express Cooking quick start controls and Add 30-Seconds control
6 One-Touch cooking functions for popcorn, potato, pizza, frozen vegetable, beverage, or a dinner plate; Memory Function stores and calls up cooking settings instantly
Defrost by time or weight; Digital control and led display with clock and kitchen timer
Removable rotating glass turntable; Keypad Lock prevents unsupervised use
1 Year Limited Manufacturer's Warranty
Product Details
| | |
| --- | --- |
| Brand: | Farberware |
| Model #: | FMWO13AHTBKE |
| Warranty: | 1 year manufacturer's warranty |
| Size: | 1.3 cu. ft. |
| Color: | Stainless Steel |
| Dimensions: | 20.43 X 16.65 X 12.36 Inches (Length X Width X Height) |
| Price: | |
Farberware Professional FMO13AHTBKE 1.3 Cu. Ft. 1000-Watt, Microwave Oven with Blue LED Lighting, Stainless Steel
---
Oster Extra Large Digital Countertop Convection Oven, Stainless Steel (TSSTTVDGXL-SHP)



$119.99

@ Amazon.com (Save 8%)
Product Description
Countertop convection oven features convection technology for fast, even heating
Digital settings for pizza, bake, broil, toast, and defrost
Large interior fits 2 take and bake pizzas, a family sized chicken, or 18 slices of bread
Easy clean interior and 90 minute timer with auto shut off feature
Includes 2 oven racks, a baking pan, and an integrated broiling rack. Watts: 1500W
Product Details
| | |
| --- | --- |
| Brand: | Oster |
| Model #: | TSSTTVDGXL-SHP |
| Warranty: | 1 year manufacturer limited |
| Size: | Extra Large |
| Color: | Stainless |
| Dimensions: | 19.29 X 21.65 X 12.91 Inches (Length X Width X Height) |
| Price: | $119.99 (Save 8%) |
Oster Extra Large Digital Countertop Convection Oven, Stainless Steel (TSSTTVDGXL-SHP)
---
Oster French Convection Countertop and Toaster Oven | Single Door Pull and Digital Controls | Stainless Steel, Extra Large



$222.99

@ Amazon.com
Product Description
Single door pull opens both doors with 1 hand ease and convenience
Digital controls provide precise cooking time and temperature to take the guesswork out of cooking
Turbo convection baking technology cooks faster and browns more evenly
Two racks provide maximum cooking flexibility; This oven control allows you to slowly cook your food at a preset temperature of 150°F for an adjustable time of upto 6 hours
Extra large interior accommodates 2 16 inches pizzas; Preheat setting gets oven temperature up to where you need for precise cooking
90 minute timer with signal turns oven off automatically
Product Details
| | |
| --- | --- |
| Brand: | Oster |
| Model #: | Single Door Pull & Digital Controls |
| Size: | Extra Large |
| Color: | Stainless Steel |
| Dimensions: | 22 X 19.5 X 13 Inches (Length X Width X Height) |
| Price: | $222.99 |
Oster French Convection Countertop and Toaster Oven | Single Door Pull and Digital Controls | Stainless Steel, Extra Large
---
Farberware 1.1 Cu. Ft. Stainless Steel Countertop Microwave Oven With 6 Cooking Programs, LED Lighting, 1000 Watts



$119.99

@ Amazon.com
Product Description
Spacious & stylish: with 1. 1-Cu. feet Of cooking capacity, a sleek Stainless Steel exterior and Stainless Steel interior and 10 power levels, This counter top microwave delivers power, style, and convenience to any kitchen
Six cooking programs: auto cooking programs (popcorn, potato, pizza, frozen vegetable, dinner plate) provide convenient control and avoid guesswork
Express cooking: cook your leftovers with just a touch of a button by touching the number pad (1 through 6 minutes)
Digital clock: easy-to-read LED display lights up the digital clock and highlights each cooking setting
Child lock: lock the control panel using the child safety lock option to prevent accidental use or access by children
Defrost: for all your frozen foods, defrost by time or Weight so you can enjoy more flavorful foods
Product Details
| | |
| --- | --- |
| Brand: | Farberware |
| Model #: | FMO11AHTBKB |
| Warranty: | 1 year manufacturer's warranty |
| Size: | 1.1 cu. ft. |
| Color: | Stainless Steel |
| Dimensions: | 20.2 X 16.54 X 12.03 Inches (Length X Width X Height) |
| Price: | $119.99 |
Farberware 1.1 Cu. Ft. Stainless Steel Countertop Microwave Oven With 6 Cooking Programs, LED Lighting, 1000 Watts
---
Oster Countertop Toaster Oven Cookbook for Beginners



$21.79

@ Amazon.com
Product DescriptionProduct Details
| | |
| --- | --- |
| Brand: | |
| Dimensions: | 7.99 X 0.3 X 10 Inches (Length X Width X Height) |
| Price: | $21.79 |
Oster Countertop Toaster Oven Cookbook for Beginners
---
Oster Large Digital Countertop Oven - Brushed Stainless Steel



$99.99

@ Amazon.com
Product DescriptionProduct Details
| | |
| --- | --- |
| Brand: | Oster |
| Price: | $99.99 |
Oster Large Digital Countertop Oven - Brushed Stainless Steel
---
Cooking with the complete Oster Countertop Toaster Oven Cookbook: 550 Easy and Delicious Recipes Plus Pro Tips and instructions for your Oster Countertop Toaster Oven



$31.15

@ Amazon.com
Product DescriptionProduct Details
| | |
| --- | --- |
| Brand: | |
| Dimensions: | 8 X 0.44 X 10 Inches (Length X Width X Height) |
| Price: | $31.15 |
Cooking with the complete Oster Countertop Toaster Oven Cookbook: 550 Easy and Delicious Recipes Plus Pro Tips and instructions for your Oster Countertop Toaster Oven
---
Oster Digital French Door Oven Cookbook 2021: Healthy Recipes and Easy Cooking Techniques for Your Oster Digital French Door Oven



$24.88

@ Amazon.com
Product DescriptionProduct Details
| | |
| --- | --- |
| Brand: | |
| Dimensions: | 8 X 0.25 X 10 Inches (Length X Width X Height) |
| Price: | $24.88 |
Oster Digital French Door Oven Cookbook 2021: Healthy Recipes and Easy Cooking Techniques for Your Oster Digital French Door Oven
---