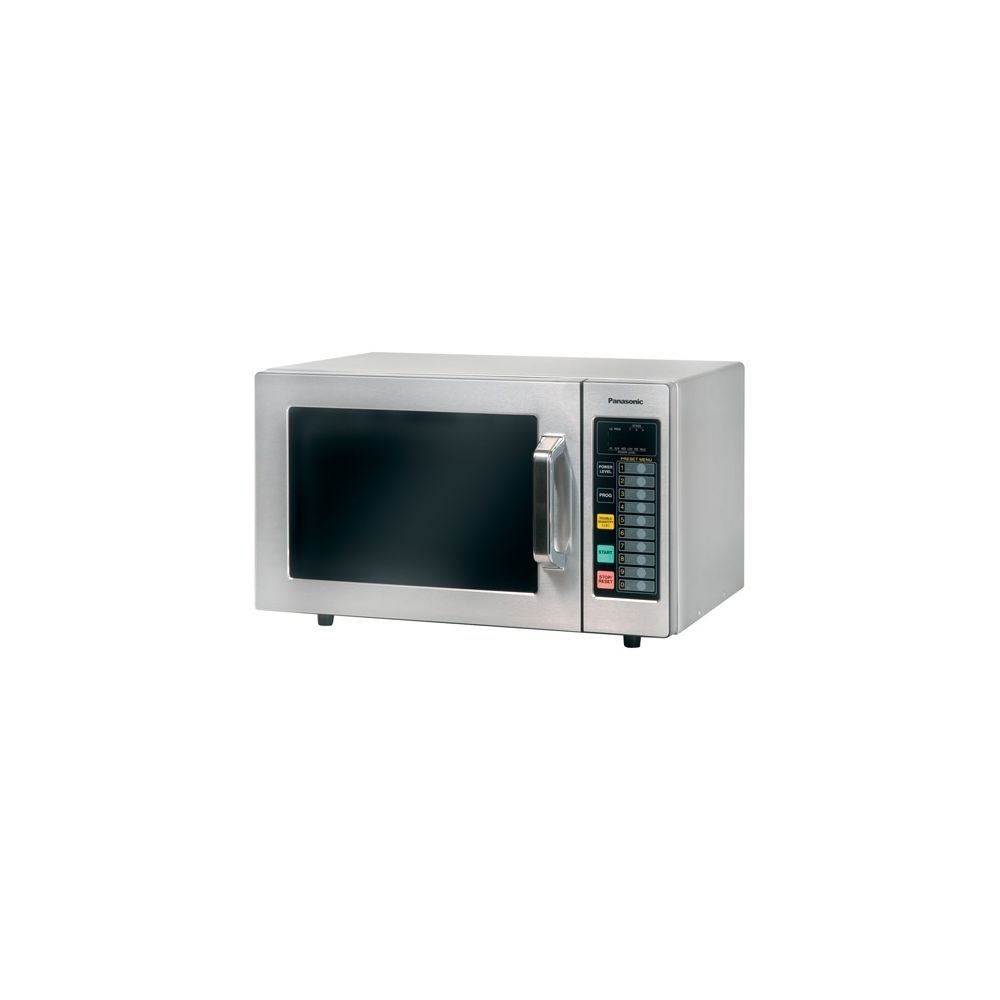 If you are looking for a powerful and highly reviewed microwave oven, please check Panasonic NE-1064F commercial microwave oven. This microwave features 0.8 cu. ft. capacity, which is really very good for preparing meals at a larger level.
This is a heavy duty commercial microwave oven by Panasonic that does great cooking work for full and quick applications of food preparation.
Panasonic NE-1064F commercial microwave is also an NSF qualified product. It offers 1000-watt of cooking power, which can cook food evenly and quickly.
Impressively, Panasonic NE-1064F microwave oven comes with 20 programmable menus with 10 memory pads, 2/3 stage cooking at 5 different power levels.
The Panasonic commercial microwave oven features Grab and Go handles for fast and durable use. It has a transparent oven door with interior oven lamp.
The outer dimensions are 16-9/16 inches depth, 20-1/8 inches width and 12-inch height. While the interior measurement is 13 inches width, 13 inches depth and 8-1/16 inches height. It has a stainless steel front and wrap that looks very stylish.
In case, you want to explore more comparable microwave ovens, please check Toshiba EM925A5A-BS, Panasonic Microwave Oven NN-SD372S and MAGIC CHEF RA46228. Read more…
Commercial Microwave - Heavy Duty, High Wattage 1700 Watts, 208/240 Volts



$1,382.00

@ Amazon.com
Product Description
0.6 Cu. Ft. and 16.63" wide
90 programmable memory pads
15 power levels
3-stage cooking
All stainless steel construction
Product Details
| | |
| --- | --- |
| Brand: | Panasonic |
| Model #: | NE-17523 |
| Color: | multicolor |
| Dimensions: | 22.9 X 19 X 16.5 Inches (Length X Width X Height) |
| Price: | $1,382.00 |
Commercial Microwave - Heavy Duty, High Wattage 1700 Watts, 208/240 Volts
---
Panasonic Countertop Commercial Microwave Oven with 10 Programmable Memory and Touch Screen Control, 1000W of Cooking Power - NE-1054F - 0.8 Cu. Ft (Stainless Steel)



$320.00

@ Amazon.com
Product Description
HEAVY DUTY COMMERCIAL GRADE MICROWAVE Ideal for full-service and fast-food restaurants, convenience stores, offices, hotels, cafeterias, breakrooms and other business-related settings, plus heavy home or dorm room usage
BOTTOM ENERGY FEED SYSTEM FOR FAST COOKING RESULTS 1000W power, and 0.8-cu. ft. capacity; Energy travels less distance to reach the food, for increased efficiency in heating dinner plates, large casserole dishes, coffee mugs and other common kitchenware
NO-HASSLE GRAB & GO HANDLE Ensures fast, smooth, long-lasting performance; Also features see-through oven door, interior light, anti-theft component, tone control and self-diagnostics
TOUCH-CONTROL KEYPAD WITH BRAILLE Programmable and manual operation provides 10 programmable memory pads and 20-memory capability plus 99:99-minute capacity, presets from 10 seconds up to 3:30 minutes, 6 power levels and program list/cycle counter
COMPACT, SPACE-SAVING DESIGN Occupies minimal space on a countertop or table; Exterior dimensions (HxWxD): 12-inch x 20-1/8-inch x 16-1/2-inch, Interior: 8-1/16-inch x 13-inch x 13-inch
Product Details
| | |
| --- | --- |
| Brand: | Panasonic |
| Model #: | NE-1054F |
| Warranty: | 1-Year parts/labor |
| Size: | 5" |
| Color: | Stainless |
| Dimensions: | 13 X 16 X 13 Inches (Length X Width X Height) |
| Price: | $320.00 |
Panasonic Countertop Commercial Microwave Oven with 10 Programmable Memory and Touch Screen Control, 1000W of Cooking Power - NE-1054F - 0.8 Cu. Ft (Stainless Steel)
---
Panasonic Countertop Commercial Microwave Oven with 10 Programmable Memory and Touch Screen Control, 1000W of Cooking Power - NE-1054F - 0.8 Cu. Ft (Stainless Steel) & Nordic Ware Deluxe Plate Cover



$337.93

@ Amazon.com
Product Description
Product 1: HEAVY DUTY COMMERCIAL GRADE MICROWAVE Ideal for full-service and fast-food restaurants, convenience stores, offices, hotels, cafeterias, breakrooms and other business-related settings, plus heavy home or dorm room usage
Product 1: BOTTOM ENERGY FEED SYSTEM FOR FAST COOKING RESULTS 1000W power, and 0.8-cu. ft. capacity; Energy travels less distance to reach the food, for increased efficiency in heating dinner plates, large casserole dishes, coffee mugs and other common kitchenware
Product 1: NO-HASSLE GRAB & GO HANDLE Ensures fast, smooth, long-lasting performance; Also features see-through oven door, interior light, anti-theft component, tone control and self-diagnostics
Product 1: TOUCH-CONTROL KEYPAD WITH BRAILLE Programmable and manual operation provides 10 programmable memory pads and 20-memory capability plus 99:99-minute capacity, presets from 10 seconds up to 3:30 minutes, 6 power levels and program list/cycle counter
Product 2: Protects against food splatter while cooking and keeps food Warm after cooking
Product 2: Fits dinner plates up to 10 inches in diameter, covers Dimensions are interior Dimensions 10.25 x 10.25 inches and exterior Dimensions 11 x 11 inches
Product Details
| | |
| --- | --- |
| Brand: | Panasonic |
| Price: | $337.93 |
Panasonic Countertop Commercial Microwave Oven with 10 Programmable Memory and Touch Screen Control, 1000W of Cooking Power - NE-1054F - 0.8 Cu. Ft (Stainless Steel) & Nordic Ware Deluxe Plate Cover
---
Panasonic NE-1064F 1000-Watt Stainless Steel Commercial Microwave



$630.00

@ Amazon.com
Product Description
Heavy duty commercial grade microwave for full and quick applications of food preparation; NSF qualified
1000-Watt of output power and 0.8 cubic feet stainless cavity and stainless steel face
Easy cooking with 20-programmable menus in Braille with the 10 memory pads; 2 and 3 stage cooking at 6 different power levels
Grab and Go handles for fast and durable use; see through oven door with interior oven lamp
Measures 16-9/16-inch (d) by 20-1/8-inch (w) by 12-inch by 34-pound (h); Interior Dimensions: (w x d x h) 13 x 13" x 8-1/16"; stainless front and wrap
Product Details
| | |
| --- | --- |
| Brand: | Panasonic |
| Model #: | NE-1064F |
| Warranty: | Labor: 1 year or 18,000 cycles |
| Size: | 0.8 cu. ft. |
| Color: | Stainless Steel |
| Dimensions: | 16.5 X 20.12 X 12 Inches (Length X Width X Height) |
| Price: | $630.00 |
Panasonic NE-1064F 1000-Watt Stainless Steel Commercial Microwave
---
Panasonic Microwave Oven NN-SN966S Stainless Steel Countertop/Built-In with Inverter Technology and Genius Sensor, 2.2 Cubic Foot, 1250W



$319.00

@ Amazon.com
Product Description
Panasonic Microwave: This 1250 Watt high power, 2.2 cubic foot capacity stainless steel countertop/built in microwave delivers a seamless stream of cooking power for even cooking and delicious flavor
Inverter Technology with Turbo Defrost: Patented Inverter Technology generates a seamless stream of power and delivers consistent, evenly prepared food without overcooking; Advanced Inverter Turbo Defrost speeds up defrosting time
Large Family Size: This countertop microwave with 16.5 inch turntable is thinner, lighter and more efficient, allowing you to devote less space to electronics and more to interior capacity; Internal dimensions (H x W x D): 10.94 inch x 18.44 inch x 18.50 inch. Outside dimension HxWxD (Inches) 14 x 23.9 x 19.4
Smart Cooking Settings with Genius Sensor: Built in automatic genius sensor adjusts power and times based on different foods; Other advantages include 14 preset menu items, quick minute timer, delay start and child safety lock
Keep Warm Feature: This inverter microwave keeps soups, gravies or desserts warm and fresh until ready to serve
Product Details
| | |
| --- | --- |
| Brand: | Panasonic |
| Model #: | NN-SN966S |
| Warranty: | 1 year manufaturer |
| Size: | Dial |
| Color: | Stainless Steel / Silver |
| Dimensions: | 19.4 X 23.9 X 14 Inches (Length X Width X Height) |
| Price: | $319.00 |
Panasonic Microwave Oven NN-SN966S Stainless Steel Countertop/Built-In with Inverter Technology and Genius Sensor, 2.2 Cubic Foot, 1250W
---
Panasonic Microwave Oven NN-SN686S Stainless Steel Countertop/Built-In with Inverter Technology and Genius Sensor, 1.2 Cubic Foot, 1200W



$217.13

@ Amazon.com
Product Description
Panasonic Microwave: This 1200 Watt high power, 1.2 cubic foot capacity stainless steel countertop/built in microwave delivers a seamless stream of cooking power for even cooking and delicious flavor
Inverter Technology with Turbo Defrost: Patented Inverter Technology generates a seamless stream of power and delivers consistent, evenly prepared food without overcooking; Advanced Inverter Turbo Defrost speeds up defrosting time
Compact Design: This countertop microwave with 13.4 inch turntable is thinner, lighter and more efficient, allowing you to devote less space to electronics and more to interior capacity; Internal dimensions (H x W x D): 9 15/16 inch x 13 15/16 inch x 14 3/8 inch
Smart Cooking Settings with Genius Sensor: Built in automatic genius sensor adjusts power and times based on different foods; Other advantages include 14 preset menu items, quick minute timer, delay start and child safety lock
Keep Warm Feature: This inverter microwave keeps soups, gravies or desserts warm and fresh until ready to serve. Power Source 120V / 60Hertz. Power Consumption 1480W. Membrane keypad and 5 menu buttons for easy programming, 10 Power Levels; push-button door release
Product Details
| | |
| --- | --- |
| Brand: | Panasonic |
| Model #: | NN-SN686S |
| Warranty: | 30 DAYS manufacturer |
| Size: | 1.2 cft |
| Color: | Stainless Steel / Silver |
| Dimensions: | 18 X 22.5 X 14.5 Inches (Length X Width X Height) |
| Price: | $217.13 |
Panasonic Microwave Oven NN-SN686S Stainless Steel Countertop/Built-In with Inverter Technology and Genius Sensor, 1.2 Cubic Foot, 1200W
---
Panasonic 0.6 Cu. Ft. 1200 Watt, Keypad Control, Commercial Microwave



$1,050.00 ($1.02 / oz)

@ Amazon.com
Product Description
0.6 Cu. Ft. and 16.63" wide
Fits (1) half-size 6" tall steam table pan with cover
60 programmable memory pads
One-touch start feature
15 power levels
Product Details
| | |
| --- | --- |
| Brand: | Panasonic |
| Dimensions: | 24 X 19.7 X 17.7 Inches (Length X Width X Height) |
| Price: | $1,050.00 ($1.02 / oz) |
Panasonic 0.6 Cu. Ft. 1200 Watt, Keypad Control, Commercial Microwave
---
Panasonic Microwave Glass Turntable Plate / Tray # F06015Q00AP



$31.56

@ Amazon.com (Save 5%)
Product Description
This is an O.E.M. Authorized part
Fits with various Panasonic brand models
Oem part F06015Q00AP
Model number: F06015Q00AP
Product Details
| | |
| --- | --- |
| Brand: | Panasonic |
| Model #: | F06015Q00AP |
| Size: | 13 1/2 Inches in diameter |
| Color: | CLEAR GLASS |
| Dimensions: | 2 X 14 X 14 Inches (Length X Width X Height) |
| Price: | $31.56 (Save 5%) |
Panasonic Microwave Glass Turntable Plate / Tray # F06015Q00AP
---
Panasonic NE-1054F Countertop Commercial Microwave Oven Stainless Steel with 10 Programmable Memory and Touch Screen Control, 0.8 Cu. Ft, 1000W



$483.77

@ Amazon.com
Product Description
Luxury-Full size 2.2 cuft capacity and 1250 Watts of High Cooking Power, Genius One-Touch Sensor Cook and Reheat that eliminates guesswork by automatically setting power levels and adjusting cooking or defrosting times
Panasonic's own Inverter Technology perfects the art of cooking that consistently delivers microwave eneregy for even cooking without burnt edges and overcooking. This technology is even used for Inverter Turbo Defrost for even and faster defrosting of food
5 Button Keypad with Flat Panel buttons for easy programming, 6-digit Expanded display panel for easy viewing, 10 Power Levels and 5 Stage Cooking, 16 1/2" Turntable
Please note that the upper left-corner of the door has a small indentation to allow the door to open smoothly and is completed at the factory
Measures: 23 7/8" (W) x 19 7/16" (D) x 14" (H), 35.3 lbs, Black
Product Details
| | |
| --- | --- |
| Brand: | Panasonic |
| Model #: | NN-H965BF |
| Warranty: | 1 year carry-in service on parts & labor |
| Size: | 2.2 cu.ft |
| Color: | Black |
| Dimensions: | 19 X 24 X 14 Inches (Length X Width X Height) |
| Price: | $483.77 |
Panasonic NE-1054F Countertop Commercial Microwave Oven Stainless Steel with 10 Programmable Memory and Touch Screen Control, 0.8 Cu. Ft, 1000W
---
Panasonic Microwave Oven NN-SD372S Stainless Steel Countertop/Built-In with Inverter Technology and Genius Sensor, 0.8 Cu. Ft, 950W



$182.99

@ Amazon.com
Product Description
Panasonic microwave: this 950 watt high power, 0.8 cubic foot capacity stainless steel countertop/built in microwave delivers a seamless stream of cooking power for even cooking and delicious flavor
Inverter technology with turbo defrost: Patented inverter technology generates a seamless stream of power and delivers consistent, evenly prepared food without overcooking; Advanced inverter turbo defrost speeds up defrosting time
Compact design: This countertop microwave with 11 1/4 inch turntable is thinner, lighter and more efficient, allowing you to devote less space to electronics and more to interior capacity; Internal dimensions (h x w x d): 8 1/8 inch x 12 3/8 inch x 13 7/8 inch
Smart cooking settings with genius sensor: Built in automatic genius sensor adjusts power and times based on different foods; Other advantages include preset menu items, quick minute timer, delay start and child safety lock
Keep warm feature: This inverter microwave keeps soups, gravies or desserts warm and fresh until ready to serve; Power source 120 v, 60 hz
Product Details
| | |
| --- | --- |
| Brand: | Panasonic |
| Model #: | NN-SD372S |
| Warranty: | 1 year manufacturer |
| Size: | 0.8 cft |
| Color: | Stainless Steel / Silver |
| Dimensions: | 8 X 12 X 7 Inches (Length X Width X Height) |
| Price: | $182.99 |
Panasonic Microwave Oven NN-SD372S Stainless Steel Countertop/Built-In with Inverter Technology and Genius Sensor, 0.8 Cu. Ft, 950W
---