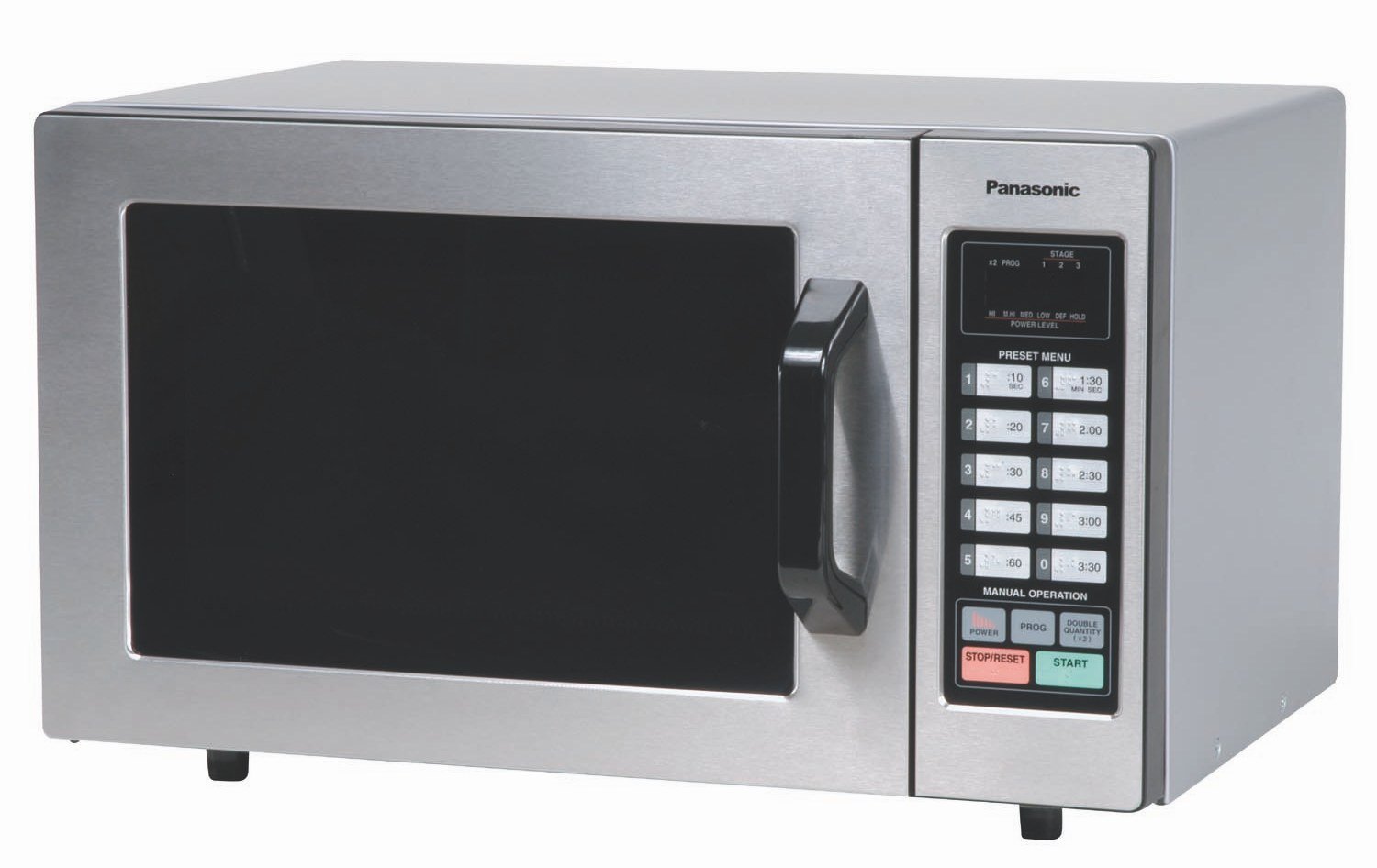 Panasonic NE-1054F Stainless 1000W 0.8 Cu. Ft. Commercial Microwave Oven is made for the performance and ease of use. However, there are many similar ovens with similar functionalities and price range.
These microwave ovens are Panasonic NN-SD372S, Cuisinart CMW-1001, Panasonic NN-SD681S. Panasonic NE-1054F is great for full service and fast food restaurants, convenience stores, offices and other business places or a large family home.
This Panasonic oven comes with a wide range of advanced features for all your convenience. It delivers 1000 watts power so it is great for cooking a wide range of menu items very quickly.
Further, it comes with 0.8 Cu. Ft. capacity that can easily fit dinner plates, large casserole dishes, glass bowls and other usual kitchenware. Panasonic NE-1054F microwave oven features a bottom energy feed system so that the energy will move at a less distance from the source to the food. I
t comes with a special door handle that is very convenient to use without the problems of moving parts found in push-button doors or trigger activated handles.
Further, it comes with ten programmable memory pads and 20 memory capability, you just need to make a selection from the electronic touch-control keypad.
Panasonic NE-1054F has 99 : 99 minute capacity, ten preset time settings ranging from 10 seconds up to 3 : 30 minutes. It has braille keypad for the enhanced accessibility. Read more…
Panasonic Countertop Commercial Microwave Oven with 10 Programmable Memory, Touch Screen Control and Bottom Energy Feed, 1000W, 0.8 Cu. Ft. (Stainless Steel), 5", Stainless



$275.99

@ Amazon.com
Product Description
HEAVY DUTY COMMERCIAL GRADE MICROWAVE Ideal for full-service and fast-food restaurants, convenience stores, offices, hotels, cafeterias, breakrooms and other business-related settings, plus heavy home or dorm room usage
BOTTOM ENERGY FEED SYSTEM FOR FAST COOKING RESULTS 1000W power, and 0.8-cu. ft. capacity; Energy travels less distance to reach the food, for increased efficiency in heating dinner plates, large casserole dishes, coffee mugs and other common kitchenware
NO-HASSLE GRAB & GO HANDLE Ensures fast, smooth, long-lasting performance; Also features see-through oven door, interior light, anti-theft component, tone control and self-diagnostics
TOUCH-CONTROL KEYPAD WITH BRAILLE Programmable and manual operation provides 10 programmable memory pads and 20-memory capability plus 99:99-minute capacity, presets from 10 seconds up to 3:30 minutes, 6 power levels and program list/cycle counter
COMPACT, SPACE-SAVING DESIGN Occupies minimal space on a countertop or table; Exterior dimensions (HxWxD): 12-inch x 20-1/8-inch x 16-1/2-inch, Interior: 8-1/16-inch x 13-inch x 13-inch
Product Details
| | |
| --- | --- |
| Brand: | Panasonic |
| Model #: | NE-1054F |
| Warranty: | 1-Year parts/labor |
| Size: | 5" |
| Color: | Stainless |
| Dimensions: | 16.56 X 20.12 X 12 Inches (Length X Width X Height) |
| Price: | $275.99 |
Panasonic Countertop Commercial Microwave Oven with 10 Programmable Memory, Touch Screen Control and Bottom Energy Feed, 1000W, 0.8 Cu. Ft. (Stainless Steel), 5", Stainless
---
Panasonic 0.6 Cu. Ft. 1700 Watt, TouchPad Commercial Microwave



$1,404.00

@ Amazon.com
Product DescriptionProduct Details
| | |
| --- | --- |
| Brand: | Panasonic |
| Model #: | NE-17521 |
| Color: | Stainless Steel |
| Price: | $1,404.00 |
Panasonic 0.6 Cu. Ft. 1700 Watt, TouchPad Commercial Microwave
---
Panasonic NE-21521  - Commercial Microwave Oven, 0.6 Cu. Ft, 2100 Watts



$1,901.48

@ Amazon.com
Product Description
Pro I Commercial Microwave Oven 2100 Watts
Product Details
| | |
| --- | --- |
| Brand: | Panasonic |
| Model #: | NE-21521 |
| Dimensions: | 20 X 16.5 X 13.25 Inches (Length X Width X Height) |
| Price: | $1,901.48 |
Panasonic NE-21521  - Commercial Microwave Oven, 0.6 Cu. Ft, 2100 Watts
---
Panasonic NN-SN67HST 1.2 cu. ft. 1200W Cooking Power Stainless Steel Cool Blue LED Inverter Turbo Defrost Countertop Microwave Oven (Renewed)



$124.95

@ Amazon.com
Product Description
Countertop Microwave Oven
1.2 cu. ft. Oven Capacity
Stainless steel design Cool Blue LED
Inverter Turbo Defrost
1200W Cooking Power
Product Details
| | |
| --- | --- |
| Brand: | Panasonic |
| Model #: | NN-SN67HST |
| Color: | Stainless Steel |
| Price: | $124.95 |
Panasonic NN-SN67HST 1.2 cu. ft. 1200W Cooking Power Stainless Steel Cool Blue LED Inverter Turbo Defrost Countertop Microwave Oven (Renewed)
---
Panasonic Microwave Oven NN-SN766S Stainless Steel Countertop/Built-In with Inverter Technology and Genius Sensor, 1.6 Cubic Foot, 1250W



$275.23

@ Amazon.com
Product Description
Panasonic Microwave: This 1250 Watt high power, 1.6 cubic foot capacity stainless steel countertop/built in microwave delivers a seamless stream of cooking power for even cooking and delicious flavor
Inverter Technology with Turbo Defrost: Patented Inverter Technology generates a seamless stream of power and delivers consistent, evenly prepared food without overcooking; Advanced Inverter Turbo Defrost speeds up defrosting time
Compact Design: This countertop microwave with 15 inch turntable is thinner, lighter and more efficient, allowing you to devote less space to electronics and more to interior capacity; Dimensions: Interior HxWxD :9 x 16.4375 x 18.5 inches, Dimensions-12 D x 19.1 W x 21.8 H inches
Smart cooking settings with Genius sensor: Built-in automatic genius sensor adjusts power and times based on different foods; Other advantages include 14 Preset menu items, quick-minute timer, delay start and child safety lock
Keep Warm Feature: This inverter microwave keeps soups, gravies or desserts warm and fresh until ready to serve. Function key is available
Product Details
| | |
| --- | --- |
| Brand: | Panasonic |
| Model #: | NN-SN766S |
| Warranty: | 1 year limited manufacturer's warranty |
| Size: | Keypad |
| Color: | Stainless Steel / Silver |
| Dimensions: | 12 X 19.1 X 21.8 Inches (Length X Width X Height) |
| Price: | $275.23 |
Panasonic Microwave Oven NN-SN766S Stainless Steel Countertop/Built-In with Inverter Technology and Genius Sensor, 1.6 Cubic Foot, 1250W
---
Panasonic HomeChef 4-in-1 Microwave Oven with Air Fryer, Convection Bake, FlashXpress Broiler, Inverter Microwave Technology, 1000W, 1.2 cu ft with Easy Clean Interior - NN-CD87KS (Stainless Steel)



$529.95

@ Amazon.com
Product Description
The Ultimate All-In-One Multi Oven: It's a countertop microwave, broiler, airfryer, and convection oven all in one! Use each function alone or combined for delicious meals every time
Healthy Air Fryer Mode: Quickly circulates hot air around food, producing crispy, brown results, no pre-heat required. Make french fries, nuggets, and more healthier and delicious
Use as a Main or Second Oven: Use Convection Bake function up to 425°F, with or without preheat, for baking and roasting. FlashXpress Broiler is perfect for toasting, browning, and crisping
Smart, Even Cooking Power: 1000-Watt Panasonic inverter microwave technology for smart, even defrosting, reheating, cooking, & warming; Genius Sensor Cook, Turbo Defrost, and other dedicated settings for easier cooking
Sleek, Space Saving Design: Large capacity, small overall footprint - 22"W x 13.4"H x 17"D with 14.2" turntable; place on countertop or make it a built in microwave oven with optional trim kit (NN-TK81KCS)
Product Details
| | |
| --- | --- |
| Brand: | Panasonic |
| Model #: | NN-CD87KS |
| Warranty: | 1 year manufacturer |
| Size: | 1.2 cu ft |
| Color: | Stainless Steel |
| Dimensions: | 14.96875 X 15.359375 X 9 Inches (Length X Width X Height) |
| Price: | $529.95 |
Panasonic HomeChef 4-in-1 Microwave Oven with Air Fryer, Convection Bake, FlashXpress Broiler, Inverter Microwave Technology, 1000W, 1.2 cu ft with Easy Clean Interior - NN-CD87KS (Stainless Steel)
---
Panasonic NN-SU696S Microwave Oven, 1.3 Cft, Stainless Steel/Silver



$169.99

@ Amazon.com (Save 11%)
Product Description
Power plus innovation 1100 watts of high power for fast, even cooking and delicious results
Microwave controls 7 preset auto cook menu items, 13.4 inch turntable; delay start and timer; more/less control; Child safety lock; quick 30 seconds and popcorn button with 3 cooking levels
Minimum countertop footprint smart, compact design devotes less space to electronics and far more interior capacity. up to eight pounds lighter than conventional microwave ovens
Microwave popcorn choose from 3 power level options, depending on the size of the microwave popcorn bag, for perfect popping every time
Keep warm feature microwave keeps foods like vegetables, soups, hors d'oeuvres, gravies, sauces and desserts warm and delicious in the oven until they're ready to serve; Power Consumption: 1500W
Product Details
| | |
| --- | --- |
| Brand: | Panasonic |
| Model #: | NN-SU696S |
| Warranty: | 1 Year Warranty |
| Size: | 1.3 cft |
| Color: | Stainless Steel/Silver |
| Dimensions: | 16.63 X 20.44 X 12.38 Inches (Length X Width X Height) |
| Price: | $169.99 (Save 11%) |
Panasonic NN-SU696S Microwave Oven, 1.3 Cft, Stainless Steel/Silver
---
Panasonic Microwave Oven NN-SD372S Stainless Steel Countertop/Built-In with Inverter Technology and Genius Sensor, 0.8 Cu. Ft, 950W



$169.99

@ Amazon.com
Product Description
Panasonic microwave: this 950 watt high power, 0.8 cubic foot capacity stainless steel countertop/built in microwave delivers a seamless stream of cooking power for even cooking and delicious flavor
Inverter technology with turbo defrost: Patented inverter technology generates a seamless stream of power and delivers consistent, evenly prepared food without overcooking; Advanced inverter turbo defrost speeds up defrosting time
Compact design: This countertop microwave with 11 1/4 inch turntable is thinner, lighter and more efficient, allowing you to devote less space to electronics and more to interior capacity; Internal dimensions (h x w x d): 8 1/8 inch x 12 3/8 inch x 13 7/8 inch
Smart cooking settings with genius sensor: Built in automatic genius sensor adjusts power and times based on different foods; Other advantages include preset menu items, quick minute timer, delay start and child safety lock
Keep warm feature: This inverter microwave keeps soups, gravies or desserts warm and fresh until ready to serve; Power source 120 v, 60 hz
Product Details
| | |
| --- | --- |
| Brand: | Panasonic |
| Model #: | NN-SD372S |
| Warranty: | 1 year parts / 1 year labor |
| Size: | 0.8 cft |
| Color: | Stainless Steel / Silver |
| Dimensions: | 14.81 X 19.2 X 11 Inches (Length X Width X Height) |
| Price: | $169.99 |
Panasonic Microwave Oven NN-SD372S Stainless Steel Countertop/Built-In with Inverter Technology and Genius Sensor, 0.8 Cu. Ft, 950W
---
Panasonic Toaster Oven FlashXpress with Double Infrared Heating and Removable 9-Inch Inner Baking Tray, 12 x 13 x 10.25, Silver



$149.95

@ Amazon.com (Save 12%)
Product Description
A Compact, Easy-to-Use Oven Toaster: Toast, bake, brown, and reheat to perfection, no preheat required—two infrared oven heating elements are positioned at the front and back for maximum efficiency
Six 1-Touch Controls: Six preset cooking functions for the foods you love, plus reheat, defrost, and more, so that making it just right couldn't be simpler
For So Much More than Just Toast: A compact toaster oven that makes meals, snacks, and sides perfectly using a manual temperature control and timer
Safety Features: Toaster ovens baking rack is connected to the oven door to smoothly pull the rack toward you as the door is opened; auto shut-off helps prevent overcooking and burning
Compact, Attractive Design that Fits Anywhere: The FlashXpress toaster unique design and small footprint is perfect for any kitchen décor or countertop
Product Details
| | |
| --- | --- |
| Brand: | Panasonic |
| Model #: | NB-G110P |
| Warranty: | 1-year warranty |
| Size: | 12 x 13 x 10.25 inches |
| Color: | Silver |
| Dimensions: | 12 X 13 X 10.25 Inches (Length X Width X Height) |
| Price: | $149.95 (Save 12%) |
Panasonic Toaster Oven FlashXpress with Double Infrared Heating and Removable 9-Inch Inner Baking Tray, 12 x 13 x 10.25, Silver
---
Panasonic NN-SB458S Compact Microwave, 0.9 cft, Stainless Steel



$119.95

@ Amazon.com
Product Description
Power + Innovation 900 Watts of High Power for Fast, Even Cooking and Delicious Results
Microwave Controls 7 Preset Auto Cook Menu Items, 10. 6 Inches Turntable; Delay Start and Timer; More/Less Control; Child Safety Lock; Quick 30sec and Popcorn Button with 3 Cooking Levels
Small Countertop Footprint Smart, Compact Design Devotes Less Space to Electronics and Far More Interior Capacity
MICROWAVE POPCORN Choose from 3 power level options, depending on the size of the microwave popcorn bag, for perfect popping every time
Keep Warm Feature Microwave Keeps Foods Like Vegetables, Soups, Hors D'oeuvres, Gravies, Sauces and Desserts Warm and Delicious in the Oven Until They're Ready to Serve
Product Details
| | |
| --- | --- |
| Brand: | Panasonic |
| Model #: | NN-SB458S |
| Warranty: | 1 year manufacturer |
| Size: | 0.9 cft |
| Color: | Stainless Steel |
| Dimensions: | 19.1 X 14.8 X 11.5 inches (Length X Width X Height) |
| Price: | $119.95 |
Panasonic NN-SB458S Compact Microwave, 0.9 cft, Stainless Steel
---