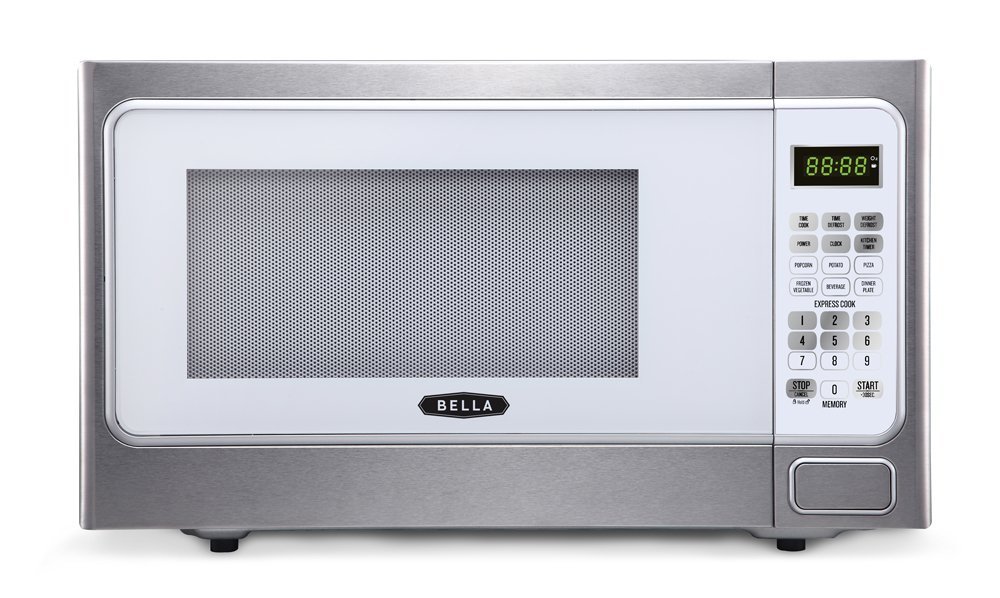 Bella BMO11ABTWHC Microwave Oven will surely bring an advanced style to your modern kitchen. This is a family size countertop microwave oven from the Bella brand that has 1.1 cu. ft. cooking space and 1000 watts of cooking power with 10 power levels for all your versatile cooking requirements.
It features a removable 12.4 inch turntable to ensure even heating for oversized dinner plates and cookware.
Further, it comes with a digital interface with an LED clock and kitchen timer. Bella BMO11ABTWHC allows one-touch cooking for all your cooking versatility.
Further, it has 1-6 minute express cook controls, convenient +30 second control and 6 quick start one-touch cooking functions for popcorn, beverage, dinner plate and many others.
You can easily defrost by time or weight, and you can utilize the multi-stage cooking that adjusts power level during the cooking cycle for greater control. This Bella microwave oven also comes with a memory-function so that you can save and recall custom controls. Further, I tis equipped with a keypad lockout to prevent unauthorized use. Read more…
[home]
Visited 1 times, 1 visit(s) today