Rachael Ray 10-Piece Cucina Nonstick Bakeware Set, Latte Brown with Cranberry Red Handle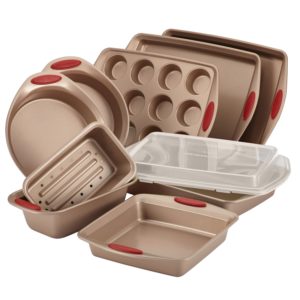 Rachael Ray 10-Piece Cucina Nonstick Bakeware Set is a great way of making from crisp potato fries to muffins. This Rachael Ray Nonstick Bakeware set is a great way to get oven-like taste. The bakeware set is made of strong carbon steel that is perfect to cook on regular or temporary basis. It has non-stick interior in latte-color that delivers great food release with quick cleanup. The Rachael Ray bakeware set also includes a cake pan and a muffin pan that are made with rolled rims and are oven safe to 450° F. They have convenient handles that provide plenty of solid and comfortable grasp. This comprehensive bakeware set has the complete Cucina collection that makes kitchen related stuffs very easy and stylish. Now is the time to enjoy delicious roasted foods with this awesome Rachael Ray non-stick bakeware set. Read more…
Rachael Ray Oven Lovin' Non-Stick 5-Piece Bakeware Set, Orange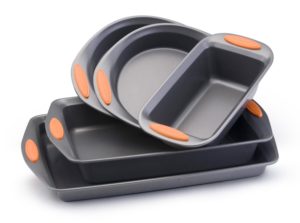 Rachael Ray Oven Lovin' Non-Stick 5-Piece Bakeware Set has 10-inch by 15-inch cookie pan that is right size for daily use for baking or preparing a great dinner. You can use this 5-piece bakeware set for baking cookies or Buffalo Chicken Meatballs recipe that comes with this pan. This convenient bakeware set has non-stick interior and exterior that is dishwasher safe for easy cleaning. They have wider handles to provide a sure grasp. Also, the company's great mission is to donate to Yum-o to help kids and families for needed attachment with food and cooking. For more information, you can check yumo.org as well. Read more…
Lifetime warranty: https://bakingreview.com/wp-content/uploads/2016/08/716IDN0dBXS.pdf
18.8 x 12.8 x 6 inches dimensions
7.7 pounds weight
Rachael Ray manufacturer
Oven safe to 500F
Silicone grips to add great color
Wider handles for sure grasp
2 9-inch rounds, 9-inch by 13-inch rectangle, 10×15-inch crispy sheet, 9-inch X 5-inch deep rectangle
Rachael Ray Oven Lovin' Nonstick Bakeware 3-Piece Baking and Cookie Pan Set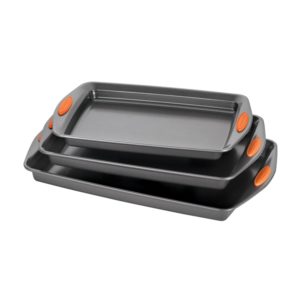 Rachael Ray Oven Lovin' Nonstick Bakeware includes standard-size baking pans and the complete non-stick cookie pan set is perfect for both savory and sweet treats. The cookie pans are made of high grade carbon steel that prevents warping. On the other hand, the non-stick interior provides great food release and easy cleanup. Rachael Ray Oven Lovin bakeware has small, medium and large cookie sheets that let you enjoy the convenience of three sizes to do all the things in your kitchen. You can easily make from roasting, broiling to baking without any difficulties. They have dark colored extra wide handles to give a comfort grasp when you pull anything from the oven and these sheets are oven safe to 450° F. These high grade cookies pans are top on the Rachael's bakeware collections that create fun in the kitchen. Read more…
Made of high grade carbon steel that resists warping
Non-stick interior to provide excellent food release and easy cleanup
Oven safe to 450° F
Dark-colored, extra wide grippe handles
Connected with nonprofit organization (Yum-o) that helps kids and parents to develop healthy relationship with food
20.5 x 12.5 x 2.2 inches dimensions
5.2 pounds weight
Rachael Ray Cucina 4-Piece Bakeware Set, Latte Brown with Agave Blue Handle Grips

Dimensions

Includes: 10-Inch x 15-Inch Cookie Pan, Two 9-Inch Round Cake Pans, 6-Cup Muffin Pan

Silicone grips

Silicone grips on the bakeware handles offer plenty of solid, comfortable grasp, even with potholders

Oven safe to 450 degrees Fahrenheit

Oven safe to 450 degrees Fahrenheit, the nonstick bakeware set includes essential pan shapes for great baking and roasting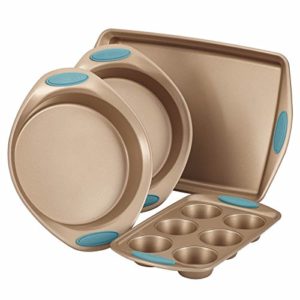 Rachael Ray Cucina 4-Piece Bakeware Set is the right combination of delicious oven-prepared foods from roasted veggies to quick-and-easy batch of muffins. The bakeware set is made of durable carbon steel to deliver the perfect results on a regular or temporary basis. Rachael Ray Cucina bakeware set (4 pieces) has non-stick interior that avoid sticking of foods and releases food excellently. Further, each pan is made of rolled rims and oven safe to 450 degree F. These baking pans are heat safe and have excellent handles to provide great grasp. Read more…
Rachael Ray cookware products catch your attention before you know how well you can definitely do the cooking using different kitchen tools. Rachael Ray cookware collection as all from baking pans, sheets, pots to knives. However, the most popular Rachael Ray items are hard-anodised pots and pans that feature shiny stainless steel handles with sure grip. When it comes to the color, orange is the much loved color by Ray. Moreover, these pans or pots give indelible smile every time you get one of these pans or ports. Since Rachael Ray cookware set is made of different materials including hard-anodised aluminium that heats fast and evenly and it can prevents scratching and it is durable too. And sliding food is really very easy with non-stick interior of Rachael Ray cookware or bakeware set.
Rachael Ray began on the Food Network with her 30-minute meals show. On the show, she describes the ways to make tasty meals in just 30 minutes. She shared recipes that were perfect for families who have very less time for the cooking. Her recipes also appeared on traditional Italian food. On that show, She showcased her line of cookware and bakeware. All the bakeware or cookware of Rachael Ray is very appealing to the eyes. They are colorful and able to give modern style to a dull kitchen.
Rachael Ray Collection
Rachael Ray Collection combines performance to bring home Rachael's easy-going, solution-based approach to cooking. It has fresh and stylish functionality in kitchenware and tableware. The collection consists of a wide range of items from cookware, serveware and pantryware, these have all feature of delightful design and colors that are, of course, modern and rustic at once. Every piece of Rachael Ray collection incorporates the versatility and less-time consuming solutions.
About Rachael Ray: https://en.wikipedia.org/wiki/Rachael_Ray
Rachael Domenica Ray (born August 25, 1968) is an American television personality, businesswoman, celebrity cook and author. She hosts the syndicated daily talk and lifestyle program Rachael Ray, and three Food Network series (30 Minute Meals, Rachael Ray's Tasty Travels, and $40 a Day).[1] Other programs to her credit include Rachael Ray's Week In A Day and the reality format shows Rachael vs. Guy: Celebrity Cook-Off, Rachael vs. Guy: Kids Cook-Off and Rachael Ray's Kids Cook-Off. Ray has written several cookbooks based on the 30 Minute Meals concept, and launched a magazine Every Day with Rachael Ray, in 2006. Ray's television shows have won three Daytime Emmy Awards.
Rachael Ray Recipes: http://www.rachaelray.com/recipes
Rachael Ray Magazine: http://www.rachaelraymag.com/