In fact, Commercial Chef is a popular manufacturer that has specialized knowledge in making microwaves. For a small size microwave need, Commercial Chef CHM009 can be the best unit based on the popularity. Physically, the Commercial Chef microwave looks attractive. On the front side, CHM009 uses stainless steel material in a black exterior.
To me, the price looks very convincing because it comes at less than $100 price tag. Thus, the small price on this small microwave is not bad. The Chef countertop microwave has 0.9 cu. ft. interior capacity. From outside, it measures 19-inch long, 14.38-inch wide and 11-inch high.
Features of Commercial Chef CHM009 Countertop Microwave Oven
What is it made for? –  Well, the countertop microwave by Commercial Chef is perfect for snacks, heating leftovers and preparing other desired meals. For the cooking convenience, it offers 6 x 1-touch buttons. These quick buttons are for pizza, popcorn, potato, frozen food, reheating and beverage.
Made for long lasting performance – in fact, the 900-watt microwave is a durable unit because it is made with stainless steel material on front with black cabinet. Thus, a compact microwave oven will surely last years after years.
Convenient door – you can open the microwave's door just like pushing a button. You can say that it has a push button style door. The door is very convenient to open because it opens at 90° distance.
Child safety lock – like other secure microwaves on the market, Commercial Chef Microwave also features a child safety lock. In fact, this feature is very protective because it stops unsupervised access to the unit.
Auto defrost – the 900-watt microwave oven allows auto defrosting by weight or speed. With such capabilities, the 0.9 cubic foot microwave has become a great professional choice unit.
One-touch menu – with the help of one-touch quick buttons, you will be able to select your preferred recipes. Impressively, it has six one-touch buttons for beverage, potato, popcorn, frozen meals, pizza and reheating.
Space saving design – amazingly, the 0.9 cu. ft. microwave is not only a stylish unit, but also a space saver. Which means, you can comfortably place it in your small kitchen or other rooms with less space. Since it doesn't take lots of counter space, so it becomes applicable for varied uses.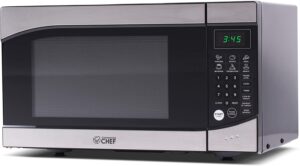 Cooking Convenience
Well, with Commercial Chef Microwave, guessing is minimized tremendously. Yes, you don't have to use your mind to guess to cook common recipes. For all these, why is the auto-cook menu?
If you want to enjoy eating buttery popcorn, pizza at dinner night, you can press a relevant button from six auto cook menus. Well, I'm sure it will come to you with both the required ease and speed. In fact, the auto-cook menu is very suitable in this fast pace time.
Low Maintenance
The countertop microwave built in a portable design, so cleaning is a breeze. In addition, you don't have to be much cautious about the maintenance of the 0.9 cu. ft. microwave oven. For easy cleaning, the stainless steel material is very good. Moreover, the glass turntable is removable, so you can remove it for washing, cleaning etc.
Easy Defrosting
Since Commercial Chef CHM009 features 10 power levels, so it lets you cook food on your desired power setting. You are able to choose the appropriate cook time, so it is good to reduce any type of dangers. With this feature, microwaving gives the feel as if you are an experienced chef.
Actually, defrosting is very easy in this unit because it allows weight as well as speed defrosting. Also, it comes with multi-stage cooking capability.
FAQs on Commercial Chef Microwave Oven, 900W Cooking Power
What is the length of the power cord supplied with this microwave?
According to many users, the power cord length is approx. 3 feet. The cord is located at the top-left backside of the microwave.
What is the depth of this microwave? Actually, I wanted to fit in an 11-inch deep cabinet.
The depth is 12.5-inch; hope it is helpful to you!
Will it fit in a cabinet measuring 22-inch wide and 12-inch high?
Yes, it will fit comfortably because it is 19-inch wide and 11.6-inch high.
Can I set the timer by second instead of by minute?
Yes, because many users have done it.
Does the plate rotate?
Yes, of course!
User Experience on Commercial Chef 0.9 Cubic Foot Microwave Oven
One – this user on Amazon has given it just one-star rating. He says that it sucks. His main problem is that the food is not heated evenly. Therefore, he is very unhappy with the performance that cooks uneven meals. Additionally, he says that the door is not consistent; the door sometimes opens upon a button push while sometimes it doesn't. According to this user, Commercial Chef 900W Microwave is not worth the money.
Two – this customer has given it full 5-star rating. Actually, he liked the look of the microwave. According to him, the nice look microwave is compatible with his kitchen design. Further, he says that he lives with his three kids who likes the food prepared in a microwave. He says that every microwave oven he bought previously came with some issues.
In fact, he is very happy with Commercial Chef Microwave because it comes with huge plus. According to him, lightweight unit performs very well. Further, he recommended this microwave to others who are looking for a quality product at a less price.
Three – this user is very disappointed with the Commercial Chef CHM009 microwave oven. Actually, he needed a small size microwave, so he bought this microwave but it has a poor design. According to this user, it has serious design flaw because the cabinet covers the stop/door release button. The user says that if you are not careful when you press the door button, you may crush your fingertips.
Since the time is ended for returning this microwave so, he can't return it. He is using this microwave for small tasks. And, he warns other to look carefully before you commit to purchase it.
Pros
Small size
900-watt cooking power
Six auto-cook options
Lightweight
Compact design
Stylish
Easy to operate
Push button style door
Low price
Cons
Some users reported that it has uneven heating problem.
Unstable feet for a countertop as per some complaints
Based on the advantages and disadvantages, Commercial Chef CHM009 microwave oven comes with; it has both happy and unhappy users. However the ratio of happy and unhappy users is 80/20. For a product, where 80% users are happy and 20% users are unhappy, I consider it an average performance product.
Finishing Thoughts on Commercial Chef Stainless Steel Microwave Oven
In short, Commercial Chef microwave oven looks very impressive from outside. In fact, many users praised its beautiful look that matches with most of the modern kitchen.
For affordability, Commercial Chef 0.9 cu. ft. microwave is good because it can be purchased below $100 price range. The performance is not bad because it has 900-watt of cooking power to cook food evenly. However, some users complained that they are getting uneven heating food issues. So, I will suggest to research more on this before you buy this microwave oven.