Breville BJE200XL is one of the best-selling juicers. The juicer has become best-seller because of the intuitive features, a low price and the ease-of-use. In case, you need a popular juicer then Breville Juice Fountain juicer can be the best product for you.
The Breville juicer is highly popular because it is compact, has wider chute, built-in froth separator and many other impressive features. The extraction system in this juicer is uniquely designed. Consequently, it carries titanium reinforced disc and a micro mesh-filter (made in Italy) to deliver nutrient juices.
Amazingly, Breville BJE200XL delivers good juicing performance according to the expectation. To save the counter space, the pulp collection stuffs are below the base of the machine.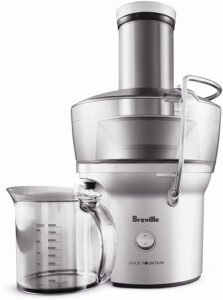 Features of Breville Compact Centrifugal Juicer
Less preparation time – since the Breville juicer features a 3-inch wide feeder, so it is perfect for juicing whole fruits without cutting them. This way, it saves some time, as you don't have to cut the fruits or vegetables to juice.
Disc and filter – Breville BJE200XL Juice Fountain Compact Centrifugal Juicer features Ti-reinforced disc and Italian mesh filter basket, which are made of high-grade stainless steel material. That's why, the Breville juicer is capable to deliver nutrient extraction.
Froth separator – as we know some fruits create froth at the time of juicing. That's why, the juice pitcher has an a built-in froth separator to allow maximum juice, less froth into the glass.
Compact design – Breville Centrifugal Juicer is a compact unit so it is perfect to store in less space. More importantly, the wire is rapped at the base for the neat and simple storage.
Wattage & voltage – 700 watts, 110V/120V
Warranty – one year
Included accessories – 25 fl oz juice jug with froth separator and cleaning brush
Pros
Easy to put together
Easy to clean
Quiet operation
Good juice extraction
Helpful customer service
Juices most fruits and vegetables
Takes less counter space
Cons
According to a customer, it started leaking from every hole.
Conclusion
In short, Breville BJE200XL Juice Fountain Compact Centrifugal Juicer works for the purpose. Seeing the low-price of this juicer, it is recommended to buy. However, it is advised to make your own research on this product before taking the final decision.
Many advantages of this Breville juicer indicate that it is a good juicing appliance. First, it runs smoothly and quietly. Second, it is good to extract juices from large as well as small fruits and vegetables. Third, the small juicer comes in a compact size that requires less space in your kitchen or anywhere else, it sits. For the portability, the wire is rapped at the base of the unit for the ease handling.