Have you tried a scrambled eggs recipe? It's the best thing you can now do now that we are all indoors even in the trying times of the Covid-19! You need to eat delicious food, that's why it's worth trying the scrambled eggs recipe. Let's try to see what it will take to cook the scrambled eggs. It's a simple process that won't take all your time.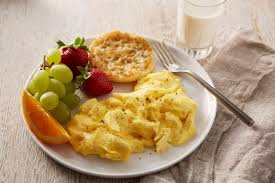 It is not that challenging getting some scrambled eggs. Just get some eggs in the nearest grocery together with all the essential ingredients. Of course, you woot miss the elements.
Check if you got the following ingredients in your kitchen counter!
Ensure that you have at least ten eggs
Get a cream.1/4 of it will be great
Kosher salt
1.5 tablespoons of unsalted butter
Get a freshly ground black pepper
Take some time to arrange your ingredients accurately. It won't take time before you taste your delicious scrambled eggs. In case some components are missing, you can take your time to visit the nearest grocery. You need to have all the ingredients for the best results.
Now let us go step by step on the directions for cooking scrambled eggs.
Start by breaking the eggs as you whisk them together, add heavy cream on the eggs as you keep on whisking. You should keep on adding other ingredients such as the ¾ teaspoon of table salt and a ¼ teaspoon of pepper. Keep whisking till they are finely whisked.
Now melt the butter in a large skillet over medium heat. Ensure that it melts effectively, before you add the eggs and start cooking. Stir them occasionally until they begin to set. The cooking should continue until you see a thick formation. Ensure that no visible egg remains will remain. The process can take at least 4 minutes.
When you are sure that the scrambled eggs are ready, it's time to serve. We like it when you see it while hot! You can garnish it with chives if you wish, but it is entirely optional.
The scrambled eggs can be served with several foods such as the crispy bacon, a toast, or even the crispy roasted potatoes. It best food for breakfast. Enjoy your delicious breakfast. You can take them independently if you need that real taste of deliciously cooked scrambled eggs!