Historically, Farberware is a famous brand of many kitchen appliances. It has a good record of more than 100 years. If you want to buy a cheap microwave from this brand, please explore more on Farberware FMO07ABTBKA.
To prepare meals for a small family, the 700 watts microwave is very suitable. It has 0.7 cu. ft. capacity, which is perfect for both small kitchen and small family.
In fact, many microwave units in the Farberware Classic line are highly popular and affordable.
Before I proceed, let me tell you that warranty information is not available on Amazon. To get warranty information, please try contacting the manufacturer.
Features of the 700 Watts Microwave Oven
Cooking power – the countertop microwave gives 700-watt power and features 10 power levels. Thus, cooking is easy with 700 wattage and 10 power settings. Of course, one can receive evenly cooked foods because 700 cooking wattage is not bad.
Cooking space – Farberware says that the unit has 0.7 cubic foot capacity. You can easily put normal size plates and cooking accessories inside the microwave.
Weight or time defrost – impressively, the countertop microwave oven lets you defrost foods by weight or time. This way, you not only have ease of cooking, but also have cooking speed. Actually, defrosting is an important capability that should be available in a microwave.
Auto-cook functions – the 700W microwave cooks common recipes automatically. The oven is programmed to prepare six recipes. These recipes are potato, pizza, popcorn, beverage, dinner plate and vegetables. By pressing a dedicated button, you will be able to cook your favorite food. Actually, this is an easy and timesaving capability in Farberware Classic Microwave.
Child lock – using this feature, you feel relaxation from the unsupervised access. Actually, this is a safety lock feature that locks the keypad.
Express cooking – you just need to touch a button to cook foods and reheat leftovers. This is an awesome feature in the 700 watts microwave oven.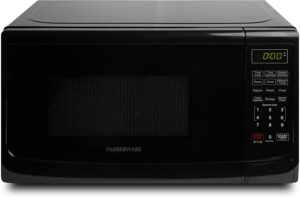 FAQs on Farberware Classic 0.7 Cu. Ft. Microwave Oven
Why does the carousel make thumping sound? Is it normal?
It is not normal. In fact, the carousel doesn't make such sounds. If you are hearing that annoying sound, it may be a defective microwave. Please contact the manufacturer for the further assistance.
What is the measurement from the top left back to the front corner?
With the 'puffed out piece', the depth is 13 inches.
Will I be able to put an 11-inch dinner plate in the oven?
Yes, an 11-inch dinner plate fits snuggly.
Where is the power cord located on this Farberware microwave oven?
The power cord is found at the upper right back corner.
How tall container can I put in this microwave?
The distance from top of the turntable to the roof is approx. 6-inch, so please decide the container height accordingly.
Can I be able to place a normal dinner plate in the oven?
Yes, it excellently fits a regular dinner plate.
Does the light switch on when cooking something?
Yes, when the microwave is in cooking mode, the light will automatically switch on.
User Experience on Farberware Classic FMO07ABTBKA
One – recently, an Amazon customer has given just one-star rating. Further, the person tagged this Farberware microwave as "garbage made in China". According to this reviewer, the 700 watts microwave is non-functional. The door didn't open, so it was like typical Chines product with bad quality.
Two – this reviewer says that this 0.7 cu. ft. microwave is too small to use. The reviewer said that it is only good for someone in college.
Three – according to John E, an Amazon customer, the countertop microwave looks good. However, he didn't use it because bought to gift to a college student.
Four – a reviewer says that this is a good little microwave oven. It fits perfectly in her pantry. Additionally, she loved the small footprint. The microwave has indeed good capacity. However, she wished that the beep would be a little more lauder.
Five – a user has rated it with 3 stars. She says it is a nice looking microwave but the height is very short. Also, the microwave is not much powerful because it takes time to heat anything. According to her, the button functions seem odd. She says that microwave is only good for a tight space kitchen.
Six – another user tagged it as a great little microwave. According to this reviewer, this Farberware Classic Microwave is very small unit. It is perfect for his small space. By seeing the performance, the person is surprised. In fact, it performed better than a powerful microwave owned previously by him. In short, he is very happy with the purchase of the 0.7 cu. ft. countertop microwave oven.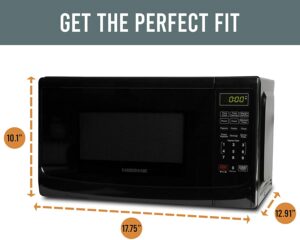 Pros
Little microwave for small space kitchen
Low price
Comes from reputed Farberware brand
Good for single person or a small family
Has a cooking light
Fits normal dinner plates perfectly
Cons
Warrant information is not shown in product description. One may have to contact the manufacturer to get the warranty related information.
Low cooking performance
It has various negative reviews on Amazon
Based on pros and cons, the Farberware Classic 0.7 Cu. Ft. microwave oven doesn't look impressive. I will not buy a 700-watt microwave that is discussed negatively by the existing users. I hope the manufacturer would improve it.
 Comparable Farberware Microwave Ovens
FMO09AHTBKE – this microwave has black color exterior. It delivers 900-watt cooking power and features 10 heat settings. The unit has 0.9 cubic foot interior capacity. You can find one-touch preset menu also. The one-touch option is for popcorn, potato, pizza, vegetables, liquid and dinner. The external dimensions are 19.1 x 15.9 x 11.5 inches. Interior dimensions are 13.66 x 12.36 x 8.7 inches. Read more…
FMO09AHTBKD – it has stainless steel finish, 0.9 cu. ft. capacity, 19 x 11 x 15 inches external dimensions and 13.66 x 12.36 x 8.7 inches interior dimensions. The microwave has 900-watt cooking power and 10 power levels. Read more…
FMO07ABTBKA – this model has 10 power settings, 700 watts cooking power, black color, 0.7 cu. ft. interior capacity. The exterior dimensions are 17.75 x 12.9 x 10.17 inches and interior dimensions are 12 x 11.9 x 8.2 inches. Read more…
FMO07ABTBKA – this comes in white color with 0.7 cu. ft. interior. The microwave has 700 wattage, 10 power levels. Size: external dimensions are 17.75 x 12.9 x 10.17 inches; interior dimensions are 12 x 11.9 x 8.2 inches. Read more…
FMO07AHTBKJ – the Farberware microwave delivers 700W cooking power. You have 10 power settings for the cooking flexibility. The microwave has brushed stainless steel finish. For a small kitchen, this 0.7 cu. ft. microwave is perfect. Size: 17.3 x 12.99 x 10.14 inches exterior and 12.05 x 11.95 x 8.2 inches interior dimensions. Read more…
For adjustability, five Farberware microwaves have been listed above. In some circumstances, a little size difference doesn't fit the kitchen cabinet. So, you have multiple size alternatives to fit according to your needs. Since, all the five microwaves are comparable with each other, so it is good to select one based on your requirements.
Concluding Thoughts on Farberware Classic Countertop Microwave Oven
To conclude, the 700W countertop microwave oven didn't score high on the reliability test. Therefore, I would avoid buying it. Well, it is good that the 0.7 cu. ft. microwave is perfect for a tiny space kitchen, college students. However, it lacks the capability to deliver good performance.
To the future buyers, it is suggested to research more on this Farberware countertop microwave FMO07ABTBKA before purchasing. I'm saying by reading many negative reviews on this microwave.
However, if slow heating doesn't matter a lot to you, you can go for it. The microwave has all the functionalities and features that enable to cook most recipes.