Comfee is a popular brand name that produces a bunch of cooking appliances such as microwaves, air fryers, rice cookers, electric kettles and many others. As the name says, Comfee is dedicated to manufacture only comfortable appliances.
For a small size microwave need, one can consider the popular COMFEE' EM720CPL-PMB 0.7 cu. ft. microwave oven. Often, this microwave is available in two colors such as black and white. You can choose a color that suits your preference.
The Comfee 700-wtt microwave is a highly capable unit that has one-touch buttons, eco mode, sound on/off, child lock, kitchen timer and many auto cook functions.
Features & Competences of Comfee 0.7 Cu. Ft. Microwave Oven
Actual power – the Comfee microwave is a small size unit because it is built in a compact design. The microwave interior has 0.7 cu. ft. capacity. So, the small interior is only suitable for a small family. Also, it has 700-watt cooking power to heat foods evenly. From the outside, it is a stylish microwave because it has stainless steel finish. I'm sure you will love not only its interior, but also its exterior.
Advanced functions – this stainless steel microwave carries various advanced functions that guarantee the ease of cooking. To make it a convenient microwave, the manufacturer made this microwave with various auto-cook functions. Which means, you can set the microwave on an automatic mode for reheating, beverage, frozen veggie, pizza, potato and popcorn.
Defrosting – using this easy operation microwave, you will be able to defrost frozen foods using two settings. You can defrost either by weight or by time depending upon your needs or preference.
Express cooking – you can use one-touch function that is attributed with 1-6 minutes and plus 30 second functions.
Eco mode – to save some energy, the microwave features an Eco-mode function, which is capable to minimize approx. 50-percent standby energy.
Warranty – the microwave unit is protected with 1-year limited warranty that removes any fears of operational fault!
Other features – the Comfee 700-watt microwave has 11 power settings, clear digital display, simple-to-understand control panel, 12.4 inch glass turntable and an interior light.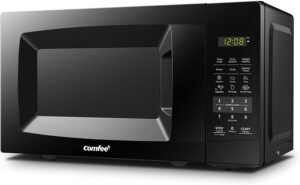 Compact Microwave & Compact Features – COMFEE' EM720CPL-PMB
A special mechanism has been implemented to give it a compact profile. All the features that are directly responsive to the performance have been designed very well.
You can silence the unit by pressing the sound on/off button.
LED control
Bright light inside
0.7 cubic foot interior size
It comes with a glass turntable, which is detachable.
17.3 x 13 x 10.2 inches compact size (Width x Depth x Height)
12.05 x 11.97 x 8.11 inches internal dimensions (width x Depth x Height)
Prepare six most-used foods with the help of a one-touch button.
FAQs on Comfee 700 Watts Countertop Microwave Oven, Black
To open the door, do I have to use both hands because the lightweight unit may slide on the floor?
Yes, you can use both hands if it is placed on a surface that has chances of slipping.
Does the silent mode completely silence the unit?
On the quiet mode, it turns off the sound coming from control panel and beeps. You will still hear a little microwave sound coming from the motor but it is acceptable!
Does this Comfee microwave available in a white color also?
This microwave is available in two colors like white and block to choose from depending on the availability in the stock.
Does this unit alert after cooking finished?
Yes, you will be alerted with five times beeps when the cooking is finished!
Can I put this microwave on a wall?
No, this is a countertop microwave so it doesn't have the built-in capability to install on a wall. However, you can do it with proper installation. Please make sure that you leave at least 3-inch space besides the wall for the air circulation.
Can I install it at the backside of my truck.
You can but please know that this microwave is designed to work from an electrical wall outlet that supplies 120V current. If these criteria meet, you can definitely use it in your truck.
What is the length of the power cord that comes included with this Comfee 700-watt microwave oven?
According to the manufacturer, the power cord length is approx. 3-4 feet.
To warm rolls/muffins, does the Comfee microwave come with a function?
Comfee' EM720CPL-PM microwave comes with six auto-cook functions such as pizza, potato, popcorn, frozen vegetables, beverage and reheat. Please check if one of them is helpful according to your needs.
What Do Existing Users Say about This Compact & Lightweight Cooking Appliance?
One – according to an Amazon customer, a high quality microwave appliance that is perfect for a small space kitchen. In fact, she loved the silent mode function in this unit.
Further, she suggests the future buyers that it is a small-size microwave with small interior. In case, you want to use a large-size bowls, you may not be able to fit.
Two – this user said that the microwave is a little slow at cooking. She recommends this 700-watt unit to those who want to save some counter space. Actually, she liked the microwave because it is very convenient to use and it is a lightweight unit.
Three – a user at Amazon says that this Comfee 0.7 cu. ft. microwave is the best choice unit. The delivery of this microwave was faster than expected. The compact-size microwave is very suitable for his cabin. Finally, he loves it.
Four – another customer on Amazon, wrote in his review that the Comfee 700 watt microwave is smaller than he expected. It works according to the way he liked. No issues for fitting a dinner plate
Pros
Small size unit to save counter space
Six auto-cook options for the common foods
Reliable performance
It fits dinner plates perfectly.
Features silent mode, which is a useful feature according to many customers on Amazon.
Small microwave and small price
Compact and lightweight
One-year warranty included
Available in two colors: white and black
Cons
Slow performance according to many users but it is acceptable
A user complained that the popcorn bag stuck when the disc is turning.
Seeing the pros and cons, COMFEE' EM720CPL-PMB Countertop Microwave Oven looks a feature-rich and capable unit, which is good for a small family. It comes with silent mode, rotatable turntable, child safety lock, one year warranty and a bunch of other useful features.
Conclusion – Comfee 0.7 Cubic Foot Countertop Microwave with Silent Mode
To conclude, COMFEE' EM720CPL-PMB Countertop Microwave Oven is highly recommended to buy. Well, there are many good reasons behind the recommendations. First, it is a lightweight and compact microwave that is perfect for a small kitchen and a small family. Second, the Comfee 700-watt microwave received enormous positive reviews on various selling platforms such as Amazon.
For the budget conscious persons, this Comfee microwave will surely give not only the economical comfort, but also the usage comfort.