In a decent budget, one can acquire Willz WLCMV207S2-07 Microwave. It comes in a low price because the microwave brand is not very popular. However, I see numerous microwaves on the internet from less established manufacturers. These microwaves are promising in quality, usability and other factors.
On a wiser note, we should take benefit from such newly produced products because they are often cheap.
In case of Willz countertop microwave, it looks solid from many sides. It looks stylish in stainless steel finish, and has numerous happy users.  Most importantly, it is a small size unit, so it becomes a good space saving unit.
Well, the origin of product is unclear, so I can't tell where it is made. However, I guess it is made in China. For some people, it may look stroppy but I don't think so. I am saying this considering the fact that most products sell on Amazon are from China. Thus, it depends on a particular product. Some products are built with quality, while some are built with less quality.
Features – Willz Countertop Microwave Oven, 0.7 Cubic Foot
11 power levels – personally, I'm amazed by seeing the 11 power levels. Which the 11 power settings, the unit offers the flexibility to manage the microwave power. You will be able to adjust the cooking wattage from 0% to 100%.
700-watt cooking power – well, the 700W cooking power is neither too low nor too high. It is considerable cooking power for preparing meals for small family. With the 700-watt cooking capacity, you will be able to cook foods for a small family.
Stainless steel color – these days, a microwave with stainless steel finish is in high demand. Most modern microwaves come with stainless steel finish. Actually, Willz Countertop Microwave in stainless steel matches most kitchens' interiors.
Six cooking functions – in this 700 watts unit, 6 one-touch cooking functions provide the ease of cooking. With these quick functions, you will be able to cook common recipes such as pizza, popcorn, potato, frozen dinner, beverage and reheating.
Defrost – the 0.7 cubic foot microwave lets you defrost frozen foods by time or weight. However, I see this feature in most modern microwaves.
Child safety lock – Willz WLCMV207S2-07 has a child lock feature to safeguard the unit as well as children. The safety lock feature lets you lock the number keys. Once the number-pad is locked, any button press will not work.
Push button door – many microwave operators like a push-button door because it is easy to open and close the microwave door.
LED Light – the Willz countertop microwave features not only an interior light, but also an LED light. For good visibility, the interior light will surely be very helpful. It is good to view the cooking process without opening the door.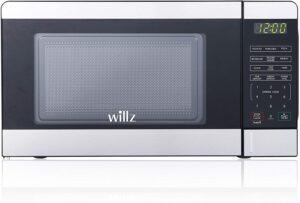 Important Details of 0.7 Cu. Ft. 700 Watts Microwave
700W cooking power
0.7 cu. ft. interior size
120-volt electricity requirement
Stainless steel color
Defrost option
The package contains Willz Microwave Oven, Glass Tray, Shaft, Roller Ring and Power Cord.
Countertop placement
22.7 pounds item weight
17.56 x 12.94 x 9.56 inches overall size
WLCMV207S2-07 model number
Willz brand
From these specifications, I see Willz Microwave Oven comes with everything to start microwaving instantly. Instead of a small 0.7 cu. ft. cavity, the 700-watt microwave delivers big performance. However, I admit that Willz is a new brand; so many customers may doubt its performance.
Glass turntable – in fact, a glass turntable in a microwave oven is a demanded component. Thus, Willz 700W microwave comes with a glass turntable in 9.7-inch size. This facilitates easy and even cooking. Amazingly, the glass turntable is a removable part, which is easy to clean too.
FAQs on Willz WLCMV207S2-07 Countertop Microwave Oven
Does Willz Microwave Oven also come with a turntable?
Yes, the Willz countertop microwave comes with a turntable.
What is the length of the power cord?
The 0.7 cu. ft. microwave oven comes with a 40-inch power cord. To me, it is neither too small nor too large.
Can I put normal-size plates in the interior?
However, it is a small microwave, you will not get any issues fitting normal-size plate, bowls etc. in it.
On Amazon, I don't see warranty related information; does it come with a warranty period?
Warranty information is not mentioned in the product details. Please try contacting the Willz manufacturer via email: customerservice@galanzamericas.com for the warranty.
Does it have an interior light?
Yes, it has an interior light that is good for seeing what is cooked inside.
What are the included accessories with Willz 700W Microwave?
The list of accessories contains a glass tray, a roller ring, a shaft and a power cord.
To answer some of the popular questions, this FAQ section can be a little helpful. In case, you don't get an answer to your question on Willz Countertop Microwave, please try visiting Amazon. On Amazon, you will find a Question Answer section below every product listed there. In rare cases, you may not find an answer to your question on Amazon too. In this situation, please try creating your question there. I'm sure, your question will be answered either by the manufacturer or other existing customers very soon.
User Experience from This Willz Microwave Oven
One – a customer mentioned in his review that it is a good-size unit for a tiny kitchen. The Willz microwave has clean design and it is very easy to use.
Two – this user has given just one star to this Willz 0.7 cu. ft. microwave because of a malfunction button. However, he loved most of the features of this microwave. He says that the microwave didn't last more than seven uses.
Three – according to this customer, the microwave is good to use normal size plates and containers. Since it is a small size unit, fits well in a small space apartment.
Four – an Amazon customer says that the Willz microwave is small inside, so it is tough for a normal sized plate and some glasses.
Five – this customer rated it with just one star because a wrong product was sent to him.
Six – a reviewer has given it 5-star rating. The user says that it is a good countertop microwave, which is also easy to use. Further, he says that the microwave was delivered by UPS. The delivery company didn't wait long enough at the door. It left the product at his door and took a picture and texted him.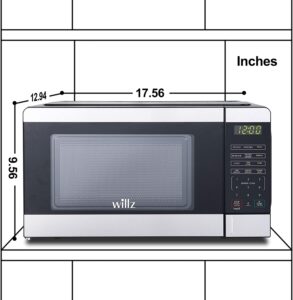 Pros
Small size countertop microwave
It is good for kitchens with limited space.
The microwave features many advanced cooking options.
It has a turntable too.
Low price on this Willz countertop microwave
Easy to use and easy to clean
It comes with supportive components too.
Cons
According to some reviewers at Amazon, it has a faulty button.
Warranty related information is not available in the product details.
For some users, the small size interior is hard to fit normal-size plates.
Willz seems a new brand, so many customer doubts its quality and performance.
Since it is a low-price microwave oven from Willz, people with tight pocket may buy it. I'm sure it will deliver average cooking performance to prepare meals for a small family. According to pros and cons, the microwave is easy to clean, easy to use and fits perfectly in small space kitchen.
Conclusion – Willz WLCMV207S2-07 Countertop Microwave Oven, 700W
In short, Willz 0.7 cu. ft. countertop microwave is a small-size microwave that comes at an affordable price. According to reviews posted on Amazon by its users, it is an average performance unit. The price is super low. Seeing the low price, I recommend buying this unit.
Additionally, the low-price microwave comes with almost all features that facilitate easy cooking. It has a turntable, kitchen timer, stainless steel finish and 700-watt cooking power.
On a precaution note, I will suggest researching more on this microwave because it comes from a new brand. Additionally, the Willz microwave oven has received mixed reviews consisting of both positive and negative.