Microwave brands that are ruling the industry are reliable and known for their amazing quality of hardware. Find out what the best microwave oven brands of 2019 are by reading below.
Toshiba
Toshiba is a very renowned brand, and they are known to make some of the best microwave ovens that money can buy in 2019. The Toshiba EM131A5C-BS is a top of the line microwave that is capable of performing all the tasks in a reliable manner. It is also a very versatile oven and can deliver powerful performance with little power consumption. The internal capacity of 1.2 cu means that it is sufficient for small sized foods, and it can warm up foods in a quick and efficient manner.
Daewoo
Daewoo is another brand name that is known for making affordable microwave ovens. Its Retro model is very energy efficient and features a stylish and durable design. If you are looking for a microwave that gets all the job done without making too much fuss, then this is the brand for you.
Whirlpool
Whirlpool manufactures very high end microwave ovens that feature posh and sleek looking designs. It's over the range 1.9 cu microwave oven has a very convenient cooking rack and operates with very little noise, which makes it an ideal product for the kitchen. It is also designed in such a way that it prevents most of the smell of the food from escaping its inner compartment. It is a very straightforward piece of hardware, one that will be a great addition to your kitchen.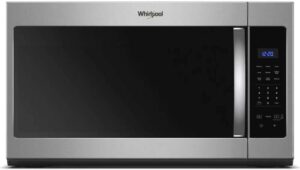 [home]
Visited 1 times, 1 visit(s) today