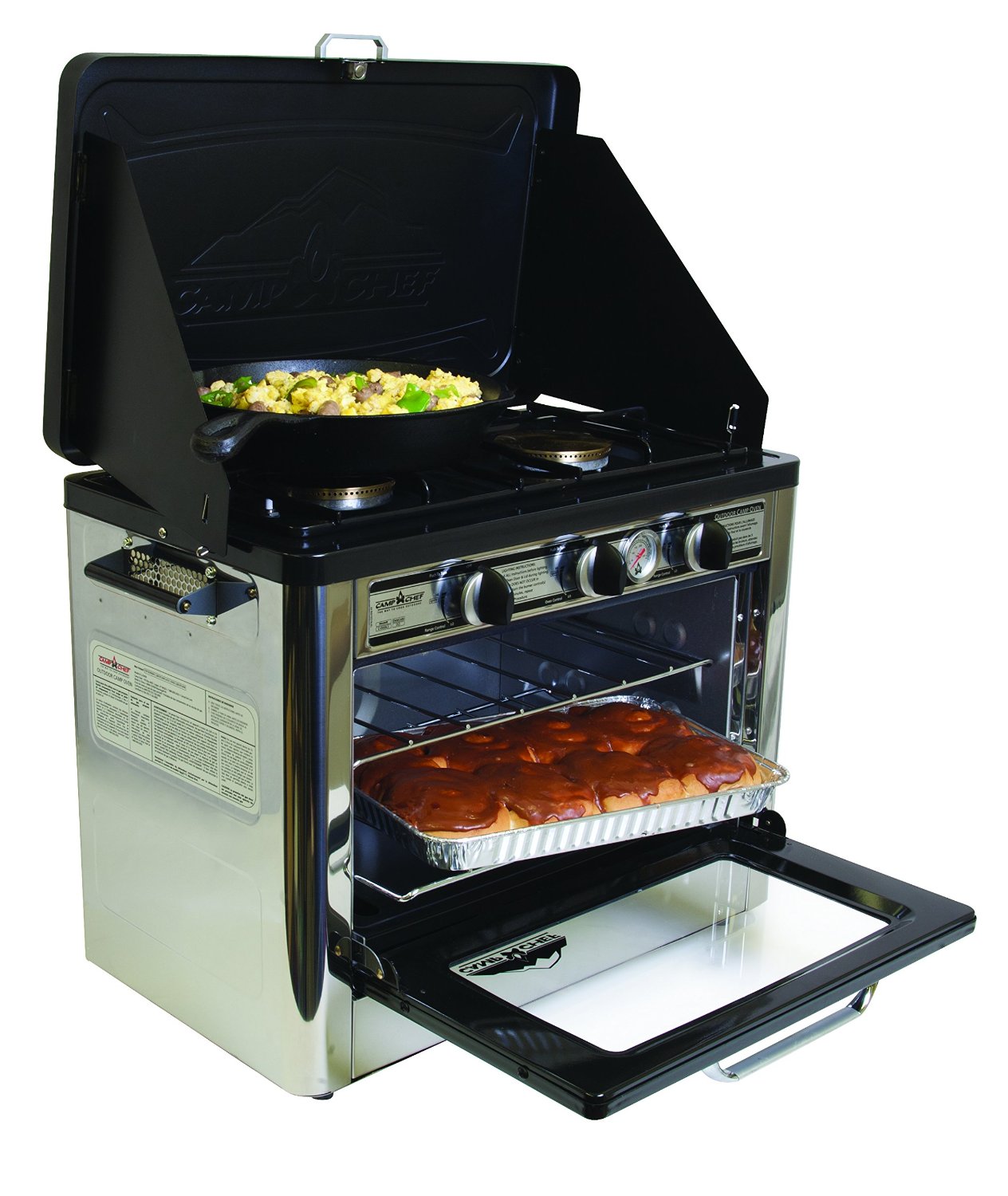 Camp Chef Camping Outdoor Oven comes with one year of warranty and has many amazing features that you may not find in other ovens in the same price range. It features two amazing igniter range burners, two oven racks and it delivers maximum oven temperature 400° with integrated thermometer. It can easily cook for 5 hours on heat with one pound can of propane. Camp Chef Camping Outdoor Oven has specious interior that measures 10 by 16 by 10 inches and it weighs 35 pounds.
Camp Chef Outdoor Camp Oven is perfect for outdoor cooking. This camp oven comes with two burner camping stove. There is no doubts that food is the great things about camping. Camp Chef Outdoor Camp Oven helps you prepare tasty homemade meals without leaving the campsite. This impressive feature outdoor camp oven comes with various cooking capabilities for a home oven and range.
Camp Chef Outdoor Camp Oven is both portable and versatile. Because it provides you with the required heat to cook anything from a breakfast skillet to your favorite baked breads and cookies. This advanced and feature-full oven supports up to 400° F temperature. On the other hand, Camp Chef Outdoor Camp Oven can easily fit a 9 x 13 pan so you can carry out all of your baking needs. Impressively, it is fueled by a one-pound propane bottle and holds temperature of up to 350° F for up to 7 hours so it is perfect for emergency preparedness as well.
Highlights of Camp Chef Outdoor Camp Oven:
• 3,000 BTU (up to 400°F) oven power
• 2 X 7,500 BTU brass range burners
• 1LB propane can
• Convenient carry handles
• Folding lid
• Insulated and efficient oven box
• Stainless steel construction
• Non-stick enamel cooking surface
• Removable oven racks
• Built-in oven heat gauge
• Matchless ignition
• Fully adjustable heat control dials
Camp Chef Outdoor Camp Oven is very efficient and well insulated allowing you to bake more with less fuel. The insulation allows the oven to heat up much faster and retain the heat. For the best cooking result, please do not pre-heat the oven like you would in your home oven. You just need to simply light this oven and put the food in and monitor the temperature.
This camping oven can be a great addition to your emergency preparedness appliances. It also features a disposable one-pound propane can or it can adapt for a bulk tank as well. Read more…
[home]
Visited 1 times, 1 visit(s) today