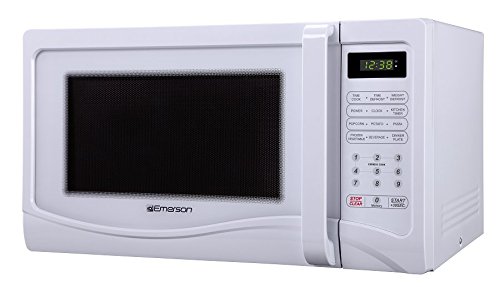 Emerson MW1107W microwave oven comes with some unique features, which are really very helpful for easy cooking. This high grade and compact microwave oven is made by Emerson that has a good image on the market.
The important features are six one-touch settings that include beverage, frozen vegetable, popcorn, potato, pizza and dinner plate. It comes with 99 minutes and 99 second digital timer, and time & weight defrost feature.
Keeping even cooking in mind, it comes with a removable glass turntable for all your healthy cooking requirements. Since, Emerson MW1107W has cooking presets so they take the guesswork out of cooking popular foods.
You just need to press a button and your favorite foods will be prepared as per the preset power levels. Since, it features a lightweight removable glass turntable, so it delivers complete and evenly cooked food.
You can easily remove the turntable for the cleanup. Further, it also comes with a lockout feature disallowing your children and other people to operate this microwave oven. Read more…