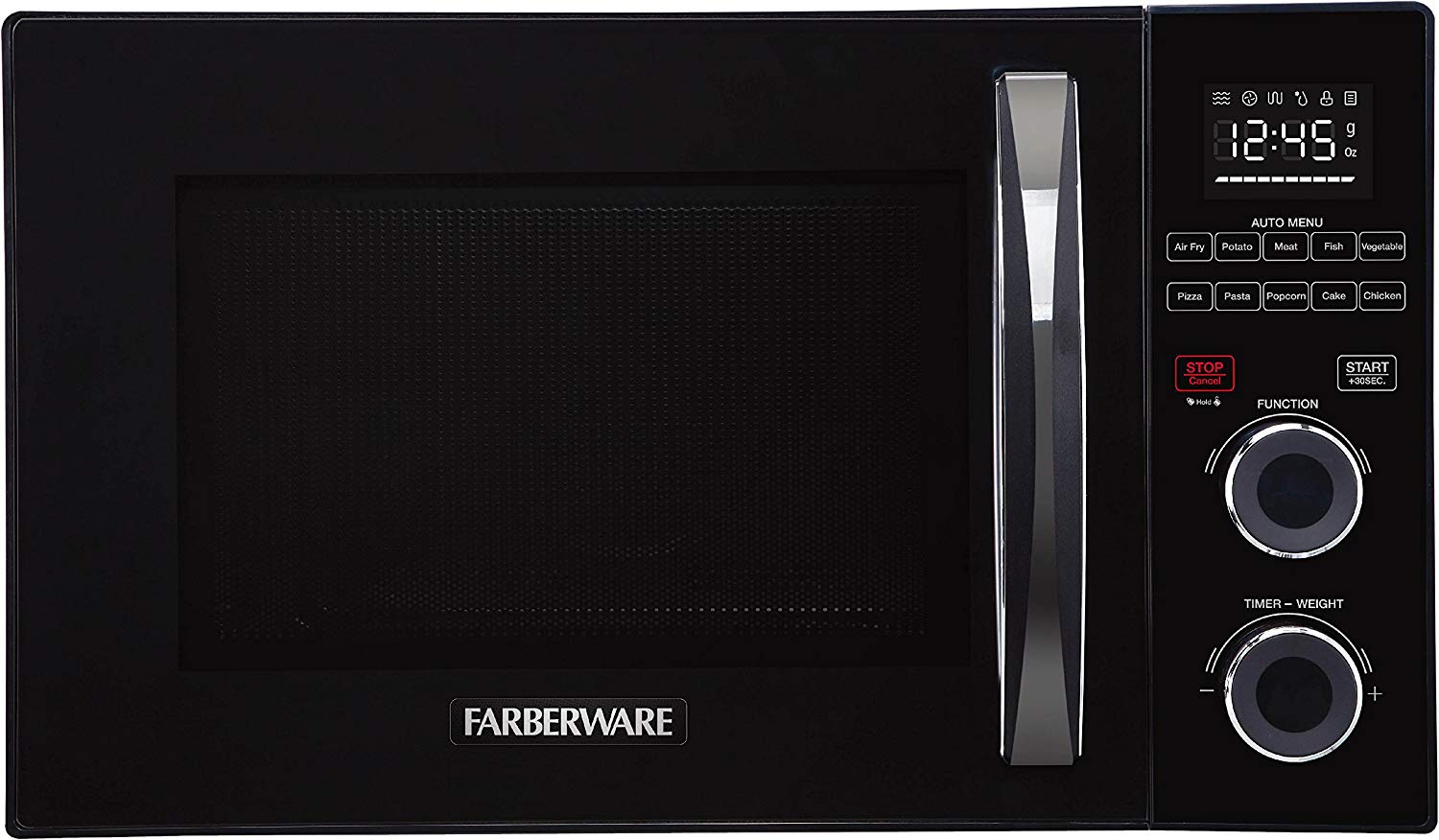 Farberware FMO10AHSBKA comes with 4 output options such as microwave, grill, convection and air fry. This microwave oven has special grill function that can be used separately or with the microwave output.
When you use the grill function in combination with the microwave, you can perfectly reheat a slice of pizza, brown a grilled cheese sandwich or toast an English muffin.
Since Farberware FMO10AHSBKA comes with combination function so it keeps food juicy on the inside and crispy on the outside.
Further, Farberware FMO10AHSBKA is based on healthy air fry technology that uses just a drop of oil to cook up crispy foods like French fries and chicken fingers without the need to deep dry.
Most importantly, this microwave oven comes with ten power levels and multi-stage cooking that allow for adjustable power and perfect heating.
Farberware FMO10AHSBKA comes in a Gourmet model that has great whole glass door design and sensor touch control panel with easy-to-use dial controls. Read more…
Farberware 1.1 Cu. Ft. Stainless Steel Countertop Microwave Oven With 6 Cooking Programs, LED Lighting, 1000 Watts



$119.99

@ Amazon.com
Product Description
Spacious & stylish: with 1. 1-Cu. feet Of cooking capacity, a sleek Stainless Steel exterior and Stainless Steel interior and 10 power levels, This counter top microwave delivers power, style, and convenience to any kitchen
Six cooking programs: auto cooking programs (popcorn, potato, pizza, frozen vegetable, dinner plate) provide convenient control and avoid guesswork
Express cooking: cook your leftovers with just a touch of a button by touching the number pad (1 through 6 minutes)
Digital clock: easy-to-read LED display lights up the digital clock and highlights each cooking setting
Child lock: lock the control panel using the child safety lock option to prevent accidental use or access by children
Defrost: for all your frozen foods, defrost by time or Weight so you can enjoy more flavorful foods
Product Details
| | |
| --- | --- |
| Brand: | Farberware |
| Model #: | FMO11AHTBKB |
| Warranty: | 1 year manufacturer's warranty |
| Size: | 1.1 cu. ft. |
| Color: | Stainless Steel |
| Dimensions: | 20.2 X 16.54 X 12.03 Inches (Length X Width X Height) |
| Price: | $119.99 |
Farberware 1.1 Cu. Ft. Stainless Steel Countertop Microwave Oven With 6 Cooking Programs, LED Lighting, 1000 Watts
---
Farberware Professional FMO13AHTBKE 1.3 Cu. Ft. 1000-Watt, Microwave Oven with Blue LED Lighting, Stainless Steel



@ Amazon.com
Product Description
1000 watts of cooking power and 10 power levels allow you to adjust the power from 10% to 100%; Multi-stage cooking for custom-cooked meals and snacks
1 through 6-minute Express Cooking quick start controls and Add 30-Seconds control
6 One-Touch cooking functions for popcorn, potato, pizza, frozen vegetable, beverage, or a dinner plate; Memory Function stores and calls up cooking settings instantly
Defrost by time or weight; Digital control and led display with clock and kitchen timer
Removable rotating glass turntable; Keypad Lock prevents unsupervised use
1 Year Limited Manufacturer's Warranty
Product Details
| | |
| --- | --- |
| Brand: | Farberware |
| Model #: | FMWO13AHTBKE |
| Warranty: | 1 year manufacturer's warranty |
| Size: | 1.3 cu. ft. |
| Color: | Stainless Steel |
| Dimensions: | 20.43 X 16.65 X 12.36 Inches (Length X Width X Height) |
| Price: | |
Farberware Professional FMO13AHTBKE 1.3 Cu. Ft. 1000-Watt, Microwave Oven with Blue LED Lighting, Stainless Steel
---
Farberware 1.2 Cu. Ft. 1100-Watt Microwave Oven with Grill, Cubic Foot, Black Stainless Steel



$129.99

@ Amazon.com
Product Description
1.2-cubic-foot cooking capacity, sized to fit on your kitchen counter
1100 watts of cooking power and 10 power levels allow you to adjust the power from 10% to 100%
Premium Black Stainless Steel design finish helps reduce fingerprints and smudges. Width (in):17.3, Height (in):12.8, Length (in):20.5
Unique dual cooking functionality--Grill and Microwave-- allows for endless cooking options
9 One-Touch cooking programs allow you to heat up everyday items in seconds and Multi-Stage cooking functionality adjusts cooking mid-cycle
Interior LED lighting allows you to watch your food as it cooks and Memory Function for customized settings
Product Details
| | |
| --- | --- |
| Brand: | Farberware |
| Model #: | FMO12AHTBSG |
| Warranty: | 1 year limited manufacturer warranty |
| Size: | 1.2 Cubic Foot |
| Color: | Black Stainless Steel |
| Dimensions: | 20.5 X 17.3 X 12.8 Inches (Length X Width X Height) |
| Price: | $129.99 |
Farberware 1.2 Cu. Ft. 1100-Watt Microwave Oven with Grill, Cubic Foot, Black Stainless Steel
---
Farberware 1.1-Cu. Ft. 1000-Watt Microwave Oven, Cu.Ft, Brushed Stainless Steel



$109.77

@ Amazon.com (Save 16%)
Product Description
COOK EASY & POWERFUL: It offers 10 power levels and multi-stage cooking to fully customize your cooking with 6 one-touch cooking programs make quick work of any cooking task
GET A CLEAR VIEW: The LED display with kitchen timer and clock lets you keep track of time while the easy-view interior LED lighting lets you keep an eye on cooking
CONVENIENT: Conveniences such as defrost by weight or by time settings let you get dinner on the table even when you forget to pre-prep your food
STYLE & FUNCTION: Stylish Stainless Steel Front with Black Body gives a stylish, elegant look and the child safety lock function provides an added level of security
SPEED COOKING: 1-6 min. express cooking and +30 sec. button offer simple press-and-go speed while the memory function lets your store your most used customized settings
Product Details
| | |
| --- | --- |
| Brand: | Farberware |
| Model #: | FMO11AHTBKL |
| Warranty: | 1-year limited |
| Size: | 1.1 Cu.Ft. |
| Color: | Brushed Stainless Steel |
| Dimensions: | 16.54 X 20.12 X 12.03 Inches (Length X Width X Height) |
| Price: | $109.77 (Save 16%) |
Farberware 1.1-Cu. Ft. 1000-Watt Microwave Oven, Cu.Ft, Brushed Stainless Steel
---
Farberware 900-Watt Microwave Oven, 0.9-Cu. Ft, Stainless Steel



$219.99

@ Amazon.com
Product Description
900 Watts of Cooking Power and 10 Power Levels; Multi-stage cooking for custom-cooked meals and snacks
1 through 6-minute Express Cooking quick start controls and Add 30-Seconds control
6 One-Touch cooking functions for popcorn, potato, pizza, frozen vegetable, beverage, or a dinner plate; Memory Function stores and calls up cooking settings instantly
Defrost by time or weight; Digital control and led display with clock and kitchen timer
Removable rotating glass turntable; Keypad Lock prevents unsupervised use
1 Year Limited Manufacturer's Warranty.10.6-inch turntable ensures even cooking
Product Details
| | |
| --- | --- |
| Brand: | Farberware |
| Model #: | FMO09AHTBKC |
| Warranty: | 1 year manufacturer's warranty |
| Size: | 0.9-Cu. Ft. |
| Color: | Stainless Steel |
| Dimensions: | 19 X 16 X 10.5 Inches (Length X Width X Height) |
| Price: | $219.99 |
Farberware 900-Watt Microwave Oven, 0.9-Cu. Ft, Stainless Steel
---
Farberware 2.2 Cu. Ft. 1200-Watt Microwave Oven with Smart Sensor Cooking, ECO Mode and LED Lighting, Stainless Steel



$229.99

@ Amazon.com
Product Description
With 2.2 Cubic Feet of cooking capacity and 1200 Watts of output power, this family-sized microwave delivers power, style, and convenience with a sleek Stainless Steel design to complement your kitchen. Featuring a push button door release, Blue LED display and Interior LED lighting
7 One-Touch cooking programs: Sensor Reheat, Frozen Pizza, Frozen Entrée, Potato, Rice, Vegetable, and Popcorn; 5 Auto-Cook pre-programmed settings: Bacon, Frozen Bread Reheat, Beverage, Chicken, and Oatmeal; 3 Auto-Defrost pre-programmed settings: Meat, Poultry, and Fish; 1-6 minute Express Cooking function, +30-Seconds control button, Memory Function for customized settings, and a Child Safety Lock function
7 Unique pre-programmed cooking options for melting and softening. Melt: Butter/Margarine, Chocolate, Cheese, and Marshmallows; Soften: Butter, Ice Cream/Frozen Juice, and Cream Cheese
Smart sensor technology uses temperature and humidity sensors inside the microwave to determine when the food is ready to avoid overcooking
Exterior Product Dimensions- 24.4 x 19.6 x 13.6 inches (Length x Depth x Height); Interior Cavity Dimensions- 17.8 x 19.1 x 11.2 (Length x Depth x Height); Turntable Diameter- 16.5 inches
Product Details
| | |
| --- | --- |
| Brand: | Farberware |
| Model #: | FMO22ABTBKA |
| Warranty: | 1 year limited manufacturer |
| Size: | 2.2 Cu' |
| Color: | Stainless Steel |
| Dimensions: | 19.6 X 24.4 X 13.6 Inches (Length X Width X Height) |
| Price: | $229.99 |
Farberware 2.2 Cu. Ft. 1200-Watt Microwave Oven with Smart Sensor Cooking, ECO Mode and LED Lighting, Stainless Steel
---