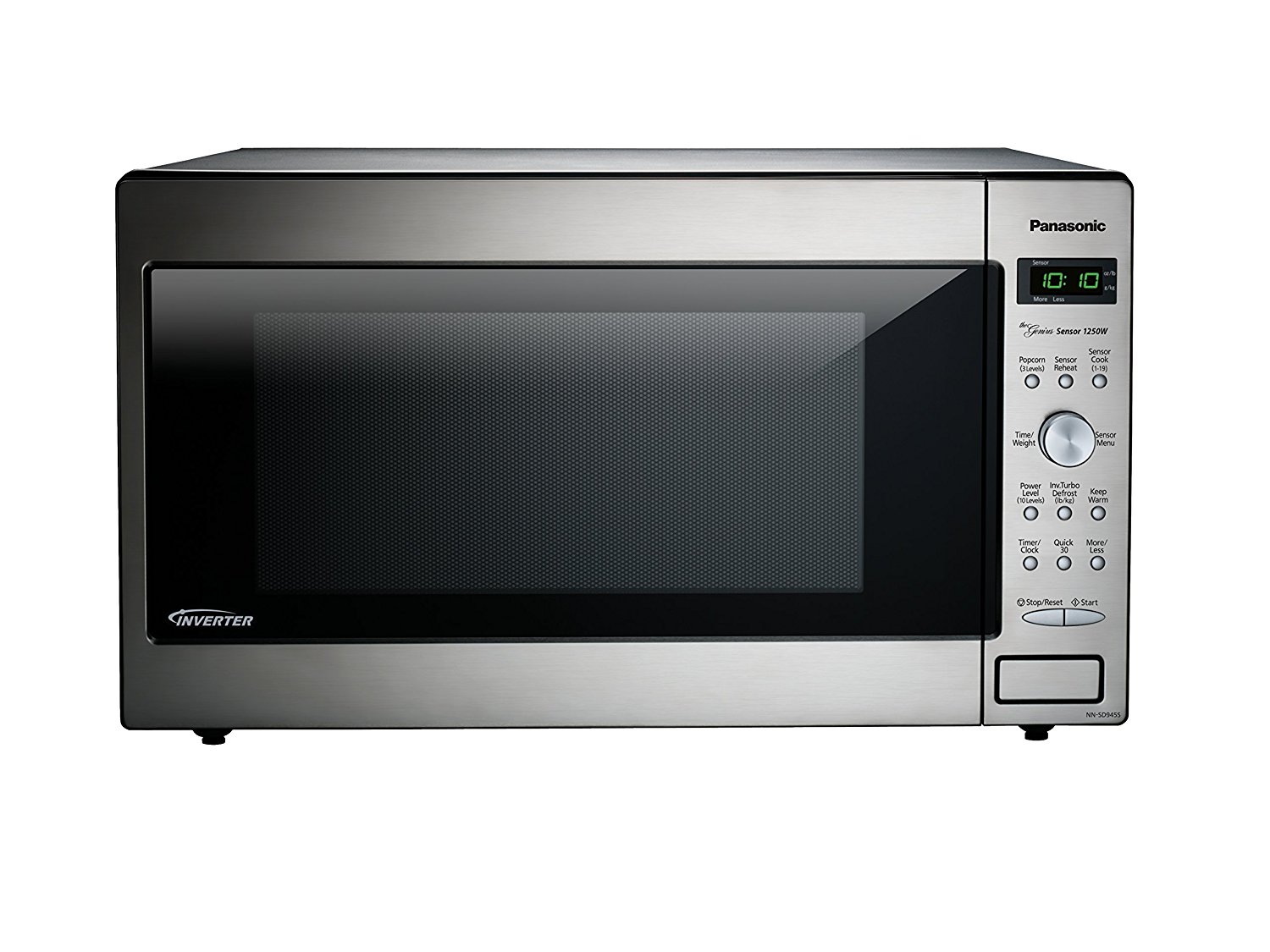 Panasonic NN-SD945S is designed in Panasonic's patented Inverter Technology that is very popular for even cooking and delicious results.
If you start using this Panasonic microwave oven, you will not have complaint such as overcooked edges or cold centers of meals. This is a 1200 watts microwave oven that has high cooking power and 18 preset auto cook menu items. Further it has one-touch genius sensor cook and reheat functions. With all these advanced features, you don't have to use your own guesswork because most of the cooking tasks handled automatically.
Impressive quality microwave ovens are available with Panasonic. This is a big brand name for numerous microwave ovens and other home, kitchen and electronics appliances. If you are looking for an impressive microwave oven from the Panasonic brand, you can check Panasonic Microwave Oven NN-SD945S that has impressive features, good quality and the best price.
Panasonic NN-SD945S countertop microwave oven is very popular for delivering a good cooking power stream that results in even cooking and delicious flavor. Most important, Panasonic inverter technology microwave comes with Turbo defrost feature, which is a special feature in this unit. Since it is powered by the patented inverter technology so it creates a smooth stream of cooking power and provides consistent and evenly prepared food without overcooking. On the other hand, the advanced turbo defrost speeds up defrosting time.
The Panasonic countertop microwave oven is perfect for a large family because it comes with 16.5 inches turntable, which is thinner and lighter and more efficient. It takes less space in your kitchen while it has more interior capacity.
Further, Panasonic NN-SD945S microwave oven comes with smart cooking settings with Genius sensor. The integrated self-operated genius sensor has good adjustment capability when it comes to adjusting power and times based on different foods. Other advanced features of Panasonic NN-SD945S are 18 preset menu items, quick-minute timer, delay start, child safety lock and many others.
It also comes with Keep Warm option so that you can keep soups, gravies or desserts warm and fresh until ready to serve.
Further, it features a chrome dial and 9 menu buttons for easy use. It has also Inverter Turbo Defrost technology, Popcorn Key, Keep Warm mode, Delay Start, Timer, Quick Minute. Read more…
Panasonic NN-GN68KS Countertop Microwave Oven 2-in-1 FlashXpress Broiler, Inverter Technology for Even Cooking and Smart Genius Sensor, 1000W, 1.2 cu.ft Microwave-NN-GN68KS (Stainless Steel/Silver)



$309.98

@ Amazon.com (Save 11%)
Product Description
Flash press broiler allows the microwave oven to be used for broiling with grill like results. The specially designed broiling rack lifts food close to infrared grilling element for a crispy brown finish
Genius sensor cooking built in automatic genius sensor adjusts power and times based on different foods; other advantages include 18 Preset menu items, quick minute timer, delay start and child safety lock
Microwave controls 7 preset auto cook menu items, 13. 4 inches Turntable; delay start and timer; more/less control; child safety lock; quick 30Sec and popcorn button with 3 cooking levels
Minimum countertop footprint smart, compact microwave broiler design devotes less space to electronics and far more interior capacity.Just wipe with a damp cloth
Rated output power (microwave): 1000W, rated output power (broiler): 1100W, rated Voltage 120V 60Hertz
Product Details
| | |
| --- | --- |
| Brand: | Panasonic |
| Model #: | NN-GN68KS |
| Warranty: | 1 Year Manufacturer |
| Size: | 1.1 cu ft |
| Color: | Stainless Steel / Silver |
| Dimensions: | 14.5 X 22 X 18 Inches (Length X Width X Height) |
| Price: | $309.98 (Save 11%) |
Panasonic NN-GN68KS Countertop Microwave Oven 2-in-1 FlashXpress Broiler, Inverter Technology for Even Cooking and Smart Genius Sensor, 1000W, 1.2 cu.ft Microwave-NN-GN68KS (Stainless Steel/Silver)
---
Panasonic NN-SN66KB Intelligent Genius Sensor 1.2 Cubic Foot 1200 Watt Countertop Microwave Oven w/ Inverter Technology, Black (Renewed)



$257.36

@ Amazon.com
Product Description
INTELLIGENT MICROWAVE: 1.2 cubic foot microwave oven with Genius Sensor capabilities automatically adjusts cooking time to preserve flavor and texture while heating
FEATURED BUTTONS: Easy-touch membrane control panel includes a handy 30-second interval button and a popcorn button with 3 different size options
PRECISION COOKING: Inverter technology allows for poaching, raising, and steaming delicate foods by delivering a seamless stream of cooking power
MAXIMIZED HEATING POWER: Engineered with 1200 watts of power and 11 preprogrammed power levels allow for heating food to specific preferences
SPEEDY DEFROSTING: Features inverter turbo defrost for exceptionally fast, even defrosting of frozen goods
Product Details
| | |
| --- | --- |
| Brand: | Panasonic |
| Model #: | NN-SN66KB |
| Color: | Black |
| Dimensions: | 120 X 20 X 15 Inches (Length X Width X Height) |
| Price: | $257.36 |
Panasonic NN-SN66KB Intelligent Genius Sensor 1.2 Cubic Foot 1200 Watt Countertop Microwave Oven w/ Inverter Technology, Black (Renewed)
---
Panasonic Oven with Cyclonic Wave Inverter Technology, 1250W, 2.2 cu.ft. Countertop Microwave with Genius Sensor One-Touch Cooking – NN-SD975S (Stainless Steel/Silver), Stainless



$361.84

@ Amazon.com (Save 10%)
Product Description
Delicious Food, Smarter Cooking with Panasonic Microwaves:  Cyclonic Inverter Technology evenly circulates heat in 3D waves for more even, efficient cooking with delicious results
Simple Microwave Controls: You're never more than the touch of a button or turn of a dial away from 20 preset menu items, inverter turbo defrost, quick 30 sec, delicious popcorn and more
Take the Guesswork out of Cooking: Cook and reheat without setting a time. Sensor Cook and Reheat functions offer pre-set options for easier cooking
Defrost in a Hurry, Keep Warm When You Need It: Sensor Inverter Turbo Defrost evenly thaws foods more evenly and quickly; Keep warm feature keeps foods, like vegetables, sauces & bread, warm until ready to serve
Maximize Counter Space: Uses a spacious 2.2 cu.ft interior and compact exterior to take up minimal counterspace; make it a built in microwave with trim kit models sold separately (NN-TK922SS / NN-TK932SS)
Product Details
| | |
| --- | --- |
| Brand: | Panasonic |
| Model #: | NN-SD975S |
| Warranty: | 1 year manufacturer |
| Size: | NN-SD975S |
| Color: | Stainless |
| Dimensions: | 23.88 X 19.44 X 14 Inches (Length X Width X Height) |
| Price: | $361.84 (Save 10%) |
Panasonic Oven with Cyclonic Wave Inverter Technology, 1250W, 2.2 cu.ft. Countertop Microwave with Genius Sensor One-Touch Cooking – NN-SD975S (Stainless Steel/Silver), Stainless
---
Panasonic Microwave Oven NN-SN686S Stainless Steel Countertop/Built-In with Inverter Technology and Genius Sensor, 1.2 Cubic Foot, 1200W



$219.95

@ Amazon.com
Product Description
Panasonic Microwave: This 1200 Watt high power, 1.2 cubic foot capacity stainless steel countertop/built in microwave delivers a seamless stream of cooking power for even cooking and delicious flavor
Inverter Technology with Turbo Defrost: Patented Inverter Technology generates a seamless stream of power and delivers consistent, evenly prepared food without overcooking; Advanced Inverter Turbo Defrost speeds up defrosting time
Compact Design: This countertop microwave with 13.4 inch turntable is thinner, lighter and more efficient, allowing you to devote less space to electronics and more to interior capacity; Internal dimensions (H x W x D): 9 15/16 inch x 15 13/16 inch x 14 3/8 inch
Smart Cooking Settings with Genius Sensor: Built in automatic genius sensor adjusts power and times based on different foods; Other advantages include 14 preset menu items, quick minute timer, delay start and child safety lock
Keep Warm Feature: This inverter microwave keeps soups, gravies or desserts warm and fresh until ready to serve. Power Source 120V / 60Hertz. Power Consumption 1480W. Membrane keypad and 5 menu buttons for easy programming, 10 Power Levels; push-button door release
Product Details
| | |
| --- | --- |
| Brand: | Panasonic |
| Model #: | NN-SN686S |
| Warranty: | 30 DAYS manufacturer |
| Size: | 1.2 cft |
| Color: | Stainless Steel / Silver |
| Dimensions: | 16 X 15 X 13 Inches (Length X Width X Height) |
| Price: | $219.95 |
Panasonic Microwave Oven NN-SN686S Stainless Steel Countertop/Built-In with Inverter Technology and Genius Sensor, 1.2 Cubic Foot, 1200W
---
Panasonic NN-SN65KB Microwave Oven with Inverter Technology 1200W, 1.2 cu.ft. Small Genius Sensor One-Touch Cooking, Popcorn Button, Turbo Defrost-NN-SN65KB (Black), 1.2 cu.ft



$239.95

@ Amazon.com
Product Description
Microwave Cooking Made Easy: 1200W black microwave with 11 power levels, smart controls, 3-level popcorn button, and more for easy cooking of dinner and snacks
Even Cooking and Reheating for Delicious Food: Panasonic's patented Inverter Technology generates a seamless steam of cooking power for evenly heated foods, edges to center
Smarter Cooking: Genius Sensor takes the guesswork out of cooking but automatically adjusting power and cooking time; Includes 10 sensor cook settings; sensor reheat warms leftovers evenly
More Features to Enjoy: Inverter Turbo Defrost accelerates thawing time; 15 Auto Cook Options, Keep Warm and more
Space-Saving Design: Countertop microwave with 1.2 cu.ft. easy-clean interior houses 13.4" turntable but maintains a small external footprint to maximize counterspace
Product Details
| | |
| --- | --- |
| Brand: | Panasonic |
| Model #: | NN-SN65KB |
| Warranty: | 1 year manufacturer |
| Size: | 1.2 cu.ft. |
| Color: | Black |
| Dimensions: | 15.8 X 20.7 X 12.2 Inches (Length X Width X Height) |
| Price: | $239.95 |
Panasonic NN-SN65KB Microwave Oven with Inverter Technology 1200W, 1.2 cu.ft. Small Genius Sensor One-Touch Cooking, Popcorn Button, Turbo Defrost-NN-SN65KB (Black), 1.2 cu.ft
---
PANASONIC Countertop Microwave Oven with Inverter Technology, Genius Sensor, Turbo Defrost and 1250W of high cooking power – NN-SN736W – 1.6 cu. Ft. (White)



$255.99

@ Amazon.com
Product Description
COUNTERTOP MICROWAVE OVEN - 1250 Watts of High Power with Panasonic Inverter Technology for fast, even cooking and delicious results
MICROWAVE CONTROLS - 14 Preset Auto Cook Menu Items, 15" turntable; Delay Start and Timer; More/Less Control; Child Safety Lock; Quick 30sec and Popcorn Button with 3 cooking levels
MINIMUM COUNTERTOP FOOTPRINT - Smart, compact design devotes less space to electronics and far more interior capacity. Up to eight pounds lighter than conventional microwave ovens
SENSOR INVERTOR TURBO DEFROST - Utilizes a microwave sequencing system based on Inverter's continuous-power delivery method to thaw foods more evenly and quickly
KEEP WARM FEATURE – Microwave keeps foods like vegetables, soups, hors d'oeuvres, gravies, sauces and desserts warm and delicious in the oven until they're ready to serve
Product Details
| | |
| --- | --- |
| Brand: | Panasonic |
| Model #: | NN-SN736W |
| Warranty: | Manufacturer Limited Warranty |
| Size: | Keypad |
| Color: | White |
| Dimensions: | 19.44 X 21.88 X 11.94 Inches (Length X Width X Height) |
| Price: | $255.99 |
PANASONIC Countertop Microwave Oven with Inverter Technology, Genius Sensor, Turbo Defrost and 1250W of high cooking power – NN-SN736W – 1.6 cu. Ft. (White)
---
Panasonic Microwave Oven NN-SN766S Stainless Steel Countertop/Built-In with Inverter Technology and Genius Sensor, 1.6 Cubic Foot, 1250W



$309.95

@ Amazon.com
Product Description
Panasonic Microwave: This 1250 Watt high power, 1.6 cubic foot capacity stainless steel countertop/built in microwave delivers a seamless stream of cooking power for even cooking and delicious flavor
Inverter Technology with Turbo Defrost: Patented Inverter Technology generates a seamless stream of power and delivers consistent, evenly prepared food without overcooking; Advanced Inverter Turbo Defrost speeds up defrosting time
Compact Design: This countertop microwave with 15 inch turntable is thinner, lighter and more efficient, allowing you to devote less space to electronics and more to interior capacity; Dimensions: Interior HxWxD :9 x 16.4375 x 18.5 inches, Dimensions-21.8 W x 19.4 D x 12 H inches
Smart cooking settings with Genius sensor: Built-in automatic genius sensor adjusts power and times based on different foods; Other advantages include 14 Preset menu items, quick-minute timer, delay start and child safety lock
Keep Warm Feature: This inverter microwave keeps soups, gravies or desserts warm and fresh until ready to serve. Function key is available
Product Details
| | |
| --- | --- |
| Brand: | Panasonic |
| Model #: | NN-SN766S |
| Warranty: | 1 year limited manufacturer's warranty |
| Size: | Keypad |
| Color: | Stainless Steel / Silver |
| Dimensions: | 16.4375 X 18.5 X 9 Inches (Length X Width X Height) |
| Price: | $309.95 |
Panasonic Microwave Oven NN-SN766S Stainless Steel Countertop/Built-In with Inverter Technology and Genius Sensor, 1.6 Cubic Foot, 1250W
---
Panasonic Microwave Oven NN-SD372S Stainless Steel Countertop/Built-In with Inverter Technology and Genius Sensor, 0.8 Cu. Ft, 950W



$169.95

@ Amazon.com
Product Description
Panasonic microwave: this 950 watt high power, 0.8 cubic foot capacity stainless steel countertop/built in microwave delivers a seamless stream of cooking power for even cooking and delicious flavor
Inverter technology with turbo defrost: Patented inverter technology generates a seamless stream of power and delivers consistent, evenly prepared food without overcooking; Advanced inverter turbo defrost speeds up defrosting time
Compact design: This countertop microwave with 11 1/4 inch turntable is thinner, lighter and more efficient, allowing you to devote less space to electronics and more to interior capacity; Internal dimensions (h x w x d): 8 1/8 inch x 12 3/8 inch x 13 7/8 inch
Smart cooking settings with genius sensor: Built in automatic genius sensor adjusts power and times based on different foods; Other advantages include preset menu items, quick minute timer, delay start and child safety lock
Keep warm feature: This inverter microwave keeps soups, gravies or desserts warm and fresh until ready to serve; Power source 120 v, 60 hz
Product Details
| | |
| --- | --- |
| Brand: | Panasonic |
| Model #: | NN-SD372S |
| Warranty: | 1 year manufacturer |
| Size: | 0.8 cft |
| Color: | Stainless Steel / Silver |
| Dimensions: | 12 X 8 X 7 Inches (Length X Width X Height) |
| Price: | $169.95 |
Panasonic Microwave Oven NN-SD372S Stainless Steel Countertop/Built-In with Inverter Technology and Genius Sensor, 0.8 Cu. Ft, 950W
---
Panasonic NN-SN936W Countertop Microwave with Inverter Technology, 2.2 Cubic Foot, 1250W, White



$299.95

@ Amazon.com
Product Description
Panasonic microwave: This 1250-watt high power, 2. 2-Cubic-foot capacity black countertop microwave delivers a seamless stream of cooking power for even cooking and delicious flavor
Inverter technology With Turbo defrost: Patented Inverter technology generates a seamless stream of power and delivers consistent, evenly prepared food without overcooking; Advanced Inverter Turbo defrost speeds up defrosting time. Power source- 120V/ 60Hz. Power consumption- 1460W
Large family size: This countertop microwave with 16-1/2-inch turntable is thinner, lighter and more efficient, allowing you to devote less space to electronics and more to interior capacity; Internal dimensions (H x W x d): 10-15/16-inch x 18-7/16-inch x 18-1/2-inch
Smart cooking settings with Genius sensor: Built-in automatic genius sensor adjusts power and times based on different foods; Other advantages include 14 Preset menu items, quick-minute timer, delay start and child safety lock
Keep Warm feature: This inverter microwave keeps soups, gravies or desserts warm and fresh until ready to serve
Product Details
| | |
| --- | --- |
| Brand: | Panasonic |
| Model #: | NN-SN936W |
| Size: | Keypad |
| Color: | White |
| Dimensions: | 23.88 X 19.44 X 14 Inches (Length X Width X Height) |
| Price: | $299.95 |
Panasonic NN-SN936W Countertop Microwave with Inverter Technology, 2.2 Cubic Foot, 1250W, White
---
Panasonic NN-SV79MS 1.4 cu.ft Smart Inverter Works with Alexa Countertop Microwave Oven 1200Watt Power with Genius Sensor Cooking, Stainless Steel



$279.99

@ Amazon.com (Save 7%)
Product Description
Works with Alexa: 100+ voice commands plus Genius Sensor for no guesswork cooking; with commands like "melt 4oz of butter," or "reheat leftovers," the NN-SV79MS auto-adjusts power and time; plus control the smart oven from your phone with the Alexa app
Super Easy Setup: Just plug in the microwave, launch the Alexa app, link your Amazon account then scan the 2D bar code and follow prompts to start cooking
Even Cooking, Delicious Meals: North America's #1 brand in countertop microwave ovens, the Panasonic Alexa-enabled microwave uses Inverter technology to cook food evenly from edges to center at every power level
Cooking Features to Love: Powered by 1200 watts, the NN-SV79MS is packed with versatile controls like Turbo Defrost, 20 preset menu items, delay start, quick 30-Sec and popcorn button
Spacious Interior, Sleek Exterior: Ready to take center stage in your kitchen with a premium stainless steel face and dial control plus large 1.4 cu ft interior
Product Details
| | |
| --- | --- |
| Brand: | Panasonic |
| Model #: | NN-SV79MS |
| Warranty: | 1 year |
| Size: | 1.4 cu.ft. |
| Color: | Stainless Steel |
| Dimensions: | 20.43 X 17.4 X 12.95 Inches (Length X Width X Height) |
| Price: | $279.99 (Save 7%) |
Panasonic NN-SV79MS 1.4 cu.ft Smart Inverter Works with Alexa Countertop Microwave Oven 1200Watt Power with Genius Sensor Cooking, Stainless Steel
---