Magic Chef Digital Microwave comes with various cooking features to deliver awesome cooking experience. It has 1.1 cubic feet interior that is an impressive cooking space to cook a wide range of items including larger dishes, dinner plates and food packets.
This Magic Chef 1.1 cu. ft. microwave oven has 8 cooking options, 1-touch 6-minutes express cook buttons and auto-defrost menus for weight and time. It offers 10 power levels letting you personalize your cooking experience as per your requirements.
It also features "add 30-second button" so that you can easily add additional 30 seconds to the cook time. This high grade Magic Chef 1000-Watt digital microwave oven is made in a modern style, which will surely complement any kitchen's décor. Magic Chef 1.1 cu. ft. microwave comes with various built-in features for the safety and convenience.
It also comes with a keypad lock feature to prevent unauthorized access to this microwave oven. Magic Chef Digital Microwave also has a removable glass turntable for the easy of cleaning. You just need to detach the turntable and wipe down the inside and glass dish. Magic Chef Digital Microwave can be perfect for home or offices.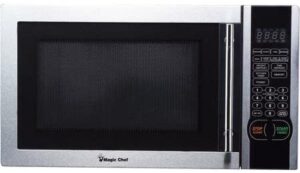 FAQs on 1.1 Cu. Ft. Microwave Oven by Magic Chef
What is the length of this Magic Chef 1000 Watts Microwave oven?
The length is 16.7 inches. The dimensions are 16.7-inch length, 20.2-inch width, 12-inch height.
Does it come with a child lock?
Yes, it comes with a child lock to disallow unsupervised access to the unit.
Can this microwave accommodate a dinner plate?
Yes, it can fit large dinner plates very well.
Where is this Magic Chef microwave made?
It is made in China. I'm sure you will find written on the unit at the backside as well.
Does it also come with the "add 30 seconds" button?
Yes, it features "add 30 seconds" button. You can use this button to add extra 30-second to increase the cook time.
User Experience on Magic Chef 1000 Watts Microwave
One – According to an Amazon customer, this Magic Chef 1.1 cu. fit. Microwave is in a compact size, which works for the purpose. You can often find larger microwaves for the kitchen space but this one is perfect for the most kitchens.
Two – this customer says that he wanted a panel light in this microwave. However, it is according to the advertisement that performs very well.
Three – the user says that he liked the Magic Chef 1000W microwave because it delivers the required convenience and it is very easy to clean.
Four – according to this customer, the 1.1 cu. ft. microwave is very suitable for the break room in his office. The build quality is very impressive.
Five – the Amazon customer says that the Magic Chef microwave is the easiest and finest unit he has ever owned. It comes with both "instant minute" and the "add 30 seconds" buttons. He says that he will buy again.
Pros
Compact size
It can fit dinner plates
Ten power levels for the customized cooking experience
Add 30-second button
Built-in features for protection and convenience
Child safety-lock to avoid unauthorized reach
Removable glass turntable makes cleaning easy.
Cons
Made in China (However, it is totally apart from the typical low-quality Chinese products.)
The keypad is black; it should be in other color for the clear visibility.
It doesn't have a panel light.
Well, the pros and cons are displayed above. If you have scanned the list of these advantages and disadvantages, you would find that the unit has many pros. These pros are directly responsive to the overall performance, 'ease of use' and safety. However, it also has some negatives, which should be taken into the account. To me, these negative points have not too much weight and they are not directly related to the result. So, I will ignore them or I will spend few dollars more to improve them.
Some Finishing Words on Magic Chef Digital Microwave Unit
At the end, I will say, the Magic Chef 1000-Watt Microwave Oven delivers magical performance. I'm saying this by seeing the countless happy users of this microwave. For the cooking convenience, the unit has all the features and options, which are needed to cook food efficiently, easily and quickly.
Taking benefit of its compactness, you will not encounter any issues related to the placement of this unit. For the easy cleaning, it features a detachable turntable. To safeguard the unit and children in homes, the Magic Chef 1.1 Cu. Ft. microwave features a child safety lock to prevent unauthorized access.
However, with so many benefits, the compact microwave oven also comes with some disadvantages. These disadvantages have been listed in the pros and cons section. I noticed that the microwave has received complaints because it doesn't have a panel light, and the keypad should be in a different color rather than being in black color.
Magic Chef Cu. Ft. 900W Countertop Oven with Stainless Steel Front MCM990ST 0.9 cu.ft. Microwave, 9



$128.56

@ Amazon.com (Save 27%)
Product Description
0.9 Cubic feet - 900 Watts
10 Power Levels
Stainless Steel Front / Silver Cabinet
Auto Cook Menus and Auto Defrost Menus
Kitchen Timer and Child Safety Lock. 8 Preprogrammed Cooking Modes for Everyday Cooking
Product Details
| | |
| --- | --- |
| Brand: | Magic Chef |
| Model #: | MCM990ST |
| Warranty: | 1 Year parts & labor |
| Size: | .9 cu. Ft. |
| Color: | Stainless Steel |
| Dimensions: | 14.6 X 19.1 X 11.3 Inches (Length X Width X Height) |
| Price: | $128.56 (Save 27%) |
Magic Chef Cu. Ft. 900W Countertop Oven with Stainless Steel Front MCM990ST 0.9 cu.ft. Microwave, 9
---
Magic Chef Cu. Ft Countertop Oven with Push-Button Door in White MCM1110W 1.1 cu.ft. 1000W Microwave



$141.07

@ Amazon.com
Product Description
1.1 Cubic feet /1000 watts
White front/white cabinet
Auto cook and defrost menus
10 power levels / kitchen timer
Child safety lock
Product Details
| | |
| --- | --- |
| Brand: | Magic Chef |
| Model #: | MCM1110W |
| Warranty: | 1 year |
| Size: | 1.1 cu. Ft. |
| Color: | White |
| Dimensions: | 15.7 X 20.2 X 12 Inches (Length X Width X Height) |
| Price: | $141.07 |
Magic Chef Cu. Ft Countertop Oven with Push-Button Door in White MCM1110W 1.1 cu.ft. 1000W Microwave
---
Magic Chef MCM770W 18 Microwave with 0.7 cu. ft. Capacity 10 Power Levels 700 Cooking Watts and 8 Preprogrammed Modes in White



$134.47

@ Amazon.com
Product Description
Ship to United states only
Average processing time 2-5 business days
Average ship time 3 business days
PID 665679003037
Product Details
| | |
| --- | --- |
| Brand: | Magic Chef |
| Model #: | MCM770W |
| Color: | White |
| Dimensions: | 14.96 X 19.2 X 11.46 Inches (Length X Width X Height) |
| Price: | $134.47 |
Magic Chef MCM770W 18 Microwave with 0.7 cu. ft. Capacity 10 Power Levels 700 Cooking Watts and 8 Preprogrammed Modes in White
---
Magic Chef MCM1611ST 1100W Oven, 1.6 cu.ft, Stainless Steel Microwave



$193.14

@ Amazon.com
Product Description
1.6 Cu. Ft. - 1100 Watts
11 Power Levels
Stainless Steel Front / Black Cabinet
Auto Cook Menus. Activate the built-in child safety lock for added piece of mind
6 pre-programmed 1-touch cooking menus for cooked results at the touch of a button
Included Components: Microwave
Product Details
| | |
| --- | --- |
| Brand: | Magic Chef |
| Model #: | MCM1611ST |
| Warranty: | No warranty Applicable |
| Size: | 1.6 cu.ft. |
| Color: | Stainless Steel |
| Dimensions: | 19.2 X 21.8 X 12.8 Inches (Length X Width X Height) |
| Price: | $193.14 |
Magic Chef MCM1611ST 1100W Oven, 1.6 cu.ft, Stainless Steel Microwave
---
Magic Chef Mcm1110w 1.1 Cubic-Ft, 1,000-Watt Microwave With Digital Touch (White)



$174.35

@ Amazon.com
Product Description
Magic Chef Mcm1110w 1.1 Cubic-Ft, 1,000-Watt Microwave With Digital Touch (White)
Product Details
| | |
| --- | --- |
| Brand: | Magic Chef |
| Model #: | MCM1110W |
| Price: | $174.35 |
Magic Chef Mcm1110w 1.1 Cubic-Ft, 1,000-Watt Microwave With Digital Touch (White)
---
Magic Chef MCM1611B 1100W Oven, 1.6 cu. ft, Black Microwave



$174.72

@ Amazon.com (Save 21%)
Product Description
1.6 Cu. Ft. - 1100 Watts
11 Power Levels
Black Front/Black Cabinet
Auto Cook Menus
Kitchen Timer
Included components: Microwave
Product Details
| | |
| --- | --- |
| Brand: | Magic Chef |
| Model #: | MCM1611B |
| Warranty: | 1 year parts and labor |
| Size: | 1.6 cu. ft. |
| Color: | Black |
| Dimensions: | 17.9 X 21.8 X 12.8 Inches (Length X Width X Height) |
| Price: | $174.72 (Save 21%) |
Magic Chef MCM1611B 1100W Oven, 1.6 cu. ft, Black Microwave
---
Magic Chef 0.9 Cu. Ft. 900W White Countertop Microwave Oven



$146.90

@ Amazon.com
Product Description
900 watts
Electronic controls with LED display
8 quick-set menu buttons
Weight & time defrost
Push-button door for easy microwave operation
Product Details
| | |
| --- | --- |
| Brand: | Magic Chef |
| Model #: | MCD993W |
| Warranty: | 1 Year Manufacturer warranty |
| Color: | White |
| Dimensions: | 14.8 X 18.3 X 11 Inches (Length X Width X Height) |
| Price: | $146.90 |
Magic Chef 0.9 Cu. Ft. 900W White Countertop Microwave Oven
---
Magic Chef 1.1 Cu. Ft. 1000W Countertop Microwave Oven with Stylish Door Handle, Black



$144.32

@ Amazon.com
Product Description
1.1 cu-ft. capacity
1, 000W power
Digital touch interface
10 power levels
Electronic controls with LED display
Product Details
| | |
| --- | --- |
| Brand: | Magic Chef |
| Model #: | MCM1110ST |
| Warranty: | 1 year |
| Size: | 1.1 cu. ft. |
| Color: | Black |
| Dimensions: | 24.5 X 18.5 X 15.6 Inches (Length X Width X Height) |
| Price: | $144.32 |
Magic Chef 1.1 Cu. Ft. 1000W Countertop Microwave Oven with Stylish Door Handle, Black
---
Magic Chef Cu. Ft. 1000W Countertop Oven in White MCM1310W 1.3 cu.ft. Microwave



$120.00

@ Amazon.com (Save 38%)
Product Description
1.3 Cu. Ft. - 1000 Watts
11 Power Levels
White Front / White Cabinet
Auto Cook Menus and Auto Defrost Menus
Kitchen Timer and Child Safety Lock
Included Components: Microwave
Product Details
| | |
| --- | --- |
| Brand: | Magic Chef |
| Model #: | MCM1310W |
| Warranty: | 1 Year parts & labor |
| Size: | 1.3 cu. ft. |
| Color: | White |
| Dimensions: | 17 X 20.4 X 12.4 Inches (Length X Width X Height) |
| Price: | $120.00 (Save 38%) |
Magic Chef Cu. Ft. 1000W Countertop Oven in White MCM1310W 1.3 cu.ft. Microwave
---
Magic Chef MCM1611W 1100W Oven, 1.6 cu. ft, White Microwave



$175.33

@ Amazon.com (Save 12%)
Product Description
1.6 Cu. Ft. - 1100 Watts
11 Power Levels
White Front/White Cabinet
Auto Cook Menus
Kitchen Timer
Product Details
| | |
| --- | --- |
| Brand: | Magic Chef |
| Model #: | MCM1611W |
| Warranty: | 1 year parts and labor |
| Size: | 1.6 cu. ft. |
| Color: | White |
| Dimensions: | 17.9 X 21.8 X 12.8 Inches (Length X Width X Height) |
| Price: | $175.33 (Save 12%) |
Magic Chef MCM1611W 1100W Oven, 1.6 cu. ft, White Microwave
---