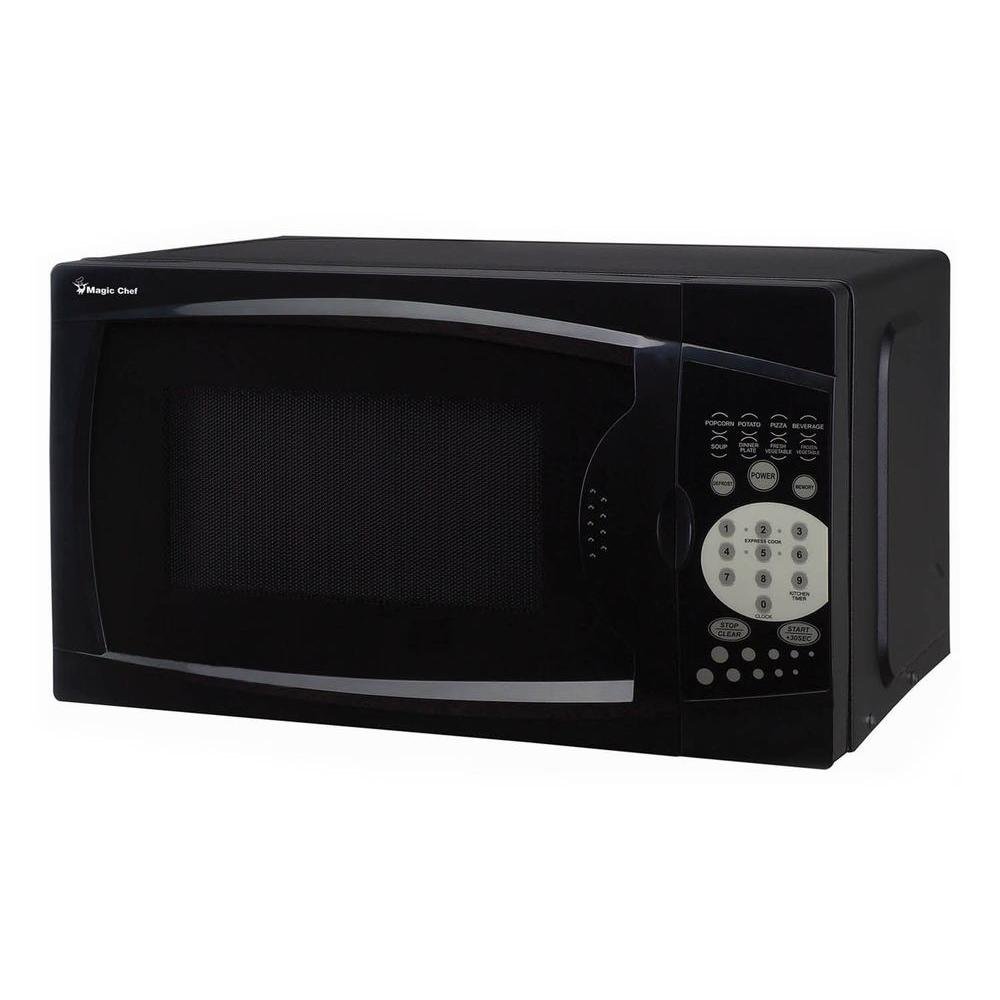 Magic Chef MCM770B1 countertop microwave oven has 0.7 Cu. Ft. cooking capacity, and it is made in a compact size that can easily installed even in less space area.
This Magic Chef microwave can accommodate numerous dishes and food items. The 700W cooking power is good to deliver fast and efficient cooking result.
Magic Chef MCM770B1 countertop microwave features eight quick-set menu buttons for cooking popcorn, pizza, soup, frozen vegetables and other common items.
Using the ten power levels, you will have a wider cooking options without any doubts. On the other hand, the 30-second express cooking option is good for offering quick, convenient cooking at the touch of a button.
On the other hand, weight and time defrost options are very helpful for thawing cold or frozen items. Magic Chef MCM770B1 features 3 pre-programmed, 1-touch cooking menus are perfect for ready to eat meals.
Further, it also comes with interior light to brighten the cooking space, and the kitchen timer for your cooking convenience. It also features a child safety lock to prevent unsupervised access to the unit. Read more…
Magic Chef Black 1.1 Cu. Ft. 1000W Countertop Microwave Oven with Push-Button Door



$139.87 ($139.87 / Count)

@ Amazon.com
Product Description
1.1cubic feet capacity
1,000-watt Electronic controls with led display
Digital touch
10 Power Levels
Electronic controls with led display
Product Details
| | |
| --- | --- |
| Brand: | Magic Chef |
| Model #: | MCM1110B |
| Warranty: | 1 year |
| Size: | 1.1 cu. Ft. |
| Color: | Black |
| Dimensions: | 18.11 X 22.8 X 14.25 Inches (Length X Width X Height) |
| Price: | $139.87 ($139.87 / Count) |
Magic Chef Black 1.1 Cu. Ft. 1000W Countertop Microwave Oven with Push-Button Door
---
Magic Chef 0.7 Cu. Ft. 700W Oven in White Countertop Microwave.7



$101.55 ($101.55 / Count)

@ Amazon.com
Product Description
.7cubic feet capacity
700-watt Electronic controls with led display
Digital touch
10 Power Levels
Electronic controls with led display
Product Details
| | |
| --- | --- |
| Brand: | Magic Chef |
| Model #: | MCM770W |
| Warranty: | 1 year |
| Size: | .7 cu. ft. |
| Color: | White |
| Dimensions: | 14.96 X 19.2 X 11.46 Inches (Length X Width X Height) |
| Price: | $101.55 ($101.55 / Count) |
Magic Chef 0.7 Cu. Ft. 700W Oven in White Countertop Microwave.7
---
Magic Chef 0.9 Cu. Ft. 900W White Countertop Microwave Oven



$146.90

@ Amazon.com
Product Description
900 watts
Electronic controls with LED display
8 quick-set menu buttons
Weight & time defrost
Push-button door for easy microwave operation
Product Details
| | |
| --- | --- |
| Brand: | Magic Chef |
| Model #: | MCD993W |
| Warranty: | 1 Year Manufacturer warranty |
| Color: | White |
| Dimensions: | 14.8 X 18.3 X 11 Inches (Length X Width X Height) |
| Price: | $146.90 |
Magic Chef 0.9 Cu. Ft. 900W White Countertop Microwave Oven
---
Magic Chef MCM1611B 1100W Oven, 1.6 cu. ft, Black Microwave



$174.72

@ Amazon.com (Save 21%)
Product Description
1.6 Cu. Ft. - 1100 Watts
11 Power Levels
Black Front/Black Cabinet
Auto Cook Menus
Kitchen Timer
Included components: Microwave
Product Details
| | |
| --- | --- |
| Brand: | Magic Chef |
| Model #: | MCM1611B |
| Warranty: | 1 year parts and labor |
| Size: | 1.6 cu. ft. |
| Color: | Black |
| Dimensions: | 17.9 X 21.8 X 12.8 Inches (Length X Width X Height) |
| Price: | $174.72 (Save 21%) |
Magic Chef MCM1611B 1100W Oven, 1.6 cu. ft, Black Microwave
---
Magic Chef Cu. Ft Countertop Oven with Push-Button Door in White MCM1110W 1.1 cu.ft. 1000W Microwave



$141.07

@ Amazon.com
Product Description
1.1 Cubic feet /1000 watts
White front/white cabinet
Auto cook and defrost menus
10 power levels / kitchen timer
Child safety lock
Product Details
| | |
| --- | --- |
| Brand: | Magic Chef |
| Model #: | MCM1110W |
| Warranty: | 1 year |
| Size: | 1.1 cu. Ft. |
| Color: | White |
| Dimensions: | 15.7 X 20.2 X 12 Inches (Length X Width X Height) |
| Price: | $141.07 |
Magic Chef Cu. Ft Countertop Oven with Push-Button Door in White MCM1110W 1.1 cu.ft. 1000W Microwave
---
Magic Chef 1.1 Cu. Ft. 1000W Countertop Microwave Oven with Stylish Door Handle, Black



$144.32

@ Amazon.com
Product Description
1.1 cu-ft. capacity
1, 000W power
Digital touch interface
10 power levels
Electronic controls with LED display
Product Details
| | |
| --- | --- |
| Brand: | Magic Chef |
| Model #: | MCM1110ST |
| Warranty: | 1 year |
| Size: | 1.1 cu. ft. |
| Color: | Black |
| Dimensions: | 24.5 X 18.5 X 15.6 Inches (Length X Width X Height) |
| Price: | $144.32 |
Magic Chef 1.1 Cu. Ft. 1000W Countertop Microwave Oven with Stylish Door Handle, Black
---
Magic Chef MCM770B 18 Microwave with 0.7 cu. ft. Capacity 10 Power Levels 700 Cooking Watts and 8 Preprogrammed Modes in Black



$137.69

@ Amazon.com
Product Description
Ship to United states only
Average processing time 2-5 business days
Average ship time 3 business days
PID 665679003044
Product Details
| | |
| --- | --- |
| Brand: | Magic Chef |
| Model #: | MCM770B |
| Color: | Black |
| Price: | $137.69 |
Magic Chef MCM770B 18 Microwave with 0.7 cu. ft. Capacity 10 Power Levels 700 Cooking Watts and 8 Preprogrammed Modes in Black
---
Magic Chef Cu. Ft. 1000W Countertop Oven in White MCM1310W 1.3 cu.ft. Microwave



$120.00

@ Amazon.com (Save 38%)
Product Description
1.3 Cu. Ft. - 1000 Watts
11 Power Levels
White Front / White Cabinet
Auto Cook Menus and Auto Defrost Menus
Kitchen Timer and Child Safety Lock
Included Components: Microwave
Product Details
| | |
| --- | --- |
| Brand: | Magic Chef |
| Model #: | MCM1310W |
| Warranty: | 1 Year parts & labor |
| Size: | 1.3 cu. ft. |
| Color: | White |
| Dimensions: | 17 X 20.4 X 12.4 Inches (Length X Width X Height) |
| Price: | $120.00 (Save 38%) |
Magic Chef Cu. Ft. 1000W Countertop Oven in White MCM1310W 1.3 cu.ft. Microwave
---
Magic Chef MCM1110B Black Countertop Microwave 1.1 Cu ft 1000W W/Digital Touch Home & Garden



$166.20

@ Amazon.com (Save 23%)
Product Description
NEW
MAGIC CHEF
MCPMCM1110B
Product Details
| | |
| --- | --- |
| Brand: | Magic Chef |
| Color: | Black |
| Price: | $166.20 (Save 23%) |
Magic Chef MCM1110B Black Countertop Microwave 1.1 Cu ft 1000W W/Digital Touch Home & Garden
---
Magic Chef 0.7 Cu. Ft. 1000W Black Countertop Microwave Oven.7



$101.18 ($101.18 / count)

@ Amazon.com
Product Description
Included Components: microwave, turntable, roller guide, manual, warranty
The package length of the product is 20.0 inches
The package width of the product is 15.0 inches
The package height of the product is 20.0 inches
Product Details
| | |
| --- | --- |
| Brand: | Magic Chef |
| Model #: | MCM770B |
| Warranty: | 1 year parts and labor / 8 years magnetron part |
| Size: | .7 cu. ft. |
| Color: | Black |
| Dimensions: | 21.3 X 16 X 14.4 Inches (Length X Width X Height) |
| Price: | $101.18 ($101.18 / count) |
Magic Chef 0.7 Cu. Ft. 1000W Black Countertop Microwave Oven.7
---