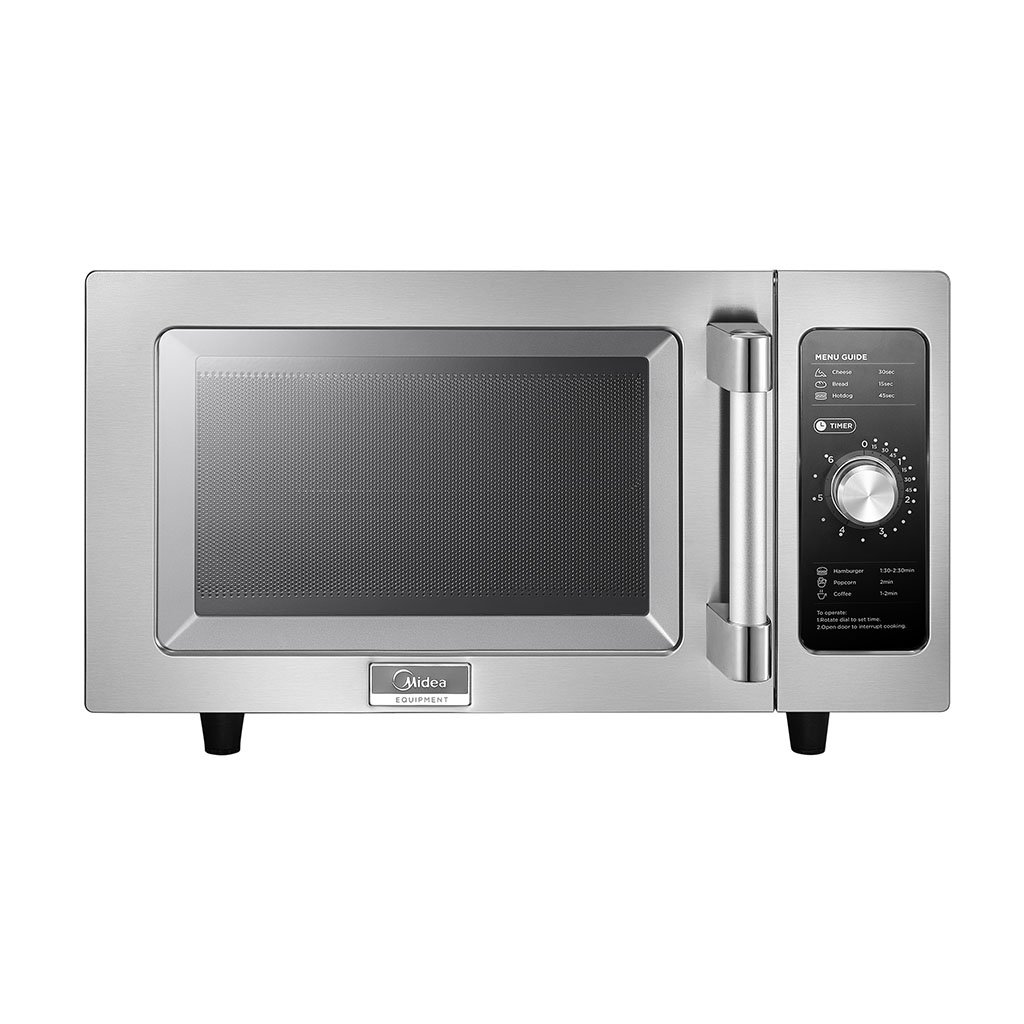 If you are looking to buy a compact size microwave oven with a stylish look, please check Midea 1025F0A Light Duty Commercial Microwave.
The Midea commercial microwave oven offers 1000-watt of cooking power, which is good for cooking food evenly and quickly. Of course, you will receive efficient cooking result from this high quality microwave oven.
The light duty commercial microwave oven by Midea has a good capacity of 25 liters. So this microwave can easily accommodate a 12-inch platter and the cavity is made of stainless steel so it is very easy to clean and the food will not stick onto the cavity.
The Midea microwave oven has gotten durable construction so it is a well-suited unit for the commercial environment. Other important features are a removable splatter shield and dial controls.
This powerful commercial microwave oven can easily be compared with Panasonic NE-1025F Silver 1000W Commercial Microwave Oven, General GEW 1000D Microwave Dial control and Toshiba EM245A5C-SS Microwave Oven. Read more…
Midea Equipment 1025F1A Stainless Steel Countertop Commercial Microwave Oven, 1000W



$264.30

@ Amazon.com (Save 11%)
Product Description
Medium Capacity (0. 9 cu. ft./ 25 L), accommodates a 12''(305 mm) platter; Oven cavity light to monitor cooking status without opening the door
Able to withstand the demands of the Commercial Food Service environment with stainless steel cabinet and oven cavity
5 power levels and 3 cooking stages for different cooking demands; 1000 Watts of Cooking power
User-friendly touch control pads AND Electronic dial timer with braille navigation is great for self-service locations and is ADA Compliant
EZ Grab's Go door handle for reliable use, no moving parts
Product Details
| | |
| --- | --- |
| Brand: | Midea Equipment |
| Model #: | 1025F1A |
| Warranty: | 3 Year Limited Warranty; 3 Year Magnetron and 1 Year Parts, Labor and Travel/Shipping. |
| Color: | Stainless Steel |
| Dimensions: | 17 X 20.13 X 12.13 Inches (Length X Width X Height) |
| Price: | $264.30 (Save 11%) |
Midea Equipment 1025F1A Stainless Steel Countertop Commercial Microwave Oven, 1000W
---
Midea Equipment 1025F0A Stainless Steel Countertop Commercial Microwave Oven, 1000W



$279.50

@ Amazon.com
Product Description
Capacity (0. 9 cu. ft. / 25 L), accommodates a 12'' platter
Able to withstand the demands of the Commercial Food Service environment with stainless steel cabinet and oven cavity
Full power only for simple operation; 1000 Watts of Cooking power
Easy to control with 6 minute electronic dial timer with "Auto Reset" feature; On door menu guide for frequently used items and reference
EZ Grab's Go door handle for reliable use, no moving parts
Product Details
| | |
| --- | --- |
| Brand: | Midea Equipment |
| Model #: | 1025F0A |
| Warranty: | 3 Year Limited Warranty: 3 year Magnetron and 1 Year Parts, Labor and Travel/Shipping. |
| Color: | Stainless Steel |
| Dimensions: | 20.13 X 17 X 12.25 Inches (Length X Width X Height) |
| Price: | $279.50 |
Midea Equipment 1025F0A Stainless Steel Countertop Commercial Microwave Oven, 1000W
---
Midea Equipment 1200 Watt Scanning Commercial Microwave Oven, 1200W, Stainless Steel (1217G1S)



$1,077.57

@ Amazon.com
Product Description
Large capacity (0. 6 cu. ft. / 17 L), accommodates a 12'' (305 mm) platter; Oven cavity light to monitor cooking status without opening the door
Scans barcode and cooks automatically
Scannining Microwave
Setup oven using PC/MAC instead of scrolling around display
Software included
Product Details
| | |
| --- | --- |
| Brand: | Midea Equipment |
| Model #: | 1217G1S |
| Warranty: | 3 Year Limited Warranty: 3 year Magnetron and 1 Year Parts, Labor and Travel/Shipping |
| Color: | Stainless Steel |
| Dimensions: | 22.13 X 16.5 X 13.38 Inches (Length X Width X Height) |
| Price: | $1,077.57 |
Midea Equipment 1200 Watt Scanning Commercial Microwave Oven, 1200W, Stainless Steel (1217G1S)
---
Midea Equipment 1034N1A Stainless Steel Countertop Commercial Microwave Oven, 1000W



$443.40

@ Amazon.com (Save 5%)
Product Description
Large capacity (1. 2 cu. ft. / 34 L), accommodates a 14'' (356 mm) platter; Oven cavity light to monitor cooking status without opening the door
Able to withstand the demands of the Commercial Food Service environment with stainless steel cabinet and oven cavity
60:00 maximum cooking time and 100 auto programs can cover most product demands; 1000 Watts of Cooking power
5 power levels and 3 cooking stages for different cooking demands
EZ Grab's Go door handle for reliable use, no moving parts
Product Details
| | |
| --- | --- |
| Brand: | Midea Equipment |
| Model #: | 1034N1A |
| Warranty: | 3 Year Limited Warranty: 3 year Magnetron and 1 Year Parts, Labor and Travel/Shipping |
| Color: | Stainless Steel |
| Dimensions: | 21.75 X 19.25 X 13.5 Inches (Length X Width X Height) |
| Price: | $443.40 (Save 5%) |
Midea Equipment 1034N1A Stainless Steel Countertop Commercial Microwave Oven, 1000W
---
Midea Equipment 1034N0A Stainless Steel Countertop Commercial Microwave Oven, 1000W



$428.42

@ Amazon.com
Product Description
Large capacity (1. 2 cu. ft. / 34 L), accommodates a 14'' (356 mm) platter; Oven cavity light to monitor cooking status without opening the door
Able to withstand the demands of the Commercial Food Service environment with stainless steel cabinet and oven cavity
Easy to control with 6 minute electronic dial timer with "Auto Reset" feature
Unique CCW rotate the dial timer to choose 5 power levels; 1000 Watts of Cooking power
EZ Grab's Go door handle for reliable use, no moving parts
Product Details
| | |
| --- | --- |
| Brand: | Midea Equipment |
| Model #: | 1034N0A |
| Warranty: | 3 Year Limited Warranty: 3 year Magnetron and 1 Year Parts, Labor and Travel/Shipping |
| Color: | Stainless Steel |
| Dimensions: | 21.75 X 19.25 X 13.5 Inches (Length X Width X Height) |
| Price: | $428.42 |
Midea Equipment 1034N0A Stainless Steel Countertop Commercial Microwave Oven, 1000W
---
Midea Equipment 2117G1A Commercial Microwave, 2100 Watts, Stainless Steel



$1,158.41

@ Amazon.com
Product Description
Large capacity (0. 6 cu. ft. / 17 L), accommodates a 12'' (305 mm) platter; Oven cavity light to monitor cooking status without opening the door
USB port for easy and consistent menu customization for multiple (chain) locations
Removable Splatter Shield and Stainless Steel Air Intake filter for easy cleaning; Stackable
11 power levels and 3 cooking stages for different cooking demands; Top and Bottom Energy Feed; 2100 Watts of Cooking power
EZ Grab's Go door handle for reliable use, no moving parts
Product Details
| | |
| --- | --- |
| Brand: | Midea Equipment |
| Model #: | 2117G1A |
| Warranty: | 3 Year Limited Warranty: 3 year Magnetron and 1 Year Parts, Labor and Travel/Shipping |
| Size: | 2100 Watts |
| Color: | Stainless Steel |
| Dimensions: | 22.6 X 20.7 X 14.5 Inches (Length X Width X Height) |
| Price: | $1,158.41 |
Midea Equipment 2117G1A Commercial Microwave, 2100 Watts, Stainless Steel
---
Midea Equipment 1434N0A Stainless Steel Countertop Commercial Microwave Oven, 1400W



$679.20

@ Amazon.com
Product Description
Large capacity (1. 2 cu. ft. / 34 L), accommodates a 14'' (356 mm) platter; Oven cavity light to monitor cooking status without opening the door
Able to withstand the demands of the Commercial Food Service environment with stainless steel cabinet and oven cavity
Easy to control with 6 minute electronic dial timer with "Auto Reset" feature
Unique CCW rotate the dial timer to choose 5 power levels; 1000 Watts of Cooking power
EZ Grab's Go door handle for reliable use, no moving parts
Product Details
| | |
| --- | --- |
| Brand: | Midea Equipment |
| Model #: | 1434N0A |
| Warranty: | 3 Year Limited Warranty: 3 year Magnetron and 1 Year Parts, Labor and Travel/Shipping |
| Color: | Stainless Steel |
| Dimensions: | 21.75 X 19.25 X 13.5 Inches (Length X Width X Height) |
| Price: | $679.20 |
Midea Equipment 1434N0A Stainless Steel Countertop Commercial Microwave Oven, 1400W
---
Midea Equipment 1217G1A Stainless Steel Stackable Commercial Microwave Oven, 1200W



$1,054.57

@ Amazon.com
Product Description
Large capacity (0. 6 cu. ft. / 17 L), accommodates a 12'' (305 mm) platter; Oven cavity light to monitor cooking status without opening the door
USB port for easy and consistent menu customization for multiple (chain) locations
Removable Splatter Shield and Stainless Steel Air Intake filter for easy cleaning; Stackable
11 power levels and 3 cooking stages for different cooking demands; Top and Bottom Energy Feed; 1200 Watts of Cooking power
EZ Grab's Go door handle for reliable use, no moving parts
Product Details
| | |
| --- | --- |
| Brand: | Midea Equipment |
| Model #: | 1217G1A |
| Warranty: | 3 Year Limited Warranty: 3 year Magnetron and 1 Year Parts, Labor and Travel/Shipping |
| Color: | Stainless Steel |
| Dimensions: | 22.13 X 16.5 X 13.38 Inches (Length X Width X Height) |
| Price: | $1,054.57 |
Midea Equipment 1217G1A Stainless Steel Stackable Commercial Microwave Oven, 1200W
---
Midea Equipment 1134G1A Commercial Microwave, 1100 Watts, Stainless Steel



$707.99

@ Amazon.com
Product Description
Large capacity (1. 2 cu. ft. / 34 L), accommodates a 14'' (356 mm) platter
Able to withstand the demands of the Commercial Food Service environment with stainless steel cabinet and oven cavity
5 power levels and 3 cooking stages for different cooking demands
User-friendly touch control pads with braille navigation is great for self-service locations and is ADA Compliant
EZ Grab's Go door handle for reliable use, no moving parts
Product Details
| | |
| --- | --- |
| Brand: | Midea Equipment |
| Model #: | 1134G1A |
| Warranty: | 3 Year Limited Warranty: 3 year Magnetron and 1 Year Parts, Labor and Travel/Shipping. |
| Size: | 1100 Watts |
| Color: | Stainless Steel |
| Dimensions: | 22.63 X 20.75 X 14.5 Inches (Length X Width X Height) |
| Price: | $707.99 |
Midea Equipment 1134G1A Commercial Microwave, 1100 Watts, Stainless Steel
---
Midea WHS-65LB1 Compact Refrigerator, 1.6 Cubic Feet, Black & Commercial Chef Countertop Microwave Oven, 0.6 Cu. Ft, Black



$178.45

@ Amazon.com (Save 22%)
Product Description
Product 1: Mechanical temperature adjustment ranges from -2' to 2' Celsius (32' to 35.6'fahrenheit)
Product 1: Large storage areas excellent at chilling beverages and healthy snacks/produce, however cannot be used for storing frozen foods or making ice cubes
Product 1: Features Adjustable Legs and a Reversible Door that can Open from Left or Right. Min/Max Frozen Food Section-32~50
Product 1: Full 1-Year Warranty
Product 2: Kitchen countertop mini microwave ovens for preparing snacks, heating up last night's leftovers, or food preparation
Product 2: Durable strong construction with a Black front display and cabinet for compact durability
Product Details
| | |
| --- | --- |
| Brand: | Midea |
| Size: | 1.6 Cubic Feet |
| Color: | Black |
| Price: | $178.45 (Save 22%) |
Midea WHS-65LB1 Compact Refrigerator, 1.6 Cubic Feet, Black & Commercial Chef Countertop Microwave Oven, 0.6 Cu. Ft, Black
---