This Mueller Austria 4 slice toaster oven equipped with thigh quality parts that make it the best performance toaster oven. The interior of this toaster oven is made in a way so that it can distribute heat evenly because the interior is based on an even-toast technology.
Since the Mueller Austria toaster oven is based on even toast technology so you can undoubtedly toast up to 4 slices of bread evenly.
The Mueller Austria toaster oven has a compact design that is the best suitable for a countertop usage. On the other hand, the curved interior of this toaster oven makes the room for a large 9-inch pizza or 4-slices of bread.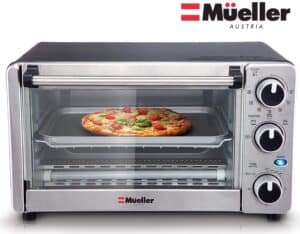 Mueller Austria Toaster Oven 4 Slice has all the features and functions that you may require for the comfort toasting of breads. The main functions are toasting, broiling, baking, and keeping warm feature.
Further, it supports wider temperature range from 150° F to 450° F. So this temperature range is good to cook with utmost convenience. And the natural convection circulates air for faster and even cooking.
Mueller Austria Toaster Oven 4 Slice comes with a built-in timer. Yes, it has 30-minute timer with precise toasting settings and stay-on functionality.
Amazingly, this toaster oven is very easy to clean because it comes with a removable crumb tray for all your cooking convenience.
Warranty: a 2-year warranty is attached with this product following the no-hassle replacement policy of Mueller USA. In case, you are not satisfied with this toaster oven or the performance is not according to your expectation, you can always contact the manufacturer to claim the warranty.
Mueller Austria Toaster Oven 4 Slice gives you so many cooking possibilities. Yes, you can easily prepare bacon, pizza, hot dogs, hamburgers and many others.