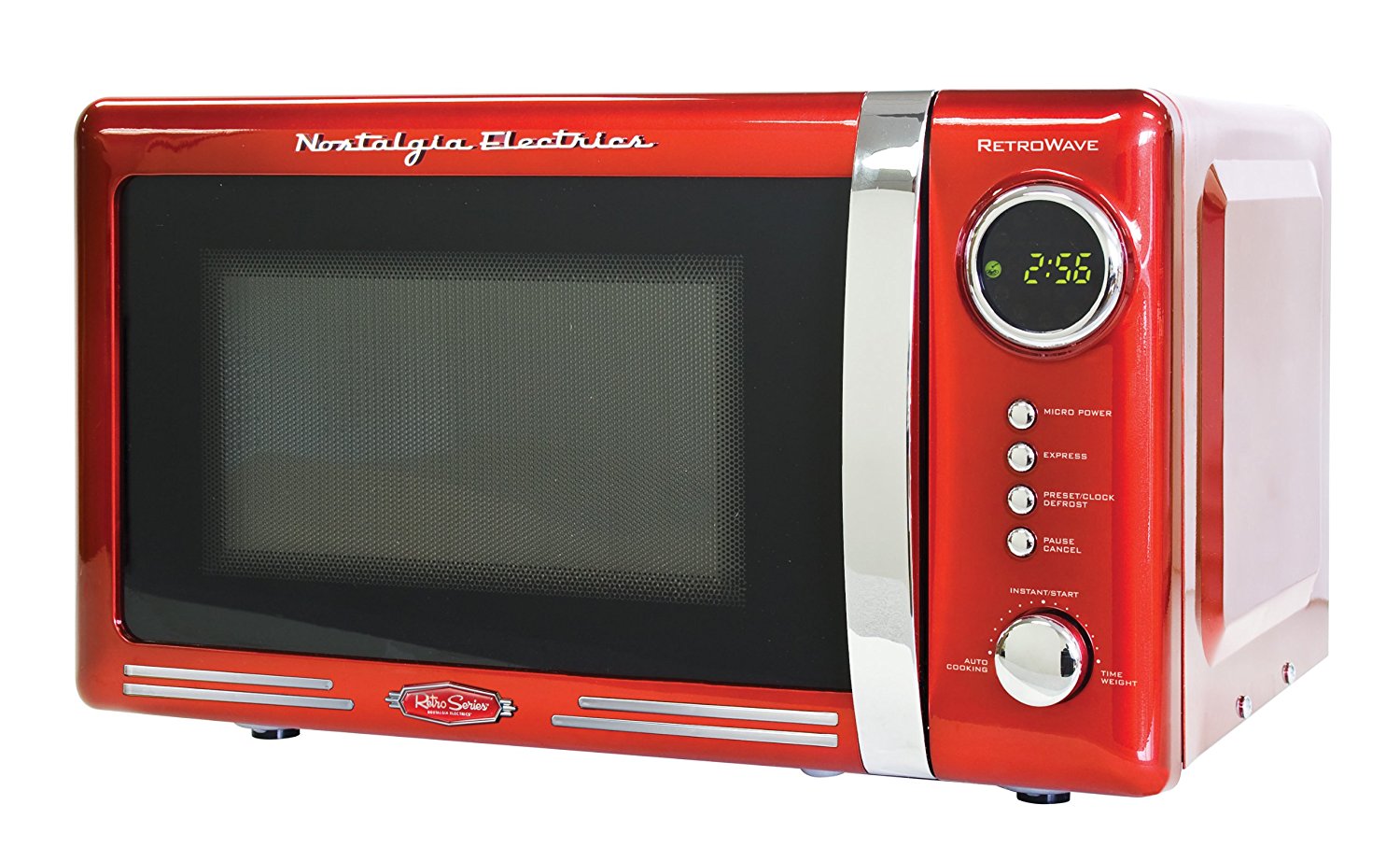 Nostalgia RMO770RED Retro Series microwave oven is made in a sleek and retro design that will surely enhance the look of any kitchen. It features 12 pre-programmed features and bright LED display that is good for making usability very simple.
Nostalgia makes various countertop microwave ovens in unique designs. Most of the Nostalgia microwave ovens come with advanced features for the greatest cooking ease. If you are looking to buy a high quality and performance oriented microwave oven, you can check Nostalgia RMO770RED Retro microwave oven that has 0.7 cu. ft. capacity. This is a high class microwave oven by Nostalgia that provides impressive cooking power to prepare meals and reheat foods very quickly.
Nostalgia RMO770RED countertop microwave oven comes with customizable cooking settings. It has 12 pre-programmed cooking settings and delay timer so you have the options for the best heating of popular foods like pizza, potatoes, popcorn, veggies and many others.
There is no doubt to the quality of prepared meals by this Nostalgia microwave oven. Nostalgia RMO770RED Retro series countertop microwave oven is able to provide even cooking because it comes with rotating glass carousel helps cook food evenly.
Further, Nostalgia RMO770RED features Retro Accents that has a sleek chrome door handle, control panel and accents and fun and flair to this unique retro-styled appliance. The 700 watts cooking power lets you cook food evenly and efficiently. The 700W cooking power is the efficient cooking power to cook mostly used items.
Further, Nostalgia RMO770RED Retro Series microwave oven comes with five power levels and 700 watts of power that are perfect for reheating leftover to cooking food. Further, this Nostalgia microwave oven comes with a chrome door handle and accents that look stylish. This Nostalgia oven is made in a compact design that measures 18 x 14.2 x 10.2 inches and weighs 23.7 pounds. Read more…
[home]
Visited 1 times, 1 visit(s) today