T-fal C836SD 13 Pieces Cookware Set is an ultimate stainless steel cookware set that also exists among the best. The collections include the 8-inch fry pan, the 10.5-inch fry pan, the 12-inch fry pan with lid, a one-quart saucepan with lid, 2 quart and many other amazing utensils. The Dutch oven comes with a lid ad a stainless steel steamer.
T-fal C836SD 13 Pieces Cookware Set is heavy gauged following its multi-layered copper, stainless steel and aluminum make. It offers a uniform heat distribution that will enhance consistent cooking. It helps in channeling heat from the counter outward.
The interiors of the amazing T-fal C836SD 13 Pieces Cookware Set are made of stainless steel, which is the ideal cooking surface. You will expect this surface to be very safe since it won't react with acidic foods.
The T-fal C836SD 13 Pieces Cookware Set works best when it is heated using moderate heat. To prevent food from sticking, preheat the pan then add a thin coat of cooking oil.
Other great features worth mentioning include the sturdy handles and the vented lids. The stainless steel handles are riveted so that it can securely hold fat contents in it.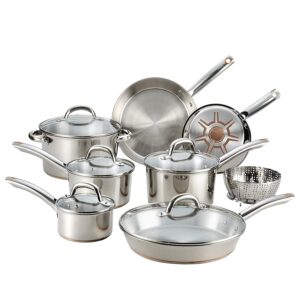 The T-fal cookware set is also made with an ergonomic design to enhance comfort and grip while you are cooking. Other great features are the tempered glass lids traps in heat and moisture. The vented hole in Lids lets a little steam escape hence maintaining the visibility and also prevent the boiling over.
For proper use and care, ensure that you sue it with cooktops and the induction stovetops. T-fal C836SD 13 Pieces Cookware Set is safe in temperatures up to 500 Fahrenheit in ovens. It's lovely cookware that has an internal marks to simplify the task of filling it. It is also dishwasher safe with a lifetime warranty.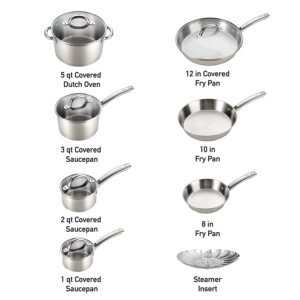 Pros
It's a dishwasher safe product
T-fal C836SD has marks on its interiors for accuracy
It is inexpensive
It is heavy gauged hence guaranteeing durability
Cons
The only shortcoming associated with this product is that sometimes it gets damaged under high temperatures beyond the required.
Conclusion
In conclusion, T-fal C836SD is the perfect cookware that you should consider. It is excellent when it comes to reliability, convenience and also quality performance. We love it, and that's why it is best-selling and receives fantastic reviews on platforms such as amazon.
More Images of T-fal C836SD Ultimate Stainless Steel Copper Bottom 13 PC Cookware Set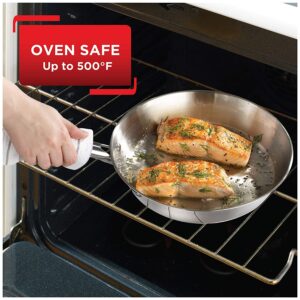 Oven safe up to 500° F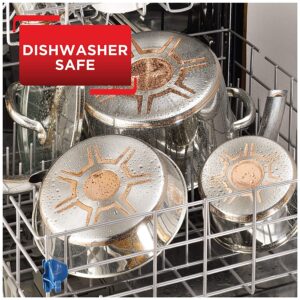 Dishwasher safe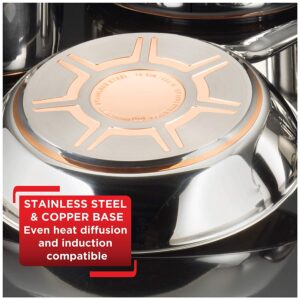 Stainless steel and copper base for the even heat diffusion and induction compatible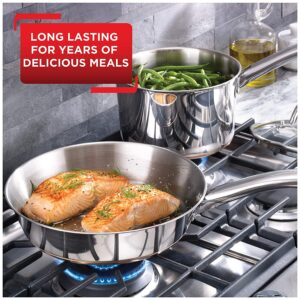 This T-fal cookware set will last years after years for preparing delicious meals
[compare]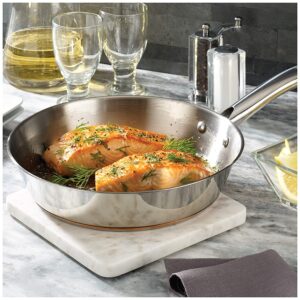 T-fal Excite ProGlide Nonstick Thermo-Spot Heat Indicator Dishwasher Oven Safe Cookware Set, 14-Piece, Blue



$69.99

@ Amazon.com
Product Description
Durable aluminum construction for long lasting performance
Unique Thermo-Spot heat indicator clearly shows when pan is properly preheated
Superior ProGlide Non-stick interior withstands the rigors of everyday cooking
Even heat base for reliable cooking results
Stylish, ergonomically designed and color matched handles for safety, comfort and beauty
Dishwasher safe; Oven safe to 350°F
Product Details
| | |
| --- | --- |
| Brand: | T-fal |
| Model #: | B037SE64 |
| Warranty: | Limited Lifetime Warranty |
| Size: | 14 Piece |
| Color: | Blue |
| Dimensions: | 22.8 X 12 X 13.8 Inches (Length X Width X Height) |
| Price: | $69.99 |
T-fal Excite ProGlide Nonstick Thermo-Spot Heat Indicator Dishwasher Oven Safe Cookware Set, 14-Piece, Blue
---
T-fal, Dishwasher Safe Cookware Set, 18 Piece, Red Initiatives Nonstick Inside



$119.99

@ Amazon.com
Product Description
Set includes: 3 quart; Saucepan, 1 quart; Saucepan with Lid, 8 inches Frying Pan, 2 quart; Saucepan with Lid, 5 quart; Stockpot, Slotted Spoon, Spoon, 10 inches Skillet with Lid, 4 quart; Stockpot, 11 inches Frying Pan, Slotted Turner
Dishwasher safe: Exceptionally durable dishwasher safe cookware for easy clean up
Durable nonstick interior: Durable non stick interior for easy cleaning and cooking
Even heat base: Delivers even heat distribution for reliable cooking results
Nonstick exterior: A breeze to clean, ceramic cooking surface resists heat up to 570 degree fahrenheit
Comfortable handle: Ergonomic comfortable grip; Oven safe up to 350 Fahrenheit/177 Celsius
Product Details
| | |
| --- | --- |
| Brand: | T-fal |
| Model #: | 2100100487 |
| Warranty: | Lifetime limited warranty |
| Size: | 18-Piece |
| Color: | Red |
| Dimensions: | 11.5 X 22.8 X 13 Inches (Length X Width X Height) |
| Price: | $119.99 |
T-fal, Dishwasher Safe Cookware Set, 18 Piece, Red Initiatives Nonstick Inside
---
T-fal Signature Nonstick Dishwasher Safe Cookware Set, Pots and Pans Set, 12-Piece, Black



@ Amazon.com
Product Description
Set includes: 7.75 inch and 11 inch fry pans, 1 quart and 2 quart sauce pans with lids, a 5.5 quart Dutch oven with lid, a 10.25 inch griddle, and a spoon, ladle, and slotted spatula
Dishwasher safe: Easy to clean and dishwasher safe cookware set; Nonstick interior and exterior for low fat cooking and easy cleaning
Use and care: Safe for all cooking methods except induction; PFOA, Lead, and Cadmium free. Wash the frying pan in hot water and washing-up liquid to remove any dust. Dry it and rub a little cooking oil into the non-stick coating before using for the first time
Heats evenly: With our thermo spot indicator, know when our T fal pan is ready for use; Oven safe up to 350 Fahrenheit
Ergonomic heat resistant handles for a comfortable grip; Vented tempered glass lids trap in heat and moisture
Heavy gauge aluminum construction with vented glass Lids
Product Details
| | |
| --- | --- |
| Brand: | T-fal |
| Model #: | 32406041356 |
| Warranty: | Limited lifetime. |
| Size: | 12-Piece |
| Color: | Black |
| Dimensions: | 22.75 X 11 X 12.75 Inches (Length X Width X Height) |
| Price: | |
T-fal Signature Nonstick Dishwasher Safe Cookware Set, Pots and Pans Set, 12-Piece, Black
---
T-fal Ultimate Hard Anodized Nonstick 12 Piece Cookware Set, Dishwasher Safe Pots and Pans Set, Black



$92.00

@ Amazon.com (Save 29%)
Product Description
Set includes: 8 inches fry pan, 10 inches fry pan, 1 quart; Saucepan with lid, 2 quart saucepan with lid, 3 quart saucepan with lid, 5 quart; Dutch oven with lid, solid spoon and slotted spatula; Heat source, Gas, Electric, Ceramic, Halogen
Built to perform: A true workhorse in the kitchen, hard anodized aluminum retains perfect heat and has a much stronger protective layer than the original metal, making it corrosion and scratch resistant, plus it won't react to acidic foods
Heat mastery system: T fal's heat mastery system is a 3 ingredient recipe for perfectly delicious cooking results every time; Superior and longer lasting non stick coating, an anti warping, even heat base and patented thermo spot technology
Thermo spot indicator: The ring around the spot turns solid red to show when pans are perfectly preheated and ready for ingredients to be added proper preheating is key to sealing in flavor and cooking food evenly
Durable nonstick: Hard titanium reinforced, scratch resistant and toxin free nonstick interior stands upto everyday use and keeps food sliding smoothly along the surface, making cooking easier and cleanup a breeze
Riveted handles & vented lids: Riveted silicone handles are designed for comfort and safety; Vented tempered glass lids maintain visibility, while trapping enough heat and moisture for perfect results every meal
Product Details
| | |
| --- | --- |
| Brand: | T-fal |
| Model #: | E765SC |
| Warranty: | Lifetime limited warranty |
| Size: | 12-Piece |
| Color: | Black |
| Dimensions: | 23.86 X 12.75 X 11.93 Inches (Length X Width X Height) |
| Price: | $92.00 (Save 29%) |
T-fal Ultimate Hard Anodized Nonstick 12 Piece Cookware Set, Dishwasher Safe Pots and Pans Set, Black
---
T-fal Ultimate Hard Anodized Nonstick 17 Piece Cookware Set, Black



$199.99

@ Amazon.com
Product Description
DURABLE NONSTICK: Hard titanium reinforced, scratch resistant and toxin free nonstick interior stands up to everyday use and keeps food sliding smoothly along the surface, making cooking easier and cleanup a breeze
THERMO SPOT INDICATOR: Ring turns solid red to show when pans are perfectly preheated and ready for ingredients to be added. Not compatible on induction cook tops
RIVETED HANDLES & VENTED LIDS: Handles are designed for comfort and safety; Vented tempered glass lids maintain visibility, while trapping enough heat and moisture for perfect results every meal
USE&CARE: Suitable for all stove tops (except induction); Oven safe up to 400 degree Fahrenheit (lids up to 350 degree Fahrenheit); Dishwasher safe; Pfoa, lead, and cadmium free; Lifetime limited warranty
SET INCLUDES: 8" fry pan, 10.25" fry pan, 11.5" fry pan with lid, 10.25" square griddle, 1 quarts Saucepan with lid, 2 quarts Saucepan with lid, 3 quarts Saucepan with lid, 3.5 quarts deep sauté, 5 quarts Dutch oven with lid, 3 quarts steamer insert with 2 side handles, and a 1 egg wonder fry pan (Which will be in the 5qt Dutch Oven )
Product Details
| | |
| --- | --- |
| Brand: | T-fal |
| Model #: | 32406055629 |
| Size: | 17-Piece |
| Color: | Black |
| Dimensions: | 21.84 X 13.845 X 15.405 Inches (Length X Width X Height) |
| Price: | $199.99 |
T-fal Ultimate Hard Anodized Nonstick 17 Piece Cookware Set, Black
---
T-fal G919SE64 Initiatives Ceramic Nonstick Dishwasher Safe Toxic Free 14-Piece Cookware Set, Gold



$90.93

@ Amazon.com (Save 9%)
Product Description
Set includes: 8.5 inches Fry Pan, 10.5 inches Fry Pan, 11 inches Covered Fry Pan, 1 quart Covered Saucepan, 2 quart Covered Saucepan, 5 quart Covered Dutch Oven, 4 Nylon Tools
Ceramic nonstick interior: Ceramic non stick interior that resists scratching and staining
Dishwasher safe: Exceptionally durable dishwasher safe cookware for easy clean up
Even heat base: Delivers even heat distribution for reliable cooking results. Heat source - Gas - Electric - Ceramic - Halogen
Nonstick exterior: A breeze to clean; Ceramic cooking surface resists heat upto 570 degree Fahrenheit
Toxic free surface: Safe for all cooking methods except induction; PFOA, Lead, and Cadmium free
Product Details
| | |
| --- | --- |
| Brand: | T-fal |
| Model #: | 2100108604 |
| Size: | 14-Piece |
| Color: | Gold |
| Dimensions: | 22 X 13.9 X 9.2 Inches (Length X Width X Height) |
| Price: | $90.93 (Save 9%) |
T-fal G919SE64 Initiatives Ceramic Nonstick Dishwasher Safe Toxic Free 14-Piece Cookware Set, Gold
---
T-fal Everything in Kitchen Dishwasher Safe Cookware Set, 20-Piece, Black



$127.99

@ Amazon.com (Save 15%)
Product Description
Thermo-Spot unique heat indicator to show when pan is properly preheated to seal in food's flavor
Durable nonstick interior and exterior for easy cooking and quick cleanup
Ergonomically designed handles for comfort and safety
Dishwasher safe; Oven safe to 350°F; Lifetime Limited Warranty
Product Details
| | |
| --- | --- |
| Brand: | T-fal |
| Model #: | B206SK64 |
| Size: | 20-Piece |
| Color: | Black |
| Price: | $127.99 (Save 15%) |
T-fal Everything in Kitchen Dishwasher Safe Cookware Set, 20-Piece, Black
---
T-fal Unlimited Collection, Stainless Steel Platinum Non-stick, 12-Piece Cookware Set



$155.75

@ Amazon.com (Save 13%)
Product Description
Long Lasting Stainless Steel for durable cookware that works hard for you in the kitchen
10x More Resistant vs. T-fal basic coatings
Thermo-Spot turns solid red to indicate when the pan is properly preheated
Pouring spouts and straining lids for added convenience
Induction Compatible base is compatible with all cooktops and prevents hotspots
Platinum Non-Stick coating featured on 8" Frypan and 3.5qt Covered Deep Saute
Product Details
| | |
| --- | --- |
| Brand: | T-fal |
| Model #: | H856SC64 |
| Warranty: | Limited Lifetime Warranty |
| Size: | 12-Piece |
| Color: | Silver |
| Price: | $155.75 (Save 13%) |
T-fal Unlimited Collection, Stainless Steel Platinum Non-stick, 12-Piece Cookware Set
---
T-fal Titanium Advanced Nonstick Cookware Set, 12 Piece, Thermo-Spot Heat Indicator, Includes Frying Pans, Saucepans, Saute Pan, Dutch Oven with Lid and Utensils, Dishwasher Safe, Black



$129.99

@ Amazon.com
Product Description
Set includes 8 inches Fry Pan, 9 inches Fry Pan, 1 qt Saucepan, 2 qt saucepan, 3 qt Deep Sauté, 5 qt Dutch Oven, Solid Spoon, Slotted Spatula
TITANIUM ADVANCED NONSTICK INTERIOR: Durable nonstick coating that stands up to rigorous usage
THERMO-SPOT TECHNOLOGY: Unique heat indicator that turns solid red to show when pans are properly preheated to start cooking
EVEN HEAT BASE: No hot spots for reliable cooking results
DISHWASHER AND OVEN SAFE: Up to 350°F. ALL COOK TOPS COMPATIBILITY: Excluding Induction
Product Details
| | |
| --- | --- |
| Brand: | T-fal |
| Model #: | 2100103839 |
| Size: | Spatula,Spoon,3FryPanels,2 Saucepan,Saute,Stewpot |
| Color: | Black |
| Dimensions: | 22.83 X 14.17 X 9.45 Inches (Length X Width X Height) |
| Price: | $129.99 |
T-fal Titanium Advanced Nonstick Cookware Set, 12 Piece, Thermo-Spot Heat Indicator, Includes Frying Pans, Saucepans, Saute Pan, Dutch Oven with Lid and Utensils, Dishwasher Safe, Black
---
T-fal Initiatives Nonstick 20 Piece Pots And Pans Cookware Set, Black



$99.99

@ Amazon.com
Product Description
Durable aluminum construction
Unique Thermo-Spot heat indicator
Superior ProGlide non-stick interior
Ergonomically designed handles
Vented glass lids; Even heat base
Product Details
| | |
| --- | --- |
| Brand: | T-fal |
| Model #: | B207SK64 |
| Size: | 20-Piece |
| Color: | Black |
| Dimensions: | 23.4 X 13.2 X 14.17 Inches (Length X Width X Height) |
| Price: | $99.99 |
T-fal Initiatives Nonstick 20 Piece Pots And Pans Cookware Set, Black
---