In this Toshiba AC25CEW-BS Review, you will learn about features, performance and other important aspects of this Toshiba toaster oven.
If you are looking to buy a toaster oven that has a large interior, Toshiba AC25CEW-BS can be the best appliance for you. The specious interior can be able to hold a 12-inch pizza, six bread slices, four-pound chicken and many others. According to the maker, the external measurement is 18.98 by 15.59 by 10.78 inches. So, I will say that the large interior is the main capability of this toaster oven.
Temperature settings – the Toshiba toaster oven gives you a great temperature setting ease. Because the inner temperature is adjustable from 150° F to 400° F. With this temperature flexibility, a greater level of comfort is ensured.
10 cooking settings – it has 10 cooking settings, which are perfect for cooking on your preferred temperature level. This way, you enjoy a great cooking flexibility because of these ten cooking settings.
Useful features – Toshiba AC25CEW-BS toaster oven features an LED display, easy control buttons, stick-proof cavity, soft touch handle and double sided racks.
Warranty – this oven is protected with just one year of warranty. In my view, it should be more than two years. However, with some products sell on Amazon, you have an option to extend the warranty period by paying some extra money. So, I will advise to look for this option if it is available.
Included accessories – the accessories are a rotisserie kit, lifter, baking pan, crumb tray, baking rack and a rack clamp. Please know that the crumb tray is removable.
Cooking wattage – according to Toshiba AC25CEW-BS Review, the unit delivers 1500 watts cooking output, which is perfect for cooking most items.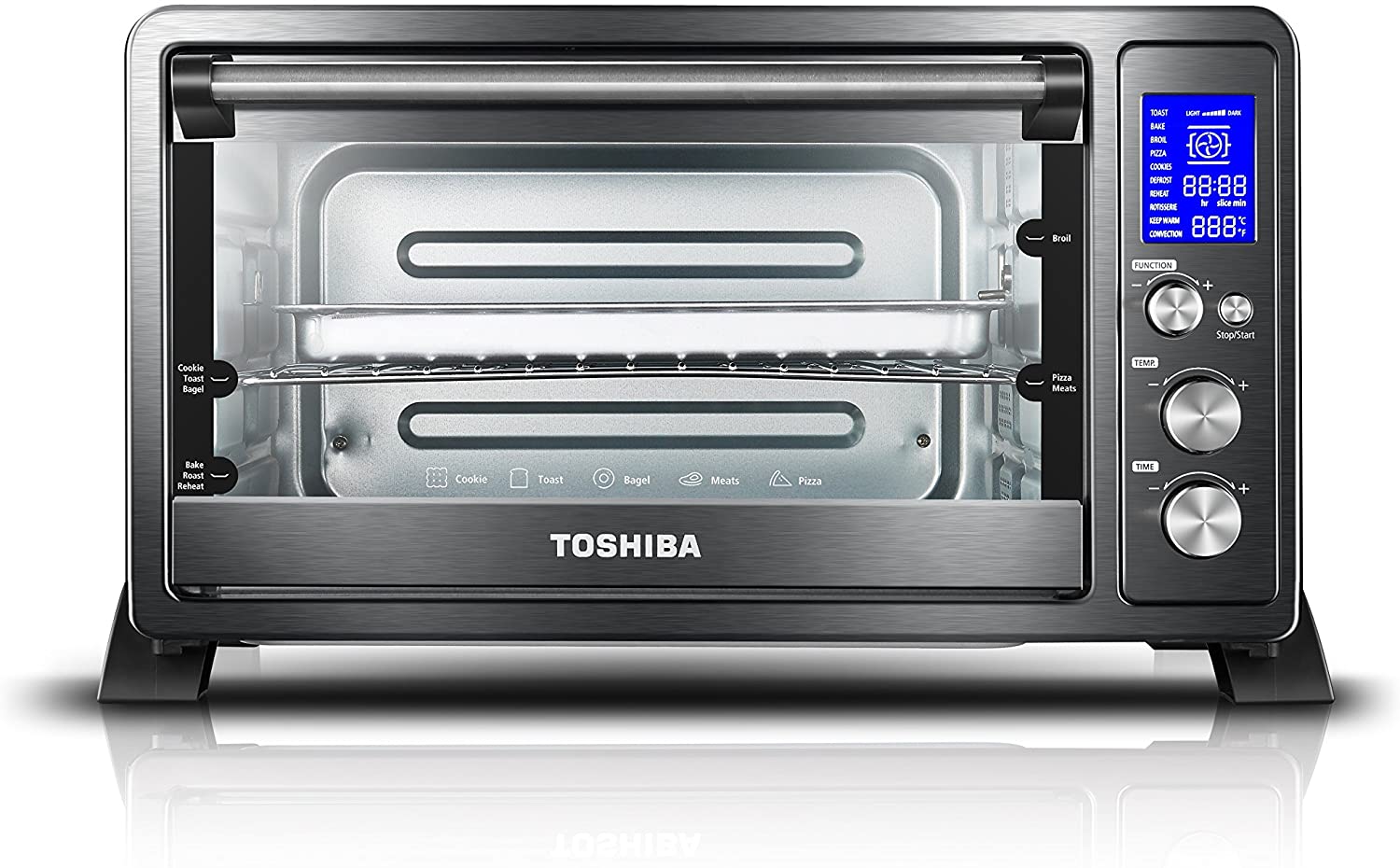 Main Features & Specifications of Toshiba AC25CEW-BS 6 Slice Toaster Oven
25L capacity
150°F to 450°F temperature settings
Rotisserie capability
Convection fan
22.7 Lbs. weight
Dimensions: 18.98 "length, 15.59" width and 10.78" height
Functions: pizza, broil, bake, toast, cookies, defrost, rotisserie, reheat, convection and keep warm
Cooking meat – in this oven, you can roast chicken perfectly because it has convection and rotisserie options. The convection option is to lock the juices and flavor. This option is also very helpful to cook meat evenly with required moisture. On the other hand, the rotisserie function is for the equal browning because it rotates the meat slowly. This way, you receive juicy and roasted meat all the times.
Convection fan – the unit has a convection fan that rotates the hot air for faster and even cooking performance. And, please do not forget that it has 10 cooking settings that are good for the desired cooking flexibility.
Toshiba AC25CEW-BS Review & FAQs
Does the unit get warm or hot externally at the time of operation?
Yes, it gets warm a little. However, the unit has many vents on multiple sides so the heat does not stay longer. Also, please know that this unit can heat up to 450°F as per the product description. The aluminum material gets hot. So, you need to be careful to it and do not touch while operation.
What is the warranty period on this toaster oven?
The warranty period is just one year but you have an option to buy extended warranty on Amazon.
Does the unit come with a non-stick interior?
Yes, according to the product description, it has a non-stick interior. However, some users say that it does not have a non-stick interior, so it is a little confusing. I advise to research more on this.
Where is it made?
According to Toshiba AC25CEW-BS Review, it is made in China. However, being a Chinese product, it is a solid and performance oriented unit.
What is the external measurement: width, depth and height?
The overall dimensions are 18.98-inch width, 10.79-inch depth and 15.6-inch height.
Some frequently asked questions on Toshiba AC25CEW-BS have been mentioned above. Please refer to the list of FAQs, if you have any questions related to this toaster oven. In case, you do not find an answer here, Amazon has a question answer section for every product, I am sure you will get your answer there.
Pros
Sturdy
It delivers a fast cooking performance.
Beautiful look in the stainless steel material
Easy-to-understand control buttons
Slick design
Rotisserie capability
Easy to clean the stainless steel interior
It delivers evenly cooked food.
Large size interior is good to cook food for many people in the home.
Cons
The frequent beeps are not liked by many users.
It is made in China
Crumb tray cleaning is a little difficult.
The oil-collecting tray is not at a suitable place.
According to Toshiba AC25CEW-BS Review, the 1500W toaster oven looks impressive from many sides. It has too many pros, which you can see written above. However, it also comes with some cons. These cons are not directly related to the performance, so I will ignore them. I believe that a good product has some cons also. It all depends on the requirements.
Toshiba AC25CEW-BS – Conclusion
In short, Toshiba AC25CEW-BS toaster oven is a specious unit that is good for preparing meals for multiple persons in a home. It delivers fast cooking result so it is a time saver also. The toaster oven is also good for chicken because it has rotisserie and roast functions.
On Amazon, it has countless happy customers who have given impressive reviews. So, this Toshiba toaster oven is recommended to buy. The price seems appropriate, the size is good and it is easy to operate.