In Commercial Chef CHM770SS Review, I will try to cover information related to performance, features and overall capabilities. Also, this review is based on what its users have written on various selling platforms.
Before I look into what is written by the users, let me give you an overall picture of this item. To me, it seems a highly sold unit on Amazon because it has more than 3500 ratings. On an average, each rating has more than 4-star.
According to the manufacturer, the countertop microwave oven has 0.7 cu. ft. cavity and 700W cooking power. It has 10 power settings to cook food according your own preference. Other important features are 9.5-inch turntable, child lock and six pre-programmed menus.
What Do Existing Users Say about Commercial Chef Microwave CHM770SS Microwave?
Overall, good cooking performance – based on Commercial Chef CHM770SS Review by users, it delivers impressive cooking performance. One cannot get issues such as overcooking, dry-out food etc. In fact, such issues are often found in even powerful microwaves.
Small size – since this is a small size microwave, so it does not take much counter space. Therefore, many users are happy with the small size of this unit.
Noise issue with turntable – a user complained that the turntable started to give unusual sound after two months of use.
Excellent features – many users say that it has excellent features and low price. In fact, they love this Commercial Chef microwave.
Issues after one-year of use – in Commercial Chef CHM770SS Review, many users complained that the unit started showing too many problems after one year of use. For some users, it smoked and sparked before two years of use.
Difficulties with the dial – many customers had experienced issues related to setting the cooking time. Their main complaint was it is not accurate. Many times, they had to turn on and turn off the unit to cook something.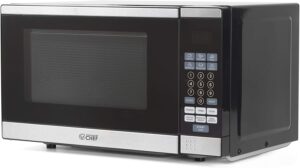 Commercial Chef CHM770SS Review – FAQs
How much input power is required to run this microwave?
According to some users, it needs 950W power to deliver the 700W cooking power.
Does it come with a rotatable turntable?
As per Commercial Chef CHM770SS Review features a rotatable carousel.
The turntable is not rotating, what should I do?
If the turntable is not rotating by itself then it may have any issue. Please contact the service man for the solution. Before you contact a service person, please check if the circular ring is rotating to know if the plate has any issues.
What are the dimensions of the package?
I am not sure of the package size but the microwave dimensions are 11.2 x 19.2 x 15.2 inches. Of course, the package box would be larger than the dimensions mentioned above.
What is the inside measurement?
The inside dimensions are 10-inch depth, 11.5-inch width and 8-inch height.
Does the microwave door open on the left side?
No, it opens on the right side.
After I unplug the microwave, does the timer still count down?
No. Actually, it is a digital timer so it requires electricity to run.
Commercial Chef CHM770SS Review also contains frequently asked questions and answers. In case, you have a question, please refer to the list of questions above. This FAQ section contains some general questions that come from those who have purchased this microwave.
Pros
Small size unit is perfect for a small kitchen.
It is good for the person who often moves from one place to others.
A feature-rich microwave comes at a competitive price.
Delivers good cooking performance
It is easy to cook and easy to clean.
Comes with a rotatable carousel
Safety features to stop unsupervised access
Cons
Many users complained about the dial for setting cooking time. They say that it is not accurate.
According to many complaints, the turntable gives unpleasant sounds occasionally.
According to Commercial Chef CHM770SS Review, the microwave has both pros and cons. But, we shouldn't forget the fact that microwave has overall more than 4-star rating from thousands of happy buyers. If I consider the pros only, I will find that this is a small size unit. Due to this, it has received good popularity from its existing users.
Perfect for small family – if the luck is in your favor, you can use this 700W microwave for your family. Many customers said that it is very easy to cook for his family with two children. They successfully cooked noodle and warmed foods.
Multiple purchases – in fact, many customers have purchased Commercial Chef CHM770SS Microwave multiple times in a span of 6 years and more. Thus, for some people it is good while for some people it is not good. I will say that if you need a small size microwave, you must explore more about it. Those who purchased multiple times, say that it is good for cooking foods for a small family. And, it is good to install in a small kitchen.
Conclusion – Commercial Chef CHM770SS Microwave Oven
At this point, I am sure you would have an estimate about this microwave because I have shown you the facts mentioned by existing users.
Though it has some problems, I will recommend it to buy.
Because the issues I have posted above are taken from users' comments. It may be that users did not understand the microwave very well. On the other hand, I also have to listen to those countless happy users. In this case, I will surely go with the majority.
If I exclude the 2 or 3 issues mentioned above, Commercial Chef CHM770SS Review tells that it is a good quality microwave. It looks promising from all sides.