To be frank, the main purpose of writing WINIA Retro Microwave Review is to tell the truth. Here, you will learn about features, performance and other important things of this Winia microwave oven.
The 0.7 cubic foot microwave by Winia is made in China. But, this unit is totally apart from the typical low-quality Chinese products. What I mean to say is that it is an average quality product that delivers good performance and comes at a low price.
At the time of writing this Winia retro microwave review, the unit is available in four different colors such as cream, red, blue and city blue. You can choose a color as per your liking. There is not much difference in the prices. This review is about the cream color microwave, which has a retry design.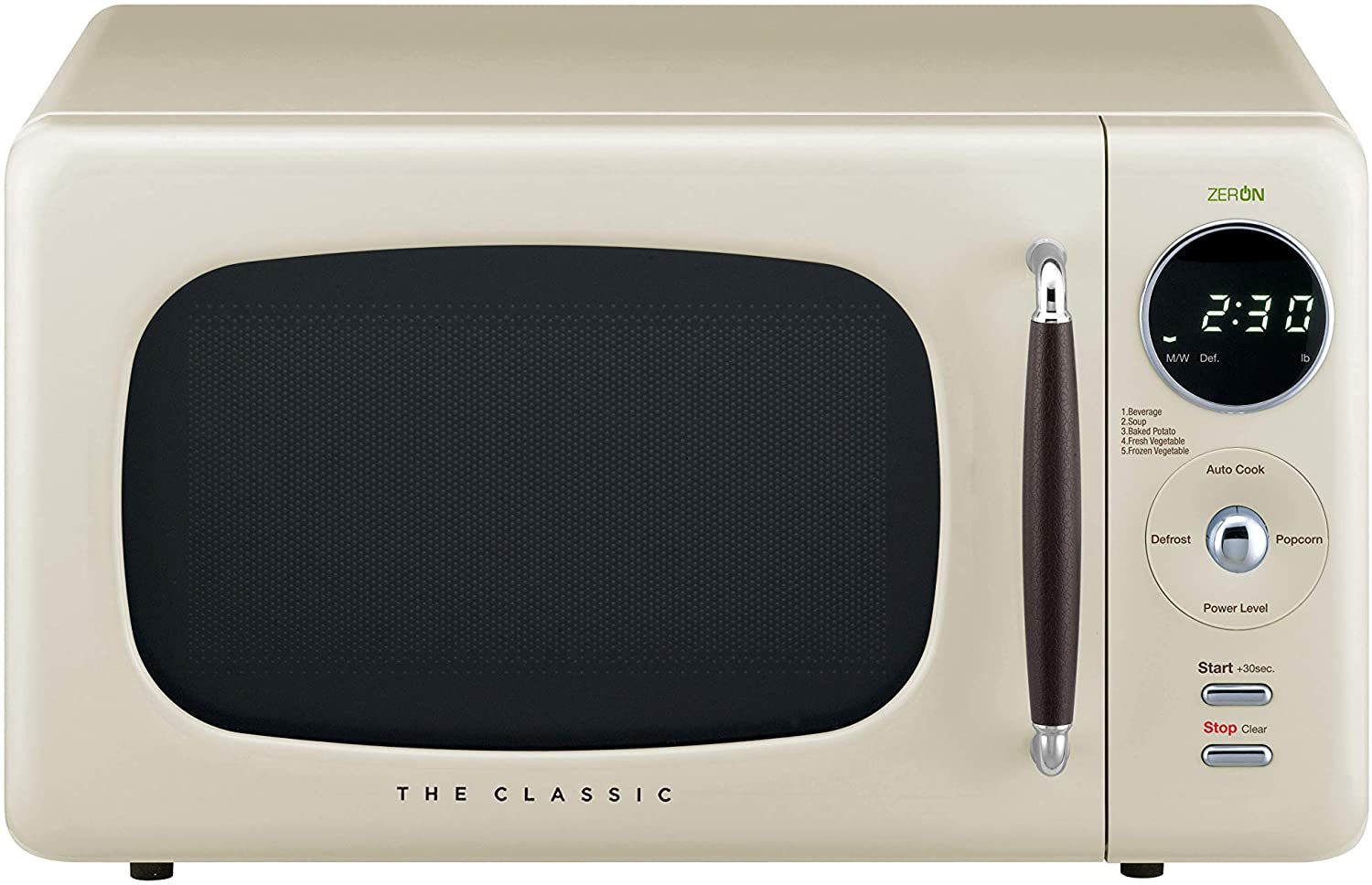 Features of WINIA Retro Microwave Review
The microwave has many impressive features that lured countless customers on Amazon and other selling platforms. Some highlights are:
CRS – for the best cooking performance, the unit has Concave Reflective System. This system is nothing but using a dual-wave technology. As a result, the countertop microwave is capable to deliver enhanced cooking performance.
Retro look – I am sure you will like the retro design of this WINIA microwave oven. The retro design is a kind of unique design that attract people and it matches well in any modern kitchen and homes.
Energy saver – according to the product description, it has a Zero On feature. This feature is to save electricity. In fact, the unit takes electricity only when it is in the cooking mode. This way, it saves some energy, thus reduces cost on the energy bill payment.
5 auto cook functions – in fact, auto cook menus are easy to cook because you just have to press a button to prepare your desired dishes. So, this unit gives you the option to cook and reheat foods and beverage without guessing anything.
Time & weight defrost – this unit gives you the option to defrost foods by time or by weight.
Recessed turntable – the microwave features recessed turntable. The microwave has space more than a traditional microwave. In this microwave, you will be able to use multiple bowls and plates.
FAQs of WINIA Retro 700W Microwave Oven
Where is it manufactured?
Winia 0.7 Cu. Ft. microwave is made in China.
How much is the cooking wattage?
The microwave has 700-watt cooking power.
What is the weight of this unit?
It weighs approx. 19.2 lbs.
Does anyone know the input wattage of this microwave oven?
According to the manufacturer, it requires 1150-watt input power.
Can I use this microwave if I am in Australia?
No, this microwave is not made to use in Australia because it has different power and Hz management.
What is the depth of this microwave with handle and without handle?
With handle, the depth is 14.23 inches. The depth without handle is 12.87 inches.
Energy Efficient and Cute Microwave Oven
According to WINIA Retro Microwave Review, it is an energy efficient and stylish microwave oven. Some people say that it is a small unit but it delivers a big performance. The small microwave can easily fit normal size plates and dishes. Further, it is made very well. One cannot complain about the sturdiness of this microwave oven. It has a vintage look and all the external parts such as handle, buttons, and knobs have a vintage look. Such cute microwaves are highly recommended for small and modern kitchens.
Cute and Space Saver
Numerous users adore this Winia microwave oven that looks very cute. They say that it is perfect for their needs. It is very easy to heat up frozen meals and warm leftovers. Also, it does not take too much counter space
Many happily say that they did not notice any issues coming from this retro microwave oven. The microwave is perfect to heat meals evenly.
However, it is a lightweight unit, so at the time of opening the door, the unit is dragged towards the user a little. But, many users have the solution to this problem.
According to WINIA Retro Microwave Review, many users have written in their review that they are going to buy it repeatedly.
Pros
Retro cute design is perfect for modern kitchens
The small size microwave takes a little space on your kitchen counter.
Easy to use, easy to clean
It has countless happy users that you can see on Amazon.
The small size microwave delivers big performance.
Engineered to use by all including elderly
It has many pre-programmed menus to simplify the cooking works.
Cons
It lacks a kitchen timer.
Not suitable for a large family
In WINIA Retro Microwave Review, the pros and cons are mentioned above. Please scan the list of pros and cons. These pros and cons will give an overall picture of this Winia microwave oven. From the list of pros and cons, I can say that it is a cute and small size microwave. Because it is a cute and small unit, it has received many thanks from its users. Also, the microwave is easy to use because it has easy to understand controls: buttons, knobs, handles, turntable etc.
Conclusion – WINIA Retro Microwave Oven
To conclude this WINIA Retro Microwave Review, I will say that it can be a great buy to the future buyers. It has received good reviews, ratings and respects on most of the selling platforms including Amazon.
The small size microwave is perfect for those who want to prepare meals for one or two people. In case, you need a microwave oven for a large family, this is not for you.
Well, telling only the good things about a product does not look natural to anyone. So, I looked for some cons in this microwave. The microwave has some cons also: the microwave lacks a kitchen timer; it is not perfect for a large size family and it is made in China.