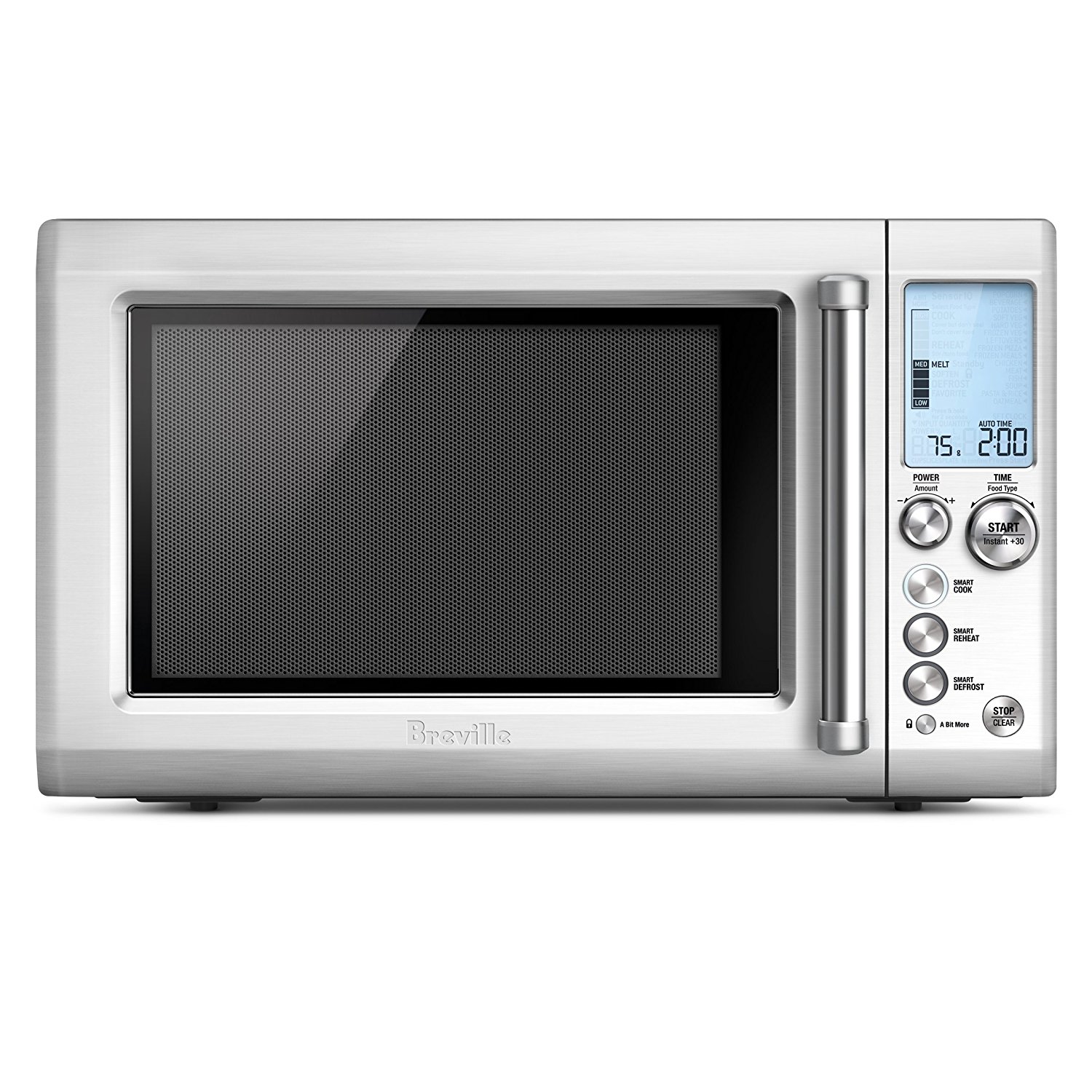 Breville Quick Touch BMO734XL microwave oven carries an easy-to-use design. It uses an advanced technology with varieties of power levels time adjustment capability to cook desired foods.
It has advanced settings that don't require guess work. Also, it comes with brushed stainless steel door that hides easy to use shortcut menu and includes a self-locating turntable.
Further, Breville BMO734XL comes with Sensor IQ that is very helpful to detect humidity and calculate time accordingly.
It has My Favorite feature that lets you program your preferred setting, Time Defrost automatically sets defrosting power level once time is entered.
Also, the one-touch auto buttons are pre-programmed shortcuts for commonly used tasks.
This Breville BMO734XL microwave oven comes with a kitchen timer along with clock display and unit weight conversion. Read more…
Important Features
5 x 18 x 12.5 inches product dimension
2 pounds item weight
Shortcut panel on the inside door
30-second instant start
Sensor IQ
One-touch auto button
Child lock feature
Smart menu to save time
Quick Touch Crisp button
BMO734XL model number
Stainless steel exterior
Breville brand
Smart defrost
More Images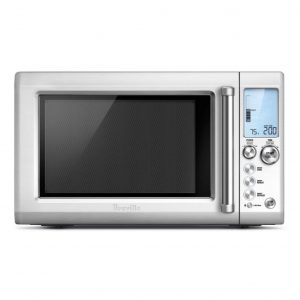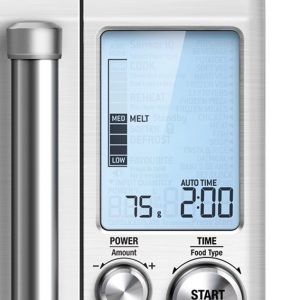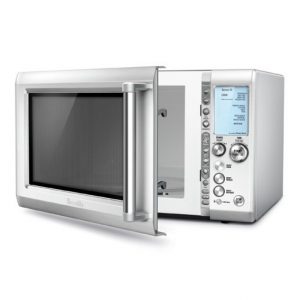 Breville BES880BSS Barista Touch Espresso Machine, Brushed Stainless Steel



$999.95

@ Amazon.com (Save 33%)
Product Description
The Breville Barista Touch delivers third wave specialty coffee at home using the 4 keys formula and is part of the Barista Series that offers all in one espresso machines with integrated grinder to go from beans to espresso in under one minute
DOSE CONTROL GRINDING: With a single touch, the integrated precision conical burr grinder with dose control delivers the right amount of coffee on demand, for maximum flavor
OPTIMAL WATER PRESSURE: Low pressure pre-infusion gradually increases pressure at the start and helps ensure all the flavors are drawn out evenly during the extraction for a balanced tasting cup
FASTER HEAT UP TIME: Innovative ThermoJet heating system achieves the optimum extraction temperature in 3 seconds
PRECISE ESPRESSO EXTRACTION: Digital temperature control (PID) delivers water at precisely the right temperature, ensuring optimal espresso extraction
AUTOMATIC MICROFOAM MILK TEXTURING: Auto steam wand allows you to adjust the milk temperature and texture to suit your taste; Delivering barista quality microfoam that enhances the flavor of the coffee and is essential for creating latte art at home
Product Details
| | |
| --- | --- |
| Brand: | Breville |
| Model #: | BES880BSS |
| Warranty: | 2 year repair warranty |
| Size: | 12.7 x 15.5 x 16 inches |
| Color: | Stainless Steel |
| Dimensions: | 12.7 X 15.5 X 16 Inches (Length X Width X Height) |
| Price: | $999.95 (Save 33%) |
Breville BES880BSS Barista Touch Espresso Machine, Brushed Stainless Steel
---
Breville BES870XL Barista Express Espresso Machine, Brushed Stainless Steel



$599.95

@ Amazon.com (Save 14%)
Product Description
The Breville Barista Express delivers third wave specialty coffee at home using the 4 keys formula and is part of the Barista Series that offers all in one espresso machines with integrated grinder to go from beans to espresso in under one minute
DOSE CONTROL GRINDING: Integrated precision conical burr grinder grinds on demand to deliver the right amount of freshly ground coffee directly into the portafilter for your preferred taste with any roast of bean
OPTIMAL WATER PRESSURE: Low pressure pre-infusion gradually increases pressure at the start and helps ensure all the flavors are drawn out evenly during the extraction for a balanced tasting cup
PRECISE ESPRESSO EXTRACTION: Digital temperature control (PID) delivers water at precisely the right temperature, ensuring optimal espresso extraction
MANUAL MICROFOAM MILK TEXTURING: The powerful steam wand performance allows you to hand texture microfoam milk that enhances flavor and enables creation of latte art
ESPRESSO MACHINE WITH GRIND SIZE DIAL: Simple and intuitive, giving you control over the grind size no matter what type of bean you're grinding
Product Details
| | |
| --- | --- |
| Brand: | Breville |
| Model #: | BES870XL |
| Size: | Large |
| Color: | Stainless Steel |
| Dimensions: | 12.5 X 12.6 X 13.1 Inches (Length X Width X Height) |
| Price: | $599.95 (Save 14%) |
Breville BES870XL Barista Express Espresso Machine, Brushed Stainless Steel
---
Breville BMO850BSS the Smooth Wave countertop microwave oven, Brushed Stainless Steel



$349.95

@ Amazon.com
Product Description
The Breville Smooth Wave takes the guesswork out of cooking with Sensor iQ technology and 15 in-built smart presets including Smart Cook, Smart Defrost and Smart Reheat; Engineered with an 80% quieter soft close door and 50% quieter in operation
SENIOR iQ TECHNOLOGY: Takes the guesswork out of cooking by automatically adjusting power to precisely cook or reheat with ease; When using Smart Reheat, it detects the steam released and automatically sets the ideal time for precise and delicious results
POWER SMOOTHING INVERTER: The Smooth Wave automatically adjusts power intensity to deliver smooth, even power for deliciously even results; Reheat favorites like pizza slices with ease or defrost meats and meals without overheating and drying out edges
SMART COOK, REHEAT AND DEFROST: Featuring 15 in-built smart presets putting all the power at your fingertips; Smooth, low temperature delivers heat evenly without overheating and drying out so you can cook with ease, precisely reheat and delicately defrost
SOFT CLOSE DOOR AND QUIETER OPERATION: Countertop microwave with an 80% quieter soft close door and is 50% quieter in operation; Clever touches like child lock, Breville sound suite and mute button means less beeps and clangs, and more pops and crunches
SHORTCUTS AND ONE TOUCH AUTO SETTINGS: Designed with shortcuts panel on the inside door for commonly used tasks such as melting chocolate, softening butter, reheating pizza and more; Set your favorites with one touch and get great results every time
Product Details
| | |
| --- | --- |
| Brand: | Breville |
| Model #: | BMO850BSS1BUC1 |
| Warranty: | 1 year limited warranty |
| Color: | Brushed Stainless Steel |
| Dimensions: | 19 X 20.43 X 12.44 Inches (Length X Width X Height) |
| Price: | $349.95 |
Breville BMO850BSS the Smooth Wave countertop microwave oven, Brushed Stainless Steel
---
Breville BMO650SIL the Compact Wave Soft Close Countertop Microwave Oven, Silver



$199.95

@ Amazon.com
Product Description
The Breville Compact Wave Soft Close with a 25L compact footprint and an easy shortcuts and foods menu is big on convenience, and is designed to precisely reheat, defrost and cook; A countertop microwave engineered with an 80% quieter soft close door
COMPACT MICROWAVE This countertop microwave has a compact footprint with a 25L capacity and all the room you need to cook, defrost and reheat delicious meals
COOKING SHORTCUTS AND FOOD MENU: One touch auto buttons including Reheat, Defrost, Popcorn & Beverage providing access to your favorite settings; Food Menu functions such as reheat pizza, defrost vegetables or cook potatoes to create quick and easy snacks
SOFT CLOSE DOORr: A countertop microwave engineered with a soft close door which is 80% quieter; Clever touches like child lock, mute button and 30 second instant start means less beeps, bumps and clangs, and more pops, bites and crunches
DEFROST & REHEAT FUNCTIONS: The Defrost function is designed to gently defrost food without overheating and drying out the edges; The Reheat function uses lower power levels to gently reheat food without drying or overcooking
CHILD LOCK: Using your microwave while ensuring your child stays safe is only one touch away thanks to the Child Lock button
Product Details
| | |
| --- | --- |
| Brand: | Breville |
| Model #: | BMO650SIL1BUC1 |
| Warranty: | 1 year limited warranty |
| Color: | Silver |
| Dimensions: | 17.3 X 19.1 X 11.5 Inches (Length X Width X Height) |
| Price: | $199.95 |
Breville BMO650SIL the Compact Wave Soft Close Countertop Microwave Oven, Silver
---
CoreReplace 2 Pack of Replacement Water Filter for Breville Claro Swiss Espresso Coffee Machine - Compare to Part #BES008WHT0NUC1



$26.99

@ Amazon.com
Product Description
☕Multi-version Compatible Use: This replacement espresso machine water filter compatible with Breville Claro Swiss Replacement Water Filter For Oracle, Barista, Bambino. For Espresso Machines Oracle Touch BES990 - Batch 1747 & newer, Oracle BES980 - Batch 1814 & newer, Barista Pro BES878, Barista Touch BES880 - Batch 1801 & newer. Part Number # BES008WHT0NUC1
☕Reliable Partner of Coffee Machine: This water filter for espresso machine uses coconut activated carbon adsorption and ion exchange. Prevent mineral accumulation, reduce the need for descaling and even prevent scaling which protects your coffee machine
☕More Mellow and Delicious Experience: This Replacement Water Filter can significantly reduce chlorine, odor, and other impurities so that you will be able to reproduce all the aroma and flavor of the coffee shop in your comfortable home
☕Easy to Use: Three steps-Immerse the filter in freshwater for 5 minutes, then insert it into the filter holder of the espresso machine, and then insert it into the water tank, after that you can start tasting your favorite espresso
☕Set for the Half Year: This product trace dial indicator to determine when to replace the filter (each time in 3 months), each package is equipped with 2 and has independent packaging, can meet your demand for half year. All trademarks are the property of their respective owners and are used for compatibility information only
Product Details
| | |
| --- | --- |
| Brand: | CoreReplace |
| Size: | 2 Count (Pack of 1) |
| Color: | White |
| Price: | $26.99 |
CoreReplace 2 Pack of Replacement Water Filter for Breville Claro Swiss Espresso Coffee Machine - Compare to Part #BES008WHT0NUC1
---
Breville BOV845BSS Smart Oven Pro Countertop Convection Oven, Brushed Stainless Steel



$269.99

@ Amazon.com (Save 23%)
Product Description
The Breville Smart Oven Pro with Element iQ System is a high performance countertop oven; Reduce your cooking time by up to 30% using the convection setting and choose from 10 cooking functions as an interior oven light guides you to perfection
Element iQ System: Using 5 independent quartz elements, smart algorithms steer power to where and when it's needed to create the ideal cooking environment for perfect results every time; Fast 1800 Watt preheat gets your meals on the table more quickly
Convection Powered: The Smart Oven Pro's convection setting reduces cooking time by up to 30%; An inbuilt fan circulates the hot air within the oven which speeds the cooking process by stripping away the cold air that surrounds your food
10 Cooking Functions: versatile countertop oven with 10 cooking functions to guide you to perfection: Toast, Bagel, Bake, Roast, Broil, Pizza, Cookies, Reheat, Warm and Slow cook
Smart Oven with Slow Cook Function: Take your time to tenderize and develop complex flavors using the slow cook function, designed for long cook times at low temperatures; Slow Cook for up to 10 hours before the setting automatically turns to keep warm
Large Capacity: Large 18.5 x 15.7 x 11.1 inch interior with enough room for 6 slices of bread, 13 inch pizza, roast chicken and a 9 cup muffin tray and even for slow cooking with a 4.4 qt Dutch oven
Product Details
| | |
| --- | --- |
| Brand: | Breville |
| Model #: | BOV845BSSUSC |
| Warranty: | 1 year limited product warranty |
| Color: | Brushed Stainless Steel |
| Dimensions: | 18.5 X 14.5 X 11 Inches (Length X Width X Height) |
| Price: | $269.99 (Save 23%) |
Breville BOV845BSS Smart Oven Pro Countertop Convection Oven, Brushed Stainless Steel
---
COSORI CO108-NK Electric Gooseneck 0.8L 5 Variable Presets Pour Over Kettle & Coffee Kettle, 100% Stainless Steel Inner Lid & Bottom, Matte Black



$62.99

@ Amazon.com (Save 10%)
Product Description
Designed in California. This Cosori's Gooseneck Kettle features 5 precise temperature presets. The accurate variable presets allow you to never again burn your coffee or tea leaves. It also has a Keep Warm function that automatically keeps water at the same temperature for 60 minutes
Turning Off The Ready Tone: The kettle features a ready tone that beep 3 times when the water reached the preset temperature. If you don't want this beep alert. You can press and hold "HOLD TEMP" for 8 seconds to turn beeps on/off
The Purest Taste: The kettle is made with 100% food-grade stainless steel in its housing, lid, and spout, with no Teflon or chemical linings, which keeps the perfect taste for your coffee and tea
Precise Pouring: The COSORI's precision pour spout is designed for the optimal pour-over flow rate. The counterbalanced handle helps keep your pour steady, handle moves the center of mass back towards your hand - encouraging a more comfortable, slower pour. Pair our pour over coffee maker (search for CO148-CM) for the perfect brew
Quick Heating: The 1200 watts of power boils a full kettle in just 3-5 minutes, meaning you can enjoy a cup of coffee in no time. Stop wasting your time in front of the microwave or stove. A 1-hour keep warm function means hot water is always on standby
Safe Tech and Auto Shut Off: Features British STRIX thermostat technology, auto shut-off after the water get your desired temperature. Boil-dry safety feature where it turns off if it detects there is no water inside
Product Details
| | |
| --- | --- |
| Brand: | COSORI |
| Model #: | CO108-NK |
| Warranty: | 1 year warranty + optional 2-year warranty, lifetime customer service support |
| Size: | Gooseneck Kettle |
| Color: | Matte Black |
| Price: | $62.99 (Save 10%) |
COSORI CO108-NK Electric Gooseneck 0.8L 5 Variable Presets Pour Over Kettle & Coffee Kettle, 100% Stainless Steel Inner Lid & Bottom, Matte Black
---
Juicing for Beginners: The Essential Guide to Juicing Recipes and Juicing for Weight Loss



$10.79

@ Amazon.com (Save 10%)
Product Description
Juicing for Beginners The Essential Guide to Juicing Recipes and Juicing for Weight Loss
Product Details
| | |
| --- | --- |
| Brand: | Rockridge Press |
| Dimensions: | 6 X 0.42 X 9 Inches (Length X Width X Height) |
| Price: | $10.79 (Save 10%) |
Juicing for Beginners: The Essential Guide to Juicing Recipes and Juicing for Weight Loss
---
Breville BOV900BSS the Smart Oven Air Fryer Pro, Countertop Convection Oven, Brushed Stainless Steel



$399.95

@ Amazon.com (Save 20%)
Product Description
The Breville Smart Oven Air with Element iQ System is a versatile countertop oven allowing you to roast, air fry and dehydrate; Use super convection to reduce cooking time by up to 30% and choose from 13 cooking functions; Includes an interior oven light
ELEMENT iQ SYSTEM: Using 6 independent quartz elements, smart algorithms steer power to where and when it's needed to create the ideal cooking environment; Sensing and digital PID temperature control eliminates cold spots for precise and even cooking
AIR FRY & DEHYDRATE SETTINGS: Air fry French fries and other family favorites; Higher temperatures combined with super convection (maximized air flow) deliver crispy golden air fried foods; Dehydrate a wide range of food, up to 4 trays of goodness at once
SUPER CONVECTION TECHNOLOGY: 2 speed convection fan (super & regular) offers greater cooking control; Super convection provides a greater volume of hot air to ensure fast and even heat distribution perfect for air frying, dehydration and roasting
13 COOKING FUNCTIONS: Super versatile countertop oven and air fryer with 13 functions to guide you to perfection: Toast, Bagel, Broil, Bake, Roast, Warm, Pizza, Proof, Air Fry, Reheat, Cookies, Slow Cook and Dehydrate
EXTRA LARGE CAPACITY: Extra large 21.5 x 17.1 x 12.7 inch interior with capacity for 9 slices of bread, a 14 pound turkey, air frying French fries and slow cooking with a 5 qt Dutch oven; Large enough to fit most 9 x 13 inch pans and 12 cup muffin trays
Product Details
| | |
| --- | --- |
| Brand: | Breville |
| Model #: | BOV900BSSUSC |
| Warranty: | 2 year limited product warranty |
| Size: | 17.2" x 21.4" x 12.8" |
| Color: | Brushed Stainless Steel |
| Dimensions: | 17.5 X 21.5 X 12.7 Inches (Length X Width X Height) |
| Price: | $399.95 (Save 20%) |
Breville BOV900BSS the Smart Oven Air Fryer Pro, Countertop Convection Oven, Brushed Stainless Steel
---
Amazon Basics Stainless Steel Fast, Portable Electric Hot Water Kettle for Tea and Coffee, 1.7-Liter, Silver



$31.20

@ Amazon.com
Product Description
Stainless steel 1.7 liter/1500 watt electric kettle for quickly boiling water
Make herbal tea, instant soup, cocoa, French press coffee and more in a fraction of the time
Detaches from base for convenient cordless serving with a heat-proof plastic handle
Compact design with handy cord wrap system for space-saving storage
Includes removable filter, water level window, and concealed heating element
Safety features include auto-shutoff and boil dry protection
Product Details
| | |
| --- | --- |
| Brand: | Amazon Basics |
| Model #: | F-738BC |
| Size: | 1.7L |
| Color: | Gray & Black |
| Dimensions: | 9.02 X 6.14 X 8.5 Inches (Length X Width X Height) |
| Price: | $31.20 |
Amazon Basics Stainless Steel Fast, Portable Electric Hot Water Kettle for Tea and Coffee, 1.7-Liter, Silver
---