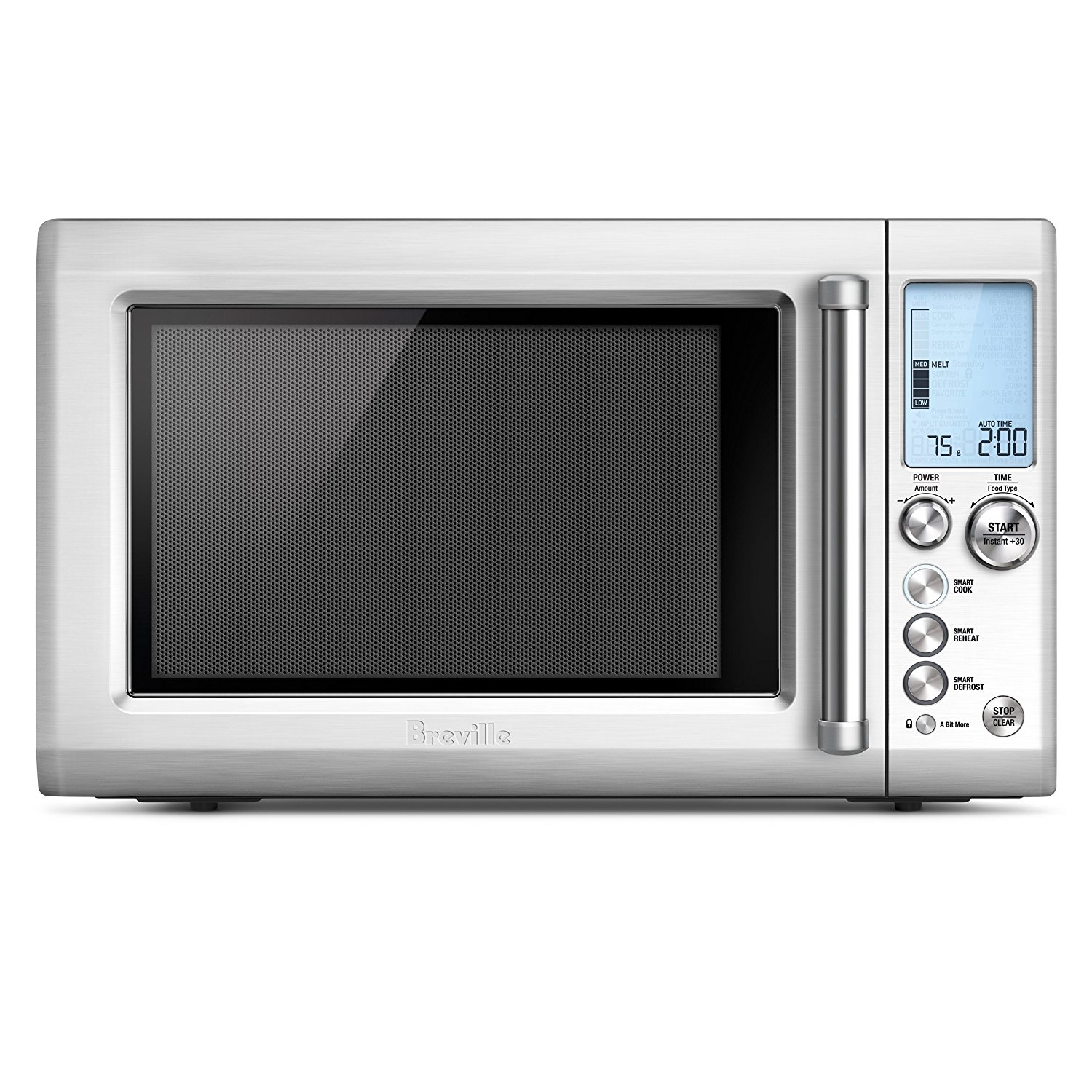 Breville RM-BMO734XL Microwave Oven uses an advanced technology so that you don't have to use the guesswork in any sort of cooking process. Whether you want to reheat, defrost or cook several meals, Breville RM-BMO734XL microwave is perfect for many cooking tasks.
Since it uses an advanced technology so it automatically senses humidity coming from food calculating the right cook time and power to cook foods without drying out your foods.
Some important features are one-touch cooking, +30 second instant start button, sensor IQ reheat and cook, 10 power levels for all your cooking convenience.
Product dimensions are 20.5 x 18 x 12.5 inches and it weighs 35.2 pounds. Breville RM-BMO734XL advanced microwave oven comes with 1100 watts of cooking power that is impressive cooking power to cook a wide range of meals.
Further, the internal cooking space is 1.2 cu. ft. to accommodate multiple dishes and other larger cooking items. Moreover, you are going to buy a kitchen appliance from the Breville brand that is really very popular for its outstanding quality and product design. Read more…
Breville Combi Wave 3-in-1 Microwave, Air Fryer, and Toaster Oven, Brushed Stainless Steel, BMO870BSS1BUC1



$498.93

@ Amazon.com
Product Description
VERSATILITY OF 3 IN 1 APPLIANCE The Combi Wave 3 in 1, combines an Air Fryer, Convection Oven and Microwave in one appliance to create delicious healthier meals for every cooking occasions. Create crunchy, crispy golden French fries with the Air Fry function; enjoy family favorites such as roast chicken or gooey chocolate brownies with the Convection Oven function; or defrost delicious soup and reheat your lasagna with the Inverter Microwave function.
ELEMENT IQ SYSTEM Smart algorithms steer power to where and when its needed to create the ideal cooking environment, for perfect results. Enjoy crispy golden results and many more delicious meals when using the Air Fry and Bake functions. Power: 1200 W - Convection Input Power
FAST COMBI & COOK FROM FROZEN FUNCTIONS The Fast Combi function is designed to cook your favorite dishes faster. Combining Convection Oven, Grilling and Microwave to achieve the desired temperature and perfect results faster than traditional ovens. The Cook from Frozen function is designed to achieve perfectly cooked results from frozen. The function uses the convection oven, grill and microwave at different cooking stages.
POWER SMOOTHING INVERTER The Power Smoothing Inverter technology does away with the old ON-OFF method to automatically adjust power intensity and deliver smooth even power when you need more or less, for deliciously even results. Reheat favorites like pizza slices, soup and lasagna with precision and ease or delicately defrost meats and meals without overheating and drying out edges.
SMART COOK, SMART REHEAT & SMART DEFROST With 19 built-in smart presets including Smart Cook, Smart Reheat and Smart Defrost, the Combi Wave 3 in 1 puts all the power at your fingertips. Smooth low temperature delivers heat evenly without overheating and drying out, allowing you to cook with ease, reheat with precision and delicately defrost your favorite dishes.
Product Details
| | |
| --- | --- |
| Brand: | Breville |
| Model #: | BMO870BSS1BUC1 |
| Warranty: | 1 Year Limited Product Warranty |
| Color: | Brushed Stainless Steel |
| Dimensions: | 21 X 20.4 X 21 Inches (Length X Width X Height) |
| Price: | $498.93 |
Breville Combi Wave 3-in-1 Microwave, Air Fryer, and Toaster Oven, Brushed Stainless Steel, BMO870BSS1BUC1
---
Breville Smart Oven Air Fryer Toaster Oven, Brushed Stainless Steel, BOV860BSS



$349.95 ($21.87 / Ounce)

@ Amazon.com
Product Description
The Breville Smart Oven Air Fryer with Element iQ System delivers top performance and versatility allowing you to air fry and choose from 11 cooking functions; Use super convection to reduce cooking time by up to 30% and deliver crispy air fried foods
ELEMENT iQ SYSTEM: Using 5 independent quartz elements, smart algorithms steer power to where and when it's needed to create the ideal cooking environment; Sensing and digital PID temperature control eliminates cold spots for precise and even cooking
DEDICATED AIR FRY SETTING: The Smart Oven Air Fryer can turn out guilt free French fries, chicken wings and so much more; Higher temperatures combined with super convection (maximized air flow) deliver delicious, crispy golden air fried foods
SUPER CONVECTION TECHNOLOGY: Convection can reduce cooking time by up to 30%; It speeds the cooking process by raising the hotter air and sinking colder less dense air for quicker heating
11 COOKING FUNCTIONS: Super versatile countertop oven and air fryer with 11 cooking functions to guide you to perfection: Toast, Bagel, Broil, Bake, Roast, Warm, Pizza, Air Fry, Reheat, Cookies and Slow Cook
LARGE CAPACITY: Large 18.9 x 16.5 x 10.9 inch interior with enough room for 6 slices of bread, 13 inch pizza, roast chicken, a 9 cup muffin tray and even for slow cooking with a 4.4 qt Dutch oven
Product Details
| | |
| --- | --- |
| Brand: | Breville |
| Model #: | BOV860BSS1BUS1 |
| Warranty: | 2 Years Limited Product Warranty |
| Size: | Medium |
| Color: | Brushed Stainless Steel |
| Dimensions: | 15 X 20 X 11 Inches (Length X Width X Height) |
| Price: | $349.95 ($21.87 / Ounce) |
Breville Smart Oven Air Fryer Toaster Oven, Brushed Stainless Steel, BOV860BSS
---
Breville Wire rack for The Compact Smart Oven BOV650XL



$23.01

@ Amazon.com
Product Description
Wire rack for The Compact Smart Oven BOV650XL
Dimensions are 12 1/2 inches x 10 1/4 inches
Product Details
| | |
| --- | --- |
| Brand: | Breville |
| Color: | Silver |
| Dimensions: | 12.5 X 10.25 X 0.25 Inches (Length X Width X Height) |
| Price: | $23.01 |
Breville Wire rack for The Compact Smart Oven BOV650XL
---
Breville The Mesh Baskets for The Smart Oven Air



$56.97

@ Amazon.com (Save 15%)
Product Description
Stainless steel
For use with The Smart Oven Air
Includes 3 Mesh Baskets
Designed for air frying or dehydrating multiple batches of ingredients
Top rack dishwasher safe
Product Details
| | |
| --- | --- |
| Brand: | Breville |
| Model #: | BOV900AMB |
| Dimensions: | 19.3 X 13.8 X 5.5 Inches (Length X Width X Height) |
| Price: | $56.97 (Save 15%) |
Breville The Mesh Baskets for The Smart Oven Air
---
Breville Compact Wave Soft-Close Microwave Oven, Silver, BMO650SIL



$248.80

@ Amazon.com
Product Description
The Breville Compact Wave Soft Close with a 25L compact footprint and an easy shortcuts and foods menu is big on convenience, and is designed to precisely reheat, defrost and cook; A countertop microwave engineered with an 80% quieter soft close door
COMPACT MICROWAVE This countertop microwave has a compact footprint with a 25L capacity and all the room you need to cook, defrost and reheat delicious meals
COOKING SHORTCUTS AND FOOD MENU: One touch auto buttons including Reheat, Defrost, Popcorn & Beverage providing access to your favorite settings; Food Menu functions such as reheat pizza, defrost vegetables or cook potatoes to create quick and easy snacks
SOFT CLOSE DOORr: A countertop microwave engineered with a soft close door which is 80% quieter; Clever touches like child lock, mute button and 30 second instant start means less beeps, bumps and clangs, and more pops, bites and crunches
DEFROST & REHEAT FUNCTIONS: The Defrost function is designed to gently defrost food without overheating and drying out the edges; The Reheat function uses lower power levels to gently reheat food without drying or overcooking
CHILD LOCK: Using your microwave while ensuring your child stays safe is only one touch away thanks to the Child Lock button
Product Details
| | |
| --- | --- |
| Brand: | Breville |
| Model #: | BMO650SIL1BUC1 |
| Warranty: | 1 year limited warranty |
| Color: | Silver |
| Dimensions: | 17.3 X 19.1 X 11.5 Inches (Length X Width X Height) |
| Price: | $248.80 |
Breville Compact Wave Soft-Close Microwave Oven, Silver, BMO650SIL
---
Breville Knock Box, BCB100



$29.95

@ Amazon.com
Product Description
Note: 1)Too coarse a grind, too little coffee, or insufficiently tamping the grounds before brewing can all lead to inadequate pressure for a proper brew. 2)It is important to note that the amount of espresso extracted will vary depending on the grind size and amount and reprogramming may be needed when the size and amount are adjusted
Durable die cast metal barista style knock box
Knock bar made of engineering grade polymers
Removable inner vessel; Top rack dishwasher safe
Polymer ring around the bottom helps prevent slipping
Measures 6-4/5 by 7 by 7-1/4 inches
Product Details
| | |
| --- | --- |
| Brand: | Breville |
| Model #: | BCB100 |
| Warranty: | Limited |
| Size: | Knock Box |
| Color: | Silver |
| Dimensions: | 6 X 7 X 7 Inches (Length X Width X Height) |
| Price: | $29.95 |
Breville Knock Box, BCB100
---
Breville Smart Oven Air Fryer Pro, Brushed Stainless Steel, BOV900BSS



$399.95

@ Amazon.com (Save 20%)
Product Description
The Breville Smart Oven Air with Element iQ System is a versatile countertop oven allowing you to roast, air fry and dehydrate; Use super convection to reduce cooking time by up to 30% and choose from 13 cooking functions; Includes an interior oven light
ELEMENT iQ SYSTEM: Using 6 independent quartz elements, smart algorithms steer power to where and when it's needed to create the ideal cooking environment; Sensing and digital PID temperature control eliminates cold spots for precise and even cooking
AIR FRY & DEHYDRATE SETTINGS: Air fry French fries and other family favorites; Higher temperatures combined with super convection (maximized air flow) deliver crispy golden air fried foods; Dehydrate a wide range of food, up to 4 trays of goodness at once
SUPER CONVECTION TECHNOLOGY: 2 speed convection fan (super & regular) offers greater cooking control; Super convection provides a greater volume of hot air to ensure fast and even heat distribution perfect for air frying, dehydration and roasting
13 COOKING FUNCTIONS: Super versatile countertop oven and air fryer with 13 functions to guide you to perfection: Toast, Bagel, Broil, Bake, Roast, Warm, Pizza, Proof, Air Fry, Reheat, Cookies, Slow Cook and Dehydrate
EXTRA LARGE CAPACITY: Extra large 21.5 x 17.1 x 12.7 inch interior with capacity for 9 slices of bread, a 14 pound turkey, air frying French fries and slow cooking with a 5 qt Dutch oven; Large enough to fit most 9 x 13 inch pans and 12 cup muffin trays
Product Details
| | |
| --- | --- |
| Brand: | Breville |
| Model #: | BOV900BSSUSC |
| Warranty: | 2 year limited product warranty |
| Size: | 17.2" x 21.4" x 12.8" |
| Color: | Brushed Stainless Steel |
| Dimensions: | 21.5 X 17.5 X 12.7 Inches (Length X Width X Height) |
| Price: | $399.95 (Save 20%) |
Breville Smart Oven Air Fryer Pro, Brushed Stainless Steel, BOV900BSS
---
Breville Knock Box Mini in Stainless Steel Construction-Dishwasher Safe, Silver



$37.15

@ Amazon.com
Product Description
Measures 4" L x 4" W x 4.5" H - Mini size can accommodate up to 8 pucks
Removable knock bar for easy cleaning - Stainless steel construction
Non-skid base stabilizes the box and protects the bench
Can store the knock box right on your espresso machine's dip tray
The Breville Knock Box Mini makes knocking the puck out after pulling a shot of espresso easy and mess-free for your next shot
Product Details
| | |
| --- | --- |
| Brand: | Breville |
| Model #: | 04032018_4908-Macy's-18.48 |
| Size: | Breville Knock Box Mini in Stainless Steel Construction - Dishwasher Safe |
| Color: | Silver |
| Price: | $37.15 |
Breville Knock Box Mini in Stainless Steel Construction-Dishwasher Safe, Silver
---
Breville Precision Brewer Thermal Coffee Maker, Brushed Stainless Steel, BDC450BSS



$329.45

@ Amazon.com
Product Description
The Breville Precision Brewer Thermal is a 60 oz drip coffee maker with thermal carafe that allows you to brew third wave specialty coffee at home, automatically; Experience your favorite coffee at its best with precise temperature and brewing time
AUTOMATIC PRESETS AND CUSTOMIZABLE: 6 unique brewing modes ensure you enjoy the perfect balanced coffee every time; Preset modes include Gold, Fast, Strong, Iced, Cold Brew and My Brew, all so you can experience your favorite coffee at its best
PRECISE & ADJUSTABLE TEMPERATURE: Coffee maker with precise digital temperature control (PID), 3 different flow rates to optimize contact time and Thermo Coil Heating System delivering water that is more pure than typical brewing systems that use aluminium
GOLD CUP STANDARD: In Gold Cup preset mode the Breville Precision Brewer Glass automatically adjusts the water temperature and brew time to meet the standards set by the SCA (197 to 204 degrees)
AUTO 'STEEP AND RELEASE' TECHNOLOGY: Breville's patented Steep & Release valve holds the water in contact with the coffee when small cup volumes are being brewed without the glass carafe in place automatically
MY BREW SETTING: Allows you to customize parameters like bloom time, brew temperature, and flow rate to suit your coffee needs; create a perfect coffee that is floral, fruity, earthy, and so on to match your preference
Product Details
| | |
| --- | --- |
| Brand: | Breville |
| Model #: | BDC450BSS1BUS1 |
| Warranty: | 2 Year Limited Product Warranty |
| Size: | 13.5" x 9" x 16" |
| Color: | Stainless Steel |
| Dimensions: | 14 X 9 X 16 Inches (Length X Width X Height) |
| Price: | $329.45 |
Breville Precision Brewer Thermal Coffee Maker, Brushed Stainless Steel, BDC450BSS
---
Breville Mini Smart Toaster Oven, Brushed Stainless Steel, BOV450XL



$159.95 ($159.95 / Count)

@ Amazon.com (Save 11%)
Product Description
The Breville Mini Smart Oven with Element iQ System is for the cook who desires a countertop oven that bakes the perfect pizza, delicious cookies and toasts evenly; Don't let Mini fool you as this space saving oven offers 8 cooking functions
ELEMENT iQ SYSTEM: Using 4 independent quartz elements, smart algorithms steer power to where and when it's needed to create the ideal cooking environment for perfect results every time; Fast 1800 Watt preheat gets your meals on the table more quickly
8 COOKING FUNCTIONS: Super versatile mini smart oven with 8 cooking functions to guide you to perfection: Toast, Bagel, Bake, Broil, Pizza, Roast, Cookies and Reheat
SMALL CAPACITY: The 16.1 x 14.2 x 10.4 inch interior fits 4 slices of toast, bagels, cookies, tuna melts, 6 cup muffin tray and 11 inch pizzas; Complete with 3 rack positions, pull out crumb tray and auto shut off
LCD DISPLAY: LCD display to more easily access the built in smart functionality, choose from 8 cooking functions
NON STICK CAVITY COATING: The walls on the inside of the oven feature a non stick coating for easy cleaning
Product Details
| | |
| --- | --- |
| Brand: | Breville |
| Model #: | BOV450XL |
| Warranty: | 1 Year Limited Product Warranty |
| Size: | Mini Smart Oven |
| Color: | BOV450XL |
| Dimensions: | 16.1 X 10.4 X 14.2 Inches (Length X Width X Height) |
| Price: | $159.95 ($159.95 / Count) (Save 11%) |
Breville Mini Smart Toaster Oven, Brushed Stainless Steel, BOV450XL
---