Breville is one of the popular and reliable manufacturers of kitchen appliances. It has been serving its customers for decades. To become a leader in kitchen appliances, Breville manufactures numerous products such as microwaves, blenders, juicers, coffeemakers, fry pans, toasters, smart ovens and many other kitchen gadgets.
We all know that buying a smart oven means owning convenience and relaxations. Therefore, if you want to know more about Breville BOV800XL Smart Oven, the below mentioned content will be useful.
This Breville countertop oven is based on Element IQ system, which is directly translated into performance, convenience and the ease-of-use. From Breville, most Element IQ ovens received enormous reviews and great appreciations on numerous selling platforms.
In fact, the manufacturer says that the toaster oven is capable to minimize approx. 30% cooking time with the help of convection settings. It is the ideal oven for the people, who are looking for an adaptable convection oven.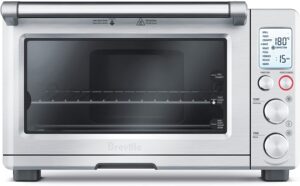 Features & Highlights of Breville BOV800XL Convection Oven
LCD Display – in Breville BOV800XL Smart Oven, the display panel is located at an appropriate place, which can be accessed conveniently. With the help of this LCD display, you can reach to list of the functionalities. Impressively, it gives you nine cooking functions to choose from according to your cooking demand.
The LCD display not only gives you the access to the built-in functionalities, but also indicates the pre-heating time then it starts count down. Such advanced functions are very helpful for preparing meals perfectly.
Cavity Size – the Breville smart toaster oven has an erroneous interior that measures 13.5" by 12.7" by 6. Amazingly, the large-size interior can hold a thirteen-inch pizza very well. Now, you would have understood its actual capacity because if an interior accommodates a 13-inch pizza then it can easily accommodate various cooking stuffs very easily.
Meal functions – for the versatility, the Breville smart oven comes with 9 meal functions. Using these functions, you will be able to prepare your desired meals. The nine cooking functions are baking, broiling, bagel, roasting, pizza, cookies, reheating, warming and toasting. For me, these nine cooking functions are enough because I will only be able to use three or four functions to prepare my preferred meals.
Cavity cleaning – in fact, cleaning the interior is very easy in this oven because it has a non-stick cavity. All the walls on the interior have non-stick coating for the simple cleaning.
Slow Cooking Function
Many times, you need the slow cooking function to cook meals with your desired flavors. Therefore, the slow cooking function is very useful in that situation. Of course, it takes long time because of the low temperature setting but it is good to get the desired outcome.
As per the manual, the slow cooking option allows maximum ten hours to cook the meals. After that, the slow cook setting turns to keep-warm. In fact, this option is very useful to tenderize the food and to create special flavors.
Breville Smart Convection Oven
The Breville oven comes with convection option. Using the convection setting, you will be able to minimize cooking time up to thirty percent. For the convection, the oven features an integrated fan. This fan is capable to move the hot air around the oven. Also, it balances the hot air circulation according to the requirement. The smart mechanism manages air circulation very well. It takes care of hot air, cold air and dense air and circulates accordingly.
Element IQ – the system has five self-governing quartz elements. Also, the advanced system distributes power depending on where and when it is needed. Consequently, the countertop oven is capable to create an ideal environment to deliver good cooking result. More importantly, the 1800-watt cooking power is perfect for cooking foods at a faster speed.
FAQs – Breville Smart Countertop Oven
Q: what is the interior size?
A: the inner dimensions are 13.5-inch width, 12-inch depth, 6-inch height.
Q: can you please let me know what type of casserole dishes can I use in this oven?
A: according to many advices, you can use any metals that are oven safe. This Breville oven is good for ceramics, glasses, metals, pyrix etc.
Q: what size pizza will it cook?
A: according to the product description, the oven is perfect for a 13-inch pizza.
Q: can I be able to fit a 13-inch by 9-inch pan in the oven?
A: yes, it can fit a 13×9 inch pizza.
Q: can I install this oven on a Corian countertop? Does it heat up the counter?
A: it is good to install on any countertop because the oven has one-inch feet that is good for the heat dissipation. According to a user, he has been using this Breville smart oven on a plastic laminated surface for more than three years without any problems.
Q: what is the lowest temperature to set?
A: the lowest temperature is 120°F.
Q: can I use two racks simultaneously?
A: according to the advices from many experienced users, it is good to use just one rack. If this Breville oven comes with two racks, the second rack can be used for accessories.
Q: at what temperature, can I use glasses in this oven?
A: using glassware in this smart oven is safe up to 350 degree.
Users' Experience On 1800-Watt Convection Toaster Oven
One – according to this user, the Breville oven stopped working after three months so he is not happy with the oven. He says that the oven delivered good performance for toasting, roasting, baking and other tasks but it stopped working after three months. Now the Breville smart oven is non-responsive with blank screen.
Further, he advises that if anyone wants to buy this oven, please consider paying for the extra warranty.
Two – this Amazon customer says that it looks great. In fact, he liked many functionalities such as temperature settings, magnet based tray for pulling out. Sadly, the smart oven just worked for one year. After this, the convection fan stopped working, which is a big issue according to him.
Also, he says that start/stop button doesn't work properly. He has to press the start/stop button repeatedly to start or stop the unit. Next, he also noticed that the oven displays false temperature numbers.
Three – according to this user, the Breville countertop oven delivered good performance for toasting, heating leftovers, French fries, pizza etc. Overall, he was impressed with the performance but the oven's display went blank. After investigation, he found that the problem was with the thermostat that was corrected with the help of an electrician.
Four – initially, the customer was very happy with the performance. It did well for varieties of meal preparations. However, the convection oven died after few months. Now he says that it is not worth the money. He says that it hurts when an expensive appliance will stop working after few months.
Pros
Multiple cooking functions in just one unit
Easy to clean
Good for a 13-inch pizza
Countertop placement is very easy and safe because there is a great mechanism involved.
Good for small families
Cons
The biggest problem in this Breville smart oven is too many complaints regarding the unit stops working after few months
Expensive
The display goes blank after few months of use
For a good buy, it is highly recommended to read pros and cons of any product you buy. In this oven, you can find both positives and negatives. Some negatives are highly weighted so please think twice before you buy it.
Ending Thoughts on Breville BOV800XL 1800-Watt Convection Toaster Oven
At the end, what I will say is taken from the users' reviews. According to many customers on Amazon, the Breville smart convection oven is not worth the money, which means it is an expensive unit. Yes, the price may look reasonable to you but the oven is proven expensive because it doesn't last longer.
Many customers have complained that the oven stopped working after the few months use. So, please consider the hardest truth about this Breville oven.
However, the oven is perfect for most of the cooking functions. It is easy to clean, easy to install, carries too many menu options for the versatility, the look is impressive. But, the biggest problem is that either the display starts showing blank, or the oven stops working completely after few months or a year.
[home]
Breville 1800W Countertop Convection Oven
Breville BOV800XL 1800-Watt Smart Oven comes with one year limited warranty for the peace of mind.
This is a feature-rich smart oven that is affordably priced at Amazon.com shopping website.
If you want to buy this product now at a discounted price, please check with Amazon.com.
Breville BOV800XL 1800-Watt Smart Oven is an Element IQ unit that delivers the right power at the right time and letting you adjust according to taste.
When it comes to placement of this Breville smart oven, you can place the oven on a flat, dry surface.
Please make sure that there is a distance of approx. 4 inches of space on both sides of the appliance.
Further, the Breville smart oven comes with 9 present functions such as bagel, toast, bake, pizza, broil, roast, warm, reheat and cookies.
In the advanced features, Breville BOV800XL 1800-Watt Smart Oven has backlit, easy-to-read LCD that changes from blue to orange when cooking. This is an 1800W smart oven with 5 quarts heating elements.
Interior dimensions are 13.25 inches, 11.25 inches and 5.25 inches. The exterior dimensions are 18.5 inches, 15.75 inches and 11 inches. Breville BOV800XL 1800-Watt Smart Oven has been highly rated on Amazon.com and many other shopping websites. Read more…
Visited 2 times, 1 visit(s) today