Personally, I amazed seeing more than 2500 positive ratings on this Jocuu slow masticating juicer by Amazon customers. Further, I read most of the reviews posted on Amazon on this juicing machine. Most of the reviews were in its favor.
In fact, many positives in this unit made it a popular product. From every side, the juicer looks impressive whether it is the low-price, high-performance, rich features and the ease of use.
The machine is perfect for those who want affordability, reliability, safety and the ease-of-use.
For a versatile demand, the Jocuu juice extractor features dual speeds: high and low. You can use a speed mode depending on your requirement. Normally, high-speed mode is for hard and slow-speed is for soft fruits and vegetables.
Jocuu juice machine has the capability to obtain high-purity juice with reduced blackening. Thus, the jocuu juicer is capable to deliver juices rich in vitamins and nutrients. Such nutrient juicers are perfect for the health cautious people, children, weight loss and aged people.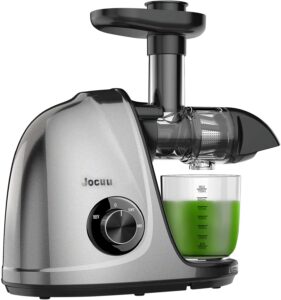 Features & Capabilities
Two speed modes (high and low) – For the hard fruits, you can use high-speed mode, and for the soft fruits, you can use the slow speed mode. The hard mode is perfect for fruits and vegetables such as apple, carrot, pear, beets etc. The soft mode is for watermelon, orange, grape, cucumber etc.
Nutrient juice – the machine is capable to extract high-purity juice with less oxidation. Which means, you receive the juice with nutritional contents.
Made with anti-oxidant materials – according to Jocuu, non-oxidant materials have been used to make the separable parts. For longer life, this unit comes with protection chips that automatically stop the motor every twenty minutes.
Small mouth – the Jocuu masticating juicer features a small chute. That means, you need to cut the fruits and vegetables in smaller parts and remove the seeds to avoid the bitter taste.
Silent motor – a low-speed and quiet motor in this machine is very good for the silent operation. Of course, you will enjoy a silent environment because the sound coming from the motor is less than 60 decibels.
Easy disassembling – the Jocuu juicing machine has one-touch assembly design, which means you don't have to make too much effort for disassembling it. In fact, it is very easy and quick to disassemble.
Easy cleaning – it features easy-to-clean dishwasher. Also, it comes with a cleaning brush for the simple cleaning. It features reverse function, which is helpful to avoid jamming and help in cleaning.
Warranty – Jocuu masticating juicer is protected with a longer period warranty of ten years on the motor and 3 years on other parts. Further, you receive friendly customer service for the lifetime.
Pros
Easy to clean
Runs efficiently
Silent operation
No leaking issues
Gives dry pulp without juice
Easy to join and detach the parts
Extracts tasty juice with sufficient nutrition
Affordable price
10 years warrant on motor, and 3-year on other parts
Good customer service
Cons
The container is wide; it should be a little thinner.
Concluding Thoughts on Jocuu Masticating Juice Extractor
To sum up, the machine is very popular without any doubts. It has countless happy customers in the USA and other countries. Before you attempt to buy it, please check the ratings on this machine on Amazon. I'm sure, it will surprise you!
Additionally, the Jocuu masticating juicer is an affordable machine, which is one of many factors to make it so popular on various selling platforms.
According to its existing users, the juicer is very easy to clean. It runs smoothly and silently. You get nutrient juice and dry pulp. The assembling and disassembling is very easy.
[home]
Visited 2 times, 1 visit(s) today