Farberware is a well-known manufacture that has been serving its shoppers for more than a century. To cover a wider chunk, the manufacturer continuously makes numerous kitchen appliances.
From Farberware, some bestseller products are percolators, fry pans, stockpots, cookware pots, countertop microwave ovens, kitchen knives and more.
If you are looking for more evidence on Farberware Classic FMO11AHTBKN, please read on. I assure you will not get disappointed!
Since, our key goal is to gather as much data as possible on this Farberware cooking appliance, so first I checked varieties. If you are an Amazon purchaser like me, you will find that Farberware 1000-Watt microwave is obtainable in four disparate colors. These beautiful & disparate colors are metallic red, black stainless steel, copper and stainless steel.
Well, I'm a little doubtful that, the Farberware 1.1 cu. ft. microwave unit may not exist in all four colors simultaneously. Therefore, it all depends on the availability.
Features, Specifications and Capabilities of the 1000-Watt Microwave Oven
Cooking power – Farberware classic microwave lets you claim 1000-watt cook capacity. Which, in my view is huge to prepare meals hurriedly.
Ten heat settings – as per the product summary, the 1.1 cubic feet microwave lets you access 10 built-in power settings. Which means, the total microwave power divides into 10 parts. In other words, you can say that Farberware FMO11AHTBKN lets you use the cooking power at 10% increment.
Express Cooking – this is a common cooking function that is frequently found in most microwaves today. In case of Farberware Classic Microwave, it allows from one-minute to six-minute express cooking.  Furthermore, the Farberware cooking appliance has dedicated buttons, "add more time" to the cooking process, which is known as Add 30-Seconds button.
Defrosting – by default, most microwaves today come with a defrosting capability. Farberware Classic has a defrosting option that is capable to perform defrosting foods by time or weight.
Quick-select common recipes – in this hectic lifestyle, no one has reasonable time. If you have less time, your microwave is very helpful in that circumstance. The 1.1 cu. ft. microwave features six one-touch cooking functions. These functions are for most cooked meals that are composed of beverage, vegetables, pizza, dinner plate, potato and popcorn.
Other important features – the classic microwave also features a numerical control, an LED display, a microwave clock and a timer. Thus, these progressive features help arrange meals happily and timely.
Warranty – as per printed in the product manual, Farberware Classic FMO11AHTBKN is defended with full one-year warranty. Which means, you have one-year from the time of acquisition. If you detect any issues in this unit, don't pause to contact the manufacturer to claim the assurance.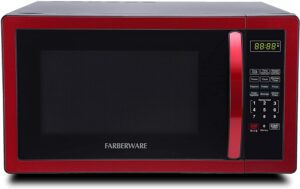 Farberware Classic FMO11AHTBKN – Features at a Glance
10 power settings
Programmable defrosting by minutes or solidity
Express cooking selections
Add 30-second control
Safety lock
LED display
Kitchen timer and clock
One-year company warranty
FAQs – Farberware Classic FMO11AHTBKN Microwave Oven
Will I be able to put Farberware Classic FMO11AHTBKN on a cabinet?
Yes, of course! Please make sure that it has some space on both edges for passing the air.
Is the microwave sound too loud?
It is a little lauder than usual according to several complaints posted on Amazon.
Is the inner material is stainless steel?
Yes, the microwave is made of stainless steel material inside.
Why does the plate start revolving when I plug in? Is this normal?
No, it is not normal with this Farberware Classic Microwave. You should return it.
I want to mount it to upper cabinet by hanging it; will I be able to do it?
No, because Farberware Classic FMO11AHTBKN doesn't come with the brackets for the hanging placement. Moreover, you will not be able to bolt the unit. Therefore, you have to look for other ways for the placement.
Without the handle, what is the depth of this Farberware 1000-watt microwave oven?
According to some handlers, the depth is 15-5/8-inch excluding the handle.
Where can I purchase an original glass plate? What is the dimension of the plate?
To buy any replacement parts, Amazon is the best place. The glass plate is 12-inch round.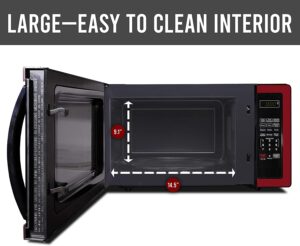 Consumer Experience on Farberware 1000-Watt Microwave
One – an Amazon consumer mentions in his review that he received terrible performance from Farberware 900-Watt Microwave. He says that despite countless confident reviews, the microwave performed awfully. Now, he regrets that he should listen to t hose commentators who mentioned the issues.
Actually, he primarily criticizes the heating capability. After two months use, the microwave doesn't heat accurately. Also, the plate and interior light spins at the time of cooking but the food stays cold. Moreover, the microwave times out occasionally. Briefly, he is very frustrated with the performance.
Two – according to this critic, the microwave is very laud. However, it worked for the purpose. After few months, Farberware Classic started running with unlocked door, so the item has some major defects. That's why, the operator wanted to return it.
Three – a customer wrote in his reference that this 1000-watt microwave works perfectly. It has a little noise but it is satisfactory!
Four – this user says that it works faultlessly. He loved the microwave handlebar.
Five – according to this man, the 1.1 cu. ft. microwave is a little louder than others do.
Six – because, it is an easy-to-operate microwave, so he liked it. Mainly, he is very pleased with the fashionable handle. The microwave handle facilitates relaxed opening and closing.
Pros
Microwave handle is liked by countless operators.
The microwave is easy to function.
Metallic red paint matches most kitchen décor.
Suitable size
Stress-free cleaning
One-year warranty assurance
Exists in four colors to pick one
Cons
You can see, pros and cons say that it is a delightful microwave. It comes with one disadvantage related to the loud noise. Since, the 1.1 cu. ft. microwave offers so many assistances, so it becomes a buyable unit.
Assumption – Farberware 1.1 Cubic Feet Microwave, Metallic Red
In short, Farberware Classic FMO11AHTBKN Microwave is an easy-to-use unit. It comes with several advantages in a low price. In fact, many users have written reviews on Amazon with positive intent.
In my view, Farberware 1000-Watt Microwave looks remarkable from many ends. It comes in a compressed design with an easy handle, rotatable turntable and kitchen timer. Using these features, one can prepare meals evenly and comfortably.