Whitmor Supreme Microwave / Kitchen Cart, Wood & Chrome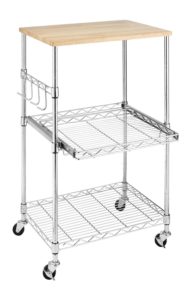 Whitmor Supreme Microwave / Kitchen Cart can be installed in many areas of your home. It comes with locking wheels pull-out shelf and accessory hooks that make it pretty convenient. The movable Whitmor Supreme microwave card has chromed steel frame for the durability. It features pull-out second shelf and the lower shelf that are adjustable in one inch increments for your storage needs. When you purchase this microwave/kitchen card, you are given 4 hooks that are used to attach to the side of the card for hanging kitchen accessories for your convenience. The top of the card has a birch wood cutting board that can be removed and used for food preparation and other kitchen related operations as well. Whitmor Supreme Microwave / Kitchen Cart is really very easy to assemble without requiring a tool. The product dimensions are 16 inches depth, 22.5 inches width and 34 inches height. This microwave cart is produced by Whitmor that is considered a leading supplier of storage and laundry accessories products. Read more…
Features
Sturdy chrome steel removable birch wood top
Adjustable shelves including one pull-out shelf
16-inch X 22.5-inch X 34-inch dimensions
10 years of limited warranty
4 wheels (2 locking)
Accessory hooks provided
Parts

Pull-out shelf
Middle shelf pulls out for easy access.

Accessory hooks
Conveniently hang kitchen towels or utensils on the side hooks.

4 wheels (2 locking)
This mobile station can be easily and conveniently rolled around the kitchen. With 2 locking wheels the cart stays securely in place preventing unwanted movement.

Adjustable Shelves
The middle and bottom shelves can be adjusted in 1 inch increments making it easy to store various size objects.
Microwave Cart by Altra Furniture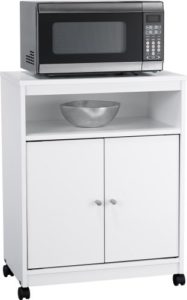 Microwave Cart by Altra Furniture lets you enjoy extra storage in the kitchen. You can easily place a microwave on this cart and use the additional storage to organize your kitchen items. You can place your microwave on the top of the cart and use the open storage compartment to store kitchen towels and pot holders. Also this is a wheel cart, the bottom wheels make this cart very mobile. You can easily move it around the kitchen when required. The product dimensions are 23.6 inches X 14.7 inches X 30.3 inches and weighs just 35 pounds. Microwave Cart by Altra Furniture has an open shelf that can be used to store spices, mugs or other small kitchen essentials and you are able to hide your kitchen items behind the 2 doors, 4 casters that really provide great mobility. It can easily hold a microwave up to 40 lbs. This microwave cart has white stipple finish with brushed nickel knobs that let the cart match with any décor. Read more…


Furinno NW889DC/BK Go Green 4-Tier Multipurpose Storage Rack w/Bins, Dark Cherry/Black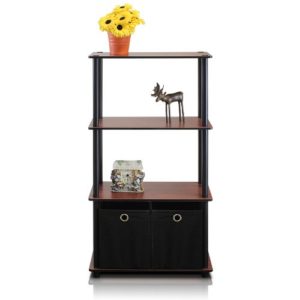 Furinno NW889DC/BK Go Green 4-Tier Multipurpose Storage Rack is made in a unique structure. It has open display rack and shelves to provide easy storage and display for decorative and household items. This Furinno rack is very suitable for rooms that require vertical storage area. This is really a low-cost alternative to store anything you want in a stylish manner. This product is really very popular because of the low price and no hassle assembly. It requires very simple assembly without requiring tools. The multi-purpose storage rack can be assembled within 10 minutes because of the smart design it has gotten. It uses durable recycled PVC tubes and engineered particleboard to withstand heavy weight. You can easily experience the fun of DIY even with your kids or pets. The product is produced and assembled completely in Malaysia with approx. 95-percent recycled materials. You are advised to wipe clean with clean damped cloth and please avoid using harsh chemicals. Read more…