GE PEM31SFSS Profile Stainless Steel Countertop Microwave
GE PEM31SFSS countertop microwave has 10 power levels and an impressive cooking power of 800 watts. It measures 12.9 x 24 x 12.1 inches and weighs 29 pounds. It has an optional hanging kit for your convenience.
GE PEM31SFSS has great sensor cooking controls to provide added flexibility in your cooking related stuffs. GE PEM31SFSS Profile Stainless Steel Countertop Microwave is considered medium-size microwave that has great options for cooking popcorn, vegetables, reheating items and handling beverages for simple use.
It also has weight and time defrost functions that facilitate thawing. The good thing about this GE microwave is it has space saver profile that is preferred a lot today as it won't take much space in your kitchen and it is very easy to install anywhere you want.
You should know that most microwaves are built in the size of 15 to 16 inches deep but this GE microwave model is 12-inch deep. Yes, I admit that the price is a little higher than other similar microwaves because it is made in a space saving profile and has some extra functions to suite your diverse cooking needs. Read more…
Comparable GE Microwaves

GE PEM31DFBB
Color: Black
Size: 15.7 X 0.27 X 13.3 inches
Weight: 31.6 pounds

GE PEB7226SFSS
Color: Stainless Steel
Size: 14 X 24 X 20 inches
Weight: 44 pounds

GE PEM31DFWW
Color: White
Size: 12.13 X 24 X 12.88 inches
Weight: 29 pounds
Brand history: https://en.wikipedia.org/wiki/General_Electric
Sharp R-1214 1-1/2-Cubic Feet 1100-Watt Over-the-Counter Microwave, Stainless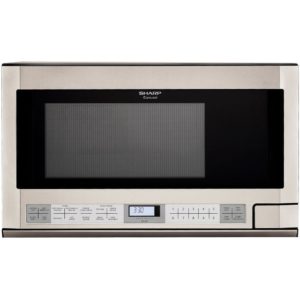 Sharp R-1214 1100-Watt Over-the-Counter Microwave has smart sensor settings for 11 popular microwave foods. You don't have to set times or power level so there is no need of guesswork.
The microwave is easy to install on your preferred locations as it is made in a sleek profile that doesn't take much space. The Sharp R-1214 microwave has an automatic touch control panel that can be found underneath the door of the microwave.
It is really easy to choose features, power levels and times. The microwave has a custom help feature in three languages such as English, French and Spanish. You can use 'Defrost Centre' feature to automatically set defrosting times and power levels to cook poultry and likewise items.
It has 'Minute Plus' feature to give users one minute of high cooking at a touch. You can use 'Keep Warm Plus' feature to keep hot meals hot by 30 minutes when cooking is completed.
Sharp R-1214 has also Popcorn Sensor to pop popcorn automatically ignoring the package size or brand. Use 'Hot Water' option to boil water that can further be used for making tea or cooking pasta. Read more…
Operation & installation instructions for Sharp R-1210, R1211, R1214: mic_man_R1210_1211_1214_install.pdf
Features:
1.5-inch cu. ft. capacity
1100 watts power
Stainless steel color
23-7/8 by 14-1/16 by 15-9/16 inches outside dimensions
17-1/2 by 9-7/8 by 14-15/16 inches interior dimensions
24 automatic settings
14-1/8 inches turntable diameter
'Defrost Centre' for defrosting
7 digits, 2-color lighted LCD display
Acrylic painted oven interior
46 pounds net weight
Single phase 120V, 60 Hz, AC only (Ac line voltage)
1530 watts AC power required
FCC, DHHS and UL certified for the safety
Panasonic NN-SD681S Stainless 1200W 1.2 Cu. Ft. Countertop/Built-in Microwave with Inverter Technology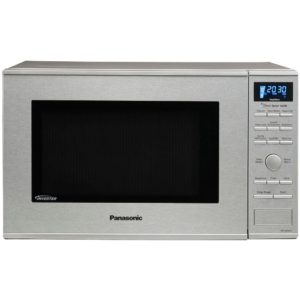 Panasonic NN-SD681S 1200 watts microwave oven is designed under Panasonic's patented Inverter Technology.
It offers linear cooking that is very good to prevent overcooking on the edges and surfaces and it results in juicer and tender food all the times.
It has high cooking power of 1200 watts, one-touch sensor cook/reheat and can calculate times automatically. With such powerful options, cooking can become easier than before.
It has many other great features such as 'Blue Fluorescent' display readout, 'Programming Dial' for quick programming, 'Inverter Terbo Defrost' technology, ten power levels, 'Popcorn' option, Keep warm mode, Delay start, Timer, Quick Minute, 13.5 inches turntable and many other great features to facilitate your cooking.
It has a beautiful half-mirror door that provide transparency to see the cooking process. Read more…
Product Dimensions: 20.7 x 12.2 x 15.2 inches
Weight: 30.1 pounds
Model: NN-SD681S
Comparable Panasonic Microwaves

Panasonic NN-SN686S
Color: Stainless
Size: 12.25 X 15.81 X 20.69 inches
Weight: 25.5 pounds

Panasonic NN-SD372S
Color: Stainless steel
Size: 11 X 14.81 X 19.2 inches
Weight: 20.9 pounds

Panasonic NN-SD772SAZ
Color: Stainless
Size: 11.9 X 19.9 X 21.9 inches
Weight: 32 pounds