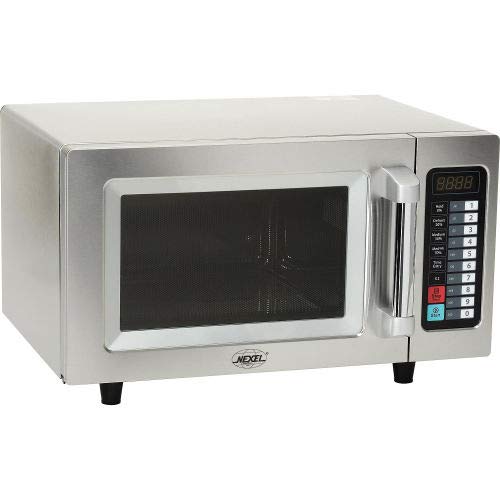 If you are looking to buy a stylish microwave oven, please check NEXEL Commercial Microwave Oven. This Nexel commercial microwave oven features 0.9 cu. ft. interior, which is a huge interior for accommodating larger food items.
Nexel commercial microwave oven offers 1000 watts of cooking power, which is good for cooking food efficiently and evenly. Foods cooked at the 1000 watts cooking power are cooked instantly and evenly without any doubts.
Nexel may not have too many varieties of microwave ovens but any microwave oven it makes is of high quality and it is performance oriented.
This Nexel microwave oven can be compared with popular microwave units such as Panasonic NE-1025F Silver 1000W Commercial Microwave Oven, Panasonic Microwave Oven NN-SD372S and Toshiba EM925A5A-BS microwave oven.
This Nexel commercial microwave oven is perfect for kitchen and breakroom areas because it provides efficient reheating and defrosting of foods.
This microwave carries motor based bottom antenna that allows even energy distribution for the reliable heating results.
On the other hand, the Nexel microwave commercial oven is sturdy, smooth and comes with aluminum door handle.
It also features transparent window pane and interior oven light ensures clear visibility to food as it cooks.
Further, the Nexel microwave oven features touch control panel that includes 100 programmable menu settings, 3 stages of cooking, 5 power levels and adaptable controls. Read more…
[home]
Visited 1 times, 1 visit(s) today