All American pressure cookers are in high demand because they are made in the USA. Such powerful canners are perfect for canning all types of meats, fishes and vegetables.
In case, you find it tough to choose a pressure cooker, please check All American 921 canner. I'm recommending this canner because it is one of the best-selling cookers on Amazon.com and other selling platforms. Depending upon your needs, you can select a size from six different sizes. All American 921 is available in multiple sizes such as:
10.5 QT:  The smallest size All American canner holds seven standard mouth pint jars or four standard mouth quart jars. Overall measurement is 11.75-inch height, internal diameter: 10.25 inches. Read more…
15.5 QT : Of course, this 15.5-qt canner is larger than the 10.5-qt canner. It weighs 15 pounds, has 16.47 liters capacity. The canner can hold 7 regular mouth quart jars. Read more…
21.5 QT: This 21.5 QT canner holds 19 regular mouth pint jars or 7 regular mouth quart jars. It weighs 17.75 pounds. Read more…
25 QT: The 25 QT pressure cooker has 23.66 liters capacity; holds 7-quart jars, external measurement: 16 x 15 x 19 inches. Read more…
30 QT: Externally, the All American 30 QT pressure canner is higher than others. It is good for 14 standard mouth quart jars. Read more…
41.5 QT: The 41.5 QT pressure canner holds 14 regular mouth quart jars. The external height is 19 inches and internal height is 14.25 inches diameter. Read more…
You can choose a suitable size All American canner based on your cooking needs. Also, please know that choosing a size will not alter the performance, quality and other benefits it comes with.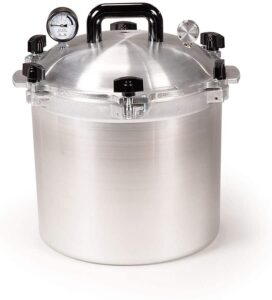 Features & Capabilities of 21.5 Quart Pressure Canner & Cooker
Solid, molded aluminum material – the 21.5-quart canner is made of hand-cast aluminum material, so solidity and durability can be expected from such material. Further, the aluminum surface has passed finishing process to make it easy to clean and non-sticky. For the ease of opening and closing, several wing nuts are there.
Steam meter – the All American pressure cooker features a steam gauge so that you will know the level of heat inside. Also, it has an excess-pressure release feature that is self-governed. The pressure release system has three pressure settings such as 5 psi, 10 psi and 15 psi.
Durable handle – according to the manufacturer, it features a phenolic handle, which has a secure sealing profile (metal to metal). This is a good capability to keep the seal tighter all the times. Impressively, it doesn't contain gaskets so you don't have to worry of burn, crack and other similar things.
Capacity – because of the large space inside, the 21.5 qt. canner can hold 19 mouth pint jars or 7 mouth quart jars. Which means, this All American canner is the best kitchen helper for most of the canning requirements. Actually, the 21.5-quart capacity is a medium-size capacity for varied uses in small to large families.
Size in inches – the overall height is 15.37-inch externally, 10.5-inch internal height and 12.25-inch inner broadness.
Safety – the All American canner is highly safe to use because it has safety valve and overpressure extraction mechanism. These two capabilities work as self-governing ventilators. Also, the highly safe cooker has pressure regulator, which has 5, 10 and 15 psi settings.
FAQs on All American 921 Canner
Can I place this 21.5 qt. pressure caner on a glass top?
Yes, you can. According to many customers on Amazon, it is fine placing it on their glass tops. However, please avoid dragging over the glass surface. I'm sure, you will not get any heating issues.
Is the All American pressure canner is safe on an electric stove?
Yes, but you have to use it cautiously. I read reviews on many places, many users say that they are using on electric stove. Only thing, you have to do is monitoring the pressure, if it is going higher than required, you have to minimize it. That means, you have to be available around the stove if you are cooking something.
Does the pressure canner come included with wire racks?
Yes, All American 921 comes with two racks. I saw it is mentioned in the product feature list if you read whole text on the product page. Since, it is not highlighted very well, that's why some buyers are not able to see it.
How many 0.5-gallon jars does this canner hold?
According to the product description, it holds 19 regular mouth pint jars or 7 regular mouth quart jars. However, I'm not sure of the size of each jar in gallons.
Why is the price difference between 21.5-qt and 25-qt. canners, while they have the same canning capacity?
In fact, the 25 qt. canner is larger than the 21.5 qt. canner. I see both hold the same number of jars but some people use these canners not only as a canner, but also as a pressure cooker; boiling water, cooking large amounts of soup and many others.
Can I use All American 921 Canner on a propane stove?
Yes, some customers mentioned that they are using it on a propane stove successfully. However, first, it needs to be heated on a 15K burner then it should be moved to a 5K burner for the normal cooking temperature.
Pros & Cons – 21.5 QT Pressure Canner
Pros
Good performance for meat, soups, beans, sauces etc.
A heavy-duty cooking appliance
Comes included with two racks, owner manual and recipe book
Enough space for cooking a wide range of food items
It has 5, 10 and 15 psi pressure regulator, which is a great handy feature.
This comes from All American, which is a USA based brand that is trustable for quality, performance and the cooking ease.
Cons
Expensive
Some customers complained about leakage from the lid.
Why is it leaking from the random points around the lid?
According to many customers, they didn't experience any leakage around the lid. In case, it leaks, please try applying olive oil around the angled edges that touch the lid. Also, it is advised to read the manual completely. I think there should be some solutions to this problem. If it doesn't get resolved by yourself, please try connecting the customer service team.
What Do Users Say about All American Canner?
One – according to this customer, he bought this All American pressure cooker from Amazon. Actually, he is very happy with this canner because it is perfect for canning meats, vegetables, soups, beans and many other recipes.
Further, he says that he hadn't any canning experience before the purchase of this item. So, to learn canning, he watched a YouTube video that helped him a lot.
According to him, All American 921 is a heavy-duty canner that has been delivering good performance for canning foods for many years. However, he regrets because it is the smaller size canner, wanted to buy a larger size canner.
Two – this Amazon customer says that this pressure canner is a good value for the money. The 21.5 qt. pressure comer comes with two racks, so he warns the future buyers not to buy additional racks.
Further, he suggests the users to follow three things. One, visit All American website and watch the video namely What Constitutes a Jiggle. Two, please make sure that the column of steam you are looking for, should not be a thick column of a visible steam. Instead, it should have constant flow of air coming from the vent. Three, it is very helpful to use a ruler or any supporting thing to fit the lid properly.
Some Finishing Words on the 21.5 QT Canner
At the end, All American 921 Canner is a solid and heavy-duty cooking appliance. It has countless happy users all over the world because the pressure cooker is easy-to-use, secure and versatile.
Such high-capacity pressure cookers are rarely manufactured these days. The All American canner brand is a trusted name that has specialized knowledge in making these types of canners. However, it seems a little expensive.
The 21.5 QT pressure cooker can be used on most of the stoves such as propane, electric, glass etc. Which means you have the flexibility to use it in many ways.