Everyone will like cooking a meal that takes the shortest time to be ready! It's the reason why everyone is now after the fried rice recipe. Cooking fried rice is super adaptable, and it won't be a headache for all people. For a bowl of useful fried rice to be delivered, you need to follow proper steps that will efficiently deliver the delicious fried rice.
Cooking fried oil will need specific ingredients such as sesame oil! Although, we tend to believe that the oil isn't the best, we like the reacts once you begin using it. You can also use the canola oil if you think sesame oil isn't the best for you. You will also need to be careful with the choice of rice that you will use. We prefer the crisper cold rice that gets much crispier in the skillet than any other fresh staff.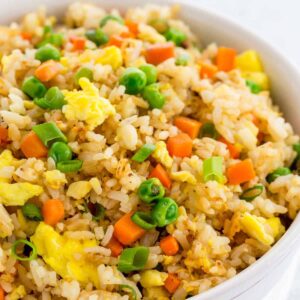 Your fried rice will have a nutty flavor. You can improve the flavor by using fresh ginger, garlic, and soy sauce to better the taste. Textures he will be very appealing, and you will surely like everything that makes up the fantastic fried rice.
Let us take a look at a recipe for cooking fried rice. But first, check if you got all these ingredients.
Three teaspoons of sesame oil
Three large eggs
Kosher salt
Carrots, two will be perfect.
Green onions
Gloves of garlic
Low sodium soy sauce
Now, when you have checked that all the critical ingredients are available, you can start cooking your fried rice in the following simple steps!
First, you should ensure that you have a large cast-iron skillet. Heat it over high heat until it is scorching. The heating will take at least 2 minutes. Begin by adding one tablespoon oil on the cast iron skillet.
Now beat the eggs with two teaspoons water. You can also add a large pinch of salt as you add them to the skillet. Don't forget to stir them as it cooks. Stirring will ensure that it forms large soft curds. Do stir it for at least 30 seconds. You will then transfer them to the plate after mixing.
Return the skillet to the high heat source, after which you add two tablespoons of oil, whites of green onions, and carrots. Cook them all until they are lightly brown. Add the garlic, ginger, and carrots as you stir them until you smell the fragrance. The process should take the full two minutes!
You will finally add rice, peas, and the cooked eggs y to the skillet. You may pour in soy sauce and keep on cooking. Stir it for some time until they cook nicely.
Now season it with salt and peppers, you stir the remaining green onions.
Serve it while hot!
Summary
Making fried rice is not that easy! You need to be careful with steps so that you get the best out of your choice! Consider these steps, and you will always live to crave for your fried rice.
[home]
Visited 1 times, 1 visit(s) today