In case, you want to buy a small microwave oven, please read Galanz GLCMKA07RDR-07 review as well. The Galanz microwave oven delivers 700W cooking power, and it is perfect for a small kitchen. This microwave is recommended here because it has received good reviews and ratings on many selling platforms including Amazon.
Features – Galanz 0.7 Cu. Ft. Microwave Oven, Retro Design
700-watt cooking power – the little microwave by Galanz has 0.7 cu. ft. interior and 700w cooking power. The 700W power may be a little low to cook meals faster but it is good for a small microwave oven like this.
6 power levels – the microwave offers 6 variable power levels. Using these power levels, you can cook food on your desired power setting. So, you would have greater flexibility to manage the microwave power.
Glass turntable – Galanz 700W microwave features a glass turntable. It has 360° rotation capability. Which means the food will be cooked evenly. Since the microwave is capable to cook food evenly at a fast speed, so you can enjoy healthy food without wasting too much time.
Cooking bulb – to illuminate the inner space in the microwave, it has an interior light. So, you will be able to check the cooking status even when the microwave door is closed.
Child lock – for the safe operation, the Galanz 0.7 cubic foot microwave has a child lock. This feature prevents unauthorized access to the unit. Which means the children in your home will not be able to operate it.
Shipping box contents – when you received the shipment, you will find a Galanz microwave oven, a glass tray, a roller ring, a shaft and a power cord. Which means it has all the components. You can start using this microwave just after the product delivery.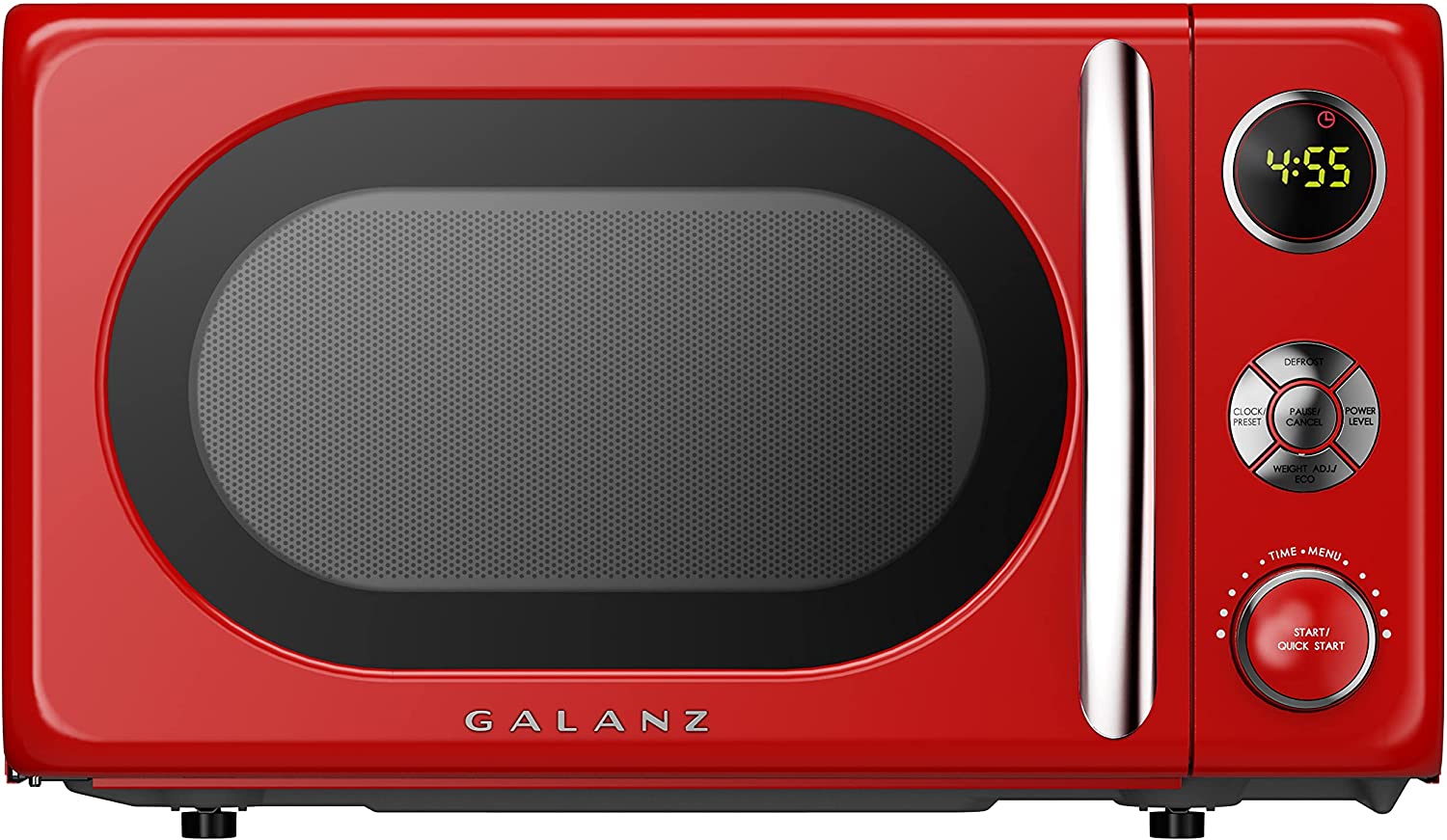 Important Features and Specifications at a Glance – Galanz GLCMKA07RDR-07 Review
Retro red style
Kitchen timer
Preset menu
Interior light
Defrost by weight
700W cooking power
6 variable power levels
Child lock option
Green LED light
0.7 cu. ft. capacity
120V input current
Product dimensions: 17.81" width, 13.75" depth and 10.31" height
Solo heating method
The package includes 0.7 cu. ft. microwave oven, glass tray, shaft, power cord, roller ring and glass tray.
FAQs – Galanz 700W Microwave Oven
Why do many people complain about turning on by itself?
Actually, the microwave has a large knob that is accidentally touched that causes to turn the microwave on. Such problems are frequent in a small kitchen. So, you just need to be careful to it.
Is this a good microwave oven for a senior citizen?
Yes, a senior citizen can use this microwave because it is easy to press the button.
How long is the warranty period?
The microwave comes with one year of warranty.
Where is the timer function, how can I set it?
The microwave does not come with a timer but you can use the bottom knob to set the time. You just need to turn it until you see the time you want.
Pros
Retro style is liked by many.
The microwave handle is very convenient.
Small size microwave is good for a small kitchen.
Cute microwave oven that is easy to use
6 variable power levels
700-watt cooking power
Rotatable turntable
Child lock feature
Cons
Made in China
Low quality material used to make it.
It is not good for a large size family.
You can see the pros and cons that are a part of Galanz GLCMKA07RDR-07 review. The microwave has gotten good popularity on Amazon. In the list of pros, the retro design is liked by many users; the small size microwave is good for a small kitchen.
Conclusion – Galanz Retro Red Microwave Oven
In short, Galanz GLCMKA07RDR-07 review is based on what users discussed in various forums, blogs and social networking websites. According to the reviews, this is an average quality microwave. One can buy it because it is a low price microwave. It is perfect for preparing meals for one or two people.
The retro look is appreciated by many users. So, due to the retro look, the microwave is very popular. In fact, it has become a bestseller product on Amazon. You can see thousands of customers have purchased this microwave on Amazon only.