In fact, Breville is a leader in manufacturing a wide range of juicers. In past, it has made countless juicing machines that delighted its users. However, it makes other kitchen appliances too.
Now Breville presents Juice Fountain Cold Centrifugal Juicer that is available on various selling platforms to buy. The price of this cold juicer is reasonable, neither too high nor too low.
In case, you plan to buy a juicer, checking Breville BJE430SIL will be good. According to the manufacturer, the centrifugal juicer is a high-performance machine that is based on a cold extraction system. The juice fountain cold juicer has an 850W motor, which is very powerful to handle the hardest fruits and vegetables without taking too much time.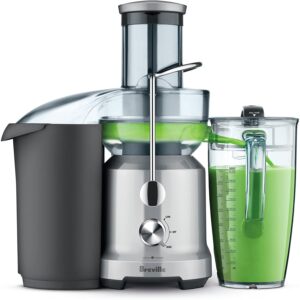 Breville Centrifugal Juicer Is Nutritionally Capable
Because, the Breville juicer runs on a cold extraction system with an Italian mesh filter, so it is capable to preserve vitamins and minerals. As a result, the machine is capable to deliver healthy juices.
The patented cold spin technology is very good at suppressing heat because it transfers less than 1.8°C heat at the time of juicing. Additionally, the powerful motor with 850-watt capacity is very good to handle almost all fruits and vegetables.
Specially designed nozzle – because of the special nozzle, the machine is capable to deliver mess-free juices straight into the glass. When it finishes juicing, please just turn the nozzle to avoid juice drips.
Features of Breville Centrifugal Juicer
Time saver – Breville BJE430SIL Juice Fountain Cold Centrifugal Juicer comes with a wide chute feed, which takes whole fruits without cutting them. Which means it removes all the hassles of cutting vegetables and fruits.
Sealable jug – the juicing machine allows you to juice and seal in a large jug and stores it in a refrigerator.
LED display – this feature is very helpful to indicate if the motor stopped working. The LED display indicates with blinking light when the motor stopped working due to high-load. Which means, the LED light works as a preventive tool for the safety and durability of the motor.
Accessories – Breville BJE430SIL Juice Fountain Cold Centrifugal Juicer comes included with 70 fl oz juice jug (easy seal), cleaning brush and a removable spout.
Pros
Low price
Smooth and quiet performance
Lightweight
More efficient than previous Elite model
Comes included with an easy-seal jug, spout and cleaning brush
Mesh-free juicing
Fast performance
Cold juice output
Juices whole fruits and vegetables
Easy to use, easy to clean
Cons
Delivers wet pulp
A customer complained that it doesn't juice kale leaves or spinach properly.
Ending Thoughts on Breville BJE430SIL
To sum up, Breville BJE430SIL Juice Fountain Cold Centrifugal Juicer is a low-price and high-performance juicer that uses latest technology. The juicer has many pros that are rarely found in a low-price juicing machine.
The Juice Fountain Cold juicer has the capability to juice whole fruits and vegetables, so it becomes very easy to use and save time as well. Additionally, the low price juicer comes included with the required accessories such as a sealable jug to store juices in a refrigerator for later use. It also comes with a cleaning brush and a spout for all your convenience.
[home]
Visited 2 times, 1 visit(s) today