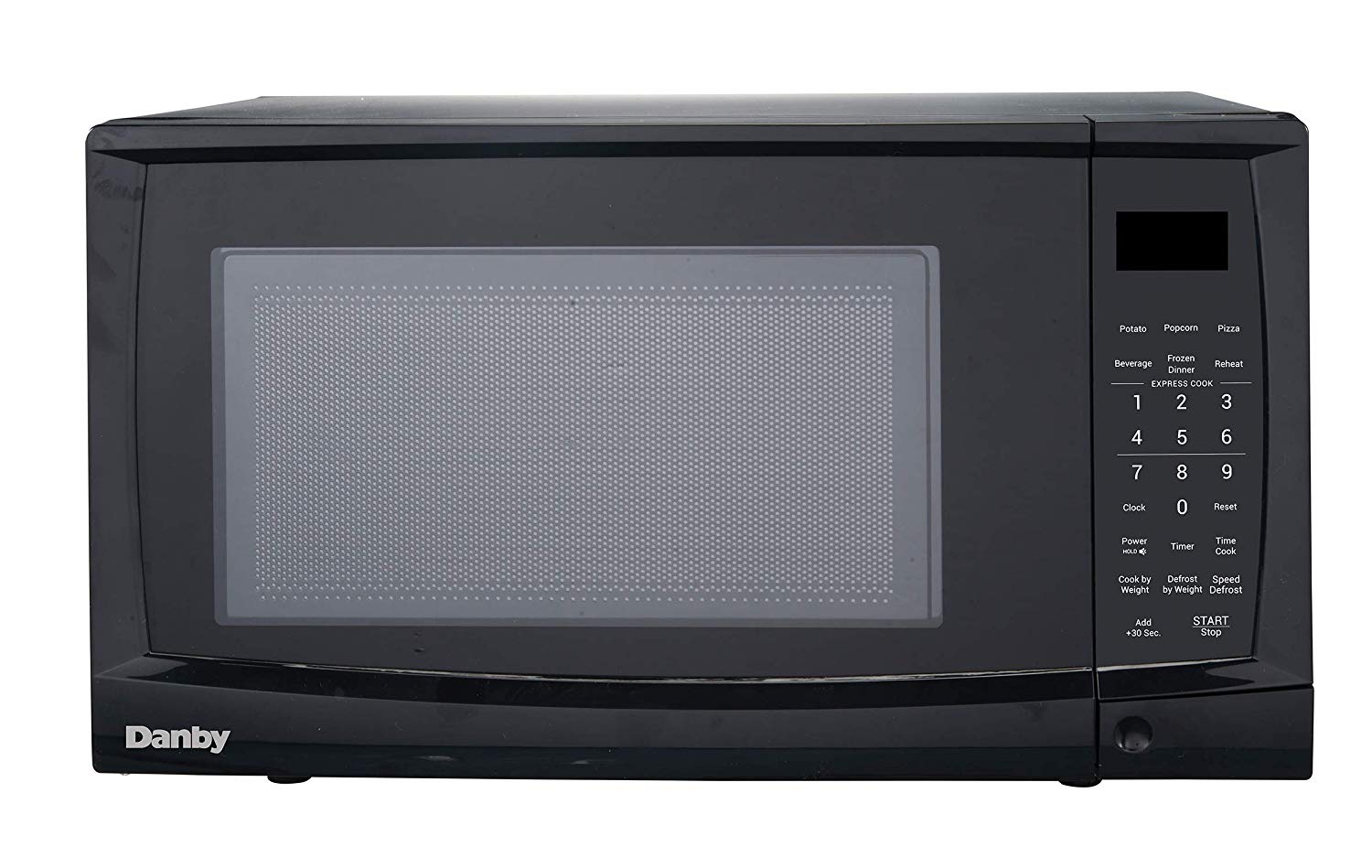 If you are looking for a low price microwave oven from the reputed Danby brand, please check Danby DMW07A4BDB microwave oven. This microwave by Danby is currently available in different cavity sizes such as 0.7 cu. ft., 0.9 cu. ft. and 1.1 cu. ft.
Since, Danby DMW07A4BDB microwave oven comes with spacious interior so it is good for preparing meals for a large family. On the other hand, please don't forget that it has 700-watt of cooking power for cooking foods evenly and rapidly. It also features weight/time defrost and speed defrost.
When it comes to the power levels, Danby DMW07A4BDB has 10 power levels letting you cook on your desired power level.
There is no doubts that Danby is the most popular brand name for many home and kitchen appliances. It makes only solid and performance oriented appliances at low prices.
In case, you are looking for more comparable microwave ovens, please check Toshiba EM925A5A-SS, Commercial Chef CHM770B and Kenmore 70713.
This Danby microwave oven is perfect for lunchroom, offices, kitchens and cottages as well. This is a fashionable microwave oven, which adds a touch of class to any setting with its modern black or white finish. It has 0.7 cu. ft. or 20-liter internal cooking space for all your preferred meals. And please don't forget that it comes with 10 power levels to choose from with the maximum option providing 700 watts of cooking power.
It also supports various one-touch cooking option letting you enjoy 6 popular microwave uses and there are various specialty programs.
Other important details are 23.1 pounds weight, 12.6 x 17.8 x 10.3 inches dimensions, 0.7 cu. ft. capacity, countertop installation type and stand-alone form factor. Read more…
Danby DBMW1120BBB 1.1 Cu.Ft. Countertop Microwave In Black - 1000 Watts, Family Size Microwave With Push Button Door



$139.99

@ Amazon.com
Product Description
1.1 cu ft. capacity, 1000 Watts 10 power levels
6 Convenient Auto Cook Options: Popcorn, Potato, Pizza, Frozen Vegetables, Beverage, Dinner Plate.
Express Cook buttons: 1 – 6 minutes
Add 30 seconds: add additional cooking time by 30 seconds
Auto Defrost Options: Defrost by Time or Weight
Time Cook: Cook by desired cook time
Product Details
| | |
| --- | --- |
| Brand: | Danby |
| Model #: | DBMW1120BBB |
| Warranty: | 12 months parts and labour coverage. Installation and/or Yearly Maintenance (cleaning) are not covered under warranty |
| Color: | Black |
| Dimensions: | 15.75 X 20.19 X 12.06 Inches (Length X Width X Height) |
| Price: | $139.99 |
Danby DBMW1120BBB 1.1 Cu.Ft. Countertop Microwave In Black - 1000 Watts, Family Size Microwave With Push Button Door
---
Danby DBMW0924BBS 0.9 Cu.Ft. CounterTop Microwave In Black Stainless Steel - 900 Watts, Small Microwave With Push Button Door



$134.99

@ Amazon.com
Product Description
0.9 cu ft. capacity, 900 Watts 10 power levels
6 Convenient Auto Cook Options: Popcorn, Potato, Pizza, Frozen Vegetables, Beverage, Dinner Plate
Express Cook buttons: 1 – 6 minutes
Add 30 seconds: add additional cooking time by 30 seconds
Auto Defrost Options: Defrost by Time or Weight
Time Cook: Cook by desired cook time
Product Details
| | |
| --- | --- |
| Brand: | Danby |
| Model #: | DBMW0924BBS |
| Warranty: | 12 months parts and labour coverage. Installation and/or Yearly Maintenance (cleaning) are not covered under warranty |
| Color: | Stainless Steel |
| Dimensions: | 14.94 X 19.13 X 11.56 Inches (Length X Width X Height) |
| Price: | $134.99 |
Danby DBMW0924BBS 0.9 Cu.Ft. CounterTop Microwave In Black Stainless Steel - 900 Watts, Small Microwave With Push Button Door
---
Microwave Oven 1.1 Cu. Ft. Black, 1000 Watts



$144.36

@ Amazon.com
Product DescriptionProduct Details
| | |
| --- | --- |
| Brand: | Danby |
| Model #: | DMW1110BLDB |
| Price: | $144.36 |
Microwave Oven 1.1 Cu. Ft. Black, 1000 Watts
---
Danby DMW09A2WDB 0.9 cu. ft Oven, with Push Button Door, 900 Watt Counter top Microwave in White



$79.99

@ Amazon.com
Product Description
Spacious 0.9 cu. ft. capacity microwave with 900 watts cooking power
10 power levels with 6 one touch options
Weight/time defrost, speed defrost
10 power levels
Product Details
| | |
| --- | --- |
| Brand: | Danby |
| Model #: | DMW09A2WDB |
| Warranty: | 12 Month Parts and Labor |
| Size: | ‎0.9 Cubic Feet |
| Color: | White |
| Dimensions: | 14.31 X 19 X 11.06 Inches (Length X Width X Height) |
| Price: | $79.99 |
Danby DMW09A2WDB 0.9 cu. ft Oven, with Push Button Door, 900 Watt Counter top Microwave in White
---
Danby DAR016B1BM-6 Compact Refrigerators, 1.6 cu.ft, Black & BLACK+DECKER EM720CB7 Digital Microwave Oven with Turntable Push-Button Door, Child Safety Lock, 700W, Stainless Steel, 0.7 Cu.ft



$252.76

@ Amazon.com
Product Description
Product 1: 1.6 cu. ft. (46 L) capacity compact refrigerator
Product 1: Energy Star compliant
Product 1: 1 full width wire shelf
Product 1: Automatic defrost
Product 2: Pre-programmed buttons for popcorn, potato, pizza, frozen vegetable, beverage and dinner plate
Product 2: 700 Watts with 10 power settings, clock and kitchen timer, 30 Seconds Express Cooking
Product Details
| | |
| --- | --- |
| Brand: | Danby |
| Price: | $252.76 |
Danby DAR016B1BM-6 Compact Refrigerators, 1.6 cu.ft, Black & BLACK+DECKER EM720CB7 Digital Microwave Oven with Turntable Push-Button Door, Child Safety Lock, 700W, Stainless Steel, 0.7 Cu.ft
---
Danby 1.1 Cu. Ft. 1000W Countertop Microwave Oven in White



$147.89

@ Amazon.com
Product DescriptionProduct Details
| | |
| --- | --- |
| Brand: | Danby |
| Model #: | DMW1110WDB |
| Price: | $147.89 |
Danby 1.1 Cu. Ft. 1000W Countertop Microwave Oven in White
---
Danby DBMW0720BBB 700 Watts 0.7 Cu.Ft. Countertop Microwave with Push Button Door| 10 Power Levels, 6 Cooking Programs| Auto Defrost and Child Lock, Black



$105.99

@ Amazon.com
Product Description
POWERFUL COOKING: Powerful 0. 7 cubic feet capacity with 700 watts and 10 power levels for cooking
FEATURES 6 COOK OPTIONS: Features 6 convenient 1-touch cook options for popcorn, potatoes, pizza, beverages, dinner plates, and reheat
AUTO DEFROST: Auto defrost options allow you to choose to defrost based on time or weight
EXPRESS COOKING: Use express cook buttons for speedy heating; 1 to 6 minutes, plus add 30 seconds button
CHILD CONTROL: Keep unwanted small hands away with child control lock-out option; click STOP for 3 seconds
Included Components: Onwer'S Manual, Glass Turn Table, Microwave
Product Details
| | |
| --- | --- |
| Brand: | Danby |
| Model #: | DBMW0720BBB |
| Warranty: | 12 months parts and labor coverage. Installation and/or Yearly Maintenance (cleaning) are not covered under warranty. |
| Color: | Black |
| Dimensions: | 13 X 17.31 X 10.19 Inches (Length X Width X Height) |
| Price: | $105.99 |
Danby DBMW0720BBB 700 Watts 0.7 Cu.Ft. Countertop Microwave with Push Button Door| 10 Power Levels, 6 Cooking Programs| Auto Defrost and Child Lock, Black
---
Danby DMW14SA1BDB 1,100 Watts 1.4 Cu.Ft. Countertop Microwave with Push-Button Door|10 Power Levels, 6 Cooking Programs|Auto Defrost and Child Lock



$118.50

@ Amazon.com (Save 19%)
Product Description
1.4 cu.ft. Black capacity microwave
1100 watts of cooking power, Dimensions - 17 x 20.4 x 12.4 inches
Classic black exterior
10 power levels
Simple one touch cooking for 11 popular uses
Product Details
| | |
| --- | --- |
| Brand: | Danby |
| Model #: | DMW14SA1BDB |
| Warranty: | 12 months parts and labor. Installation and/or Yearly Maintenance (cleaning) are not covered under warranty. |
| Color: | Black |
| Dimensions: | 17.01 X 20.43 X 12.36 Inches (Length X Width X Height) |
| Price: | $118.50 (Save 19%) |
Danby DMW14SA1BDB 1,100 Watts 1.4 Cu.Ft. Countertop Microwave with Push-Button Door|10 Power Levels, 6 Cooking Programs|Auto Defrost and Child Lock
---
Danby 1.1 cu.ft. Countertop Microwave, Black



$259.33

@ Amazon.com
Product Description
1.1 cu.ft. Black capacity microwave
1000 watts of cooking power
10 power levels, Dimensions - 15.6 x 20.2 x 12 inches
Simple one touch cooking for 6 popular uses
Automatic oven light & turntable
Product Details
| | |
| --- | --- |
| Brand: | Danby |
| Model #: | DMW111KBLDB |
| Warranty: | 1 year parts and labor |
| Color: | Black |
| Dimensions: | 15.5625 X 20.1875 X 12 Inches (Length X Width X Height) |
| Price: | $259.33 |
Danby 1.1 cu.ft. Countertop Microwave, Black
---
Danby DAR044A4BSLDD-6 4.4 Cu.Ft. Mini Fridge, Stainless & Toshiba EM131A5C-BS Microwave Oven with Smart Sensor, Easy Clean Interior, ECO Mode and Sound On/Off, 1.2 Cu Ft, Black Stainless Steel



$460.44

@ Amazon.com (Save 23%)
Product Description
Product 1: Compact Mini Fridge: This Danby Designer counter high mini fridge is the ideal mini fridge for additional refrigerator space in the kitchen, basement, family room, dorm or office
Product 1: 4.4 Cubic Feet (124 Liters) Capacity: The All refrigerator unit is roomy with 4.4 cu. ft. of fridge space
Product 1: Integrated Door Shelving: Tall bottle storage is ideal for large pop, water, juice, or other drink bottles
Product 1: CanStor Beverage Dispensing System: Efficient and tidy can storage integrated into the mini refrigerator door
Product 2: Pre-programmed sensor menu for optimum heating of popular foods like pizza, potatoes, veggies and more; Rated Voltage: 120V - 60Hz
Product 2: Black Stainless Steel exterior, 20.5 x 17.1 x 12.8 inch (w x d x h), large 1.2 cubic feet capacity, cavity 13.07 x 15 x 9.5 inch (w x d x h), turn table 12.4 inch (diameter)
Product Details
| | |
| --- | --- |
| Brand: | Danby |
| Color: | Stainless |
| Price: | $460.44 (Save 23%) |
Danby DAR044A4BSLDD-6 4.4 Cu.Ft. Mini Fridge, Stainless & Toshiba EM131A5C-BS Microwave Oven with Smart Sensor, Easy Clean Interior, ECO Mode and Sound On/Off, 1.2 Cu Ft, Black Stainless Steel
---