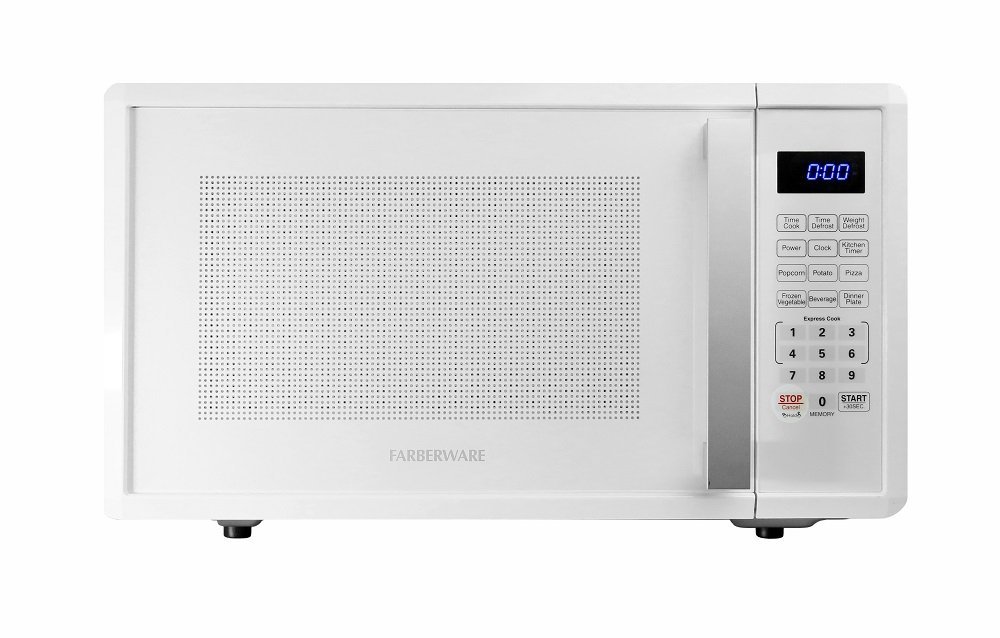 Farberware FMWO11AHTWHC 1000-Watt Microwave Oven comes in white color exterior that looks very stylish in any kitchen interior. It will surely beautify the decoration of your kitchen. Most importantly, this is an affordable Farberware microwave oven that sells below $100 price tag on Amazon.com.
The Farberware microwave oven has 1.1 cubic foot cooking capacity and it can impressively fit on your kitchen counter. Further, it comes with 1000 watts of cooking power that is considered impressive cooking output to cook various foods seamlessly.
On the other hand, using the 10 power levels you will have great cooking precision as you will be able to adjust the power from 10% to 100%.
If you are looking for one-touch cooking functions then Farberware FMWO11AHTWHC will not disappoint you. It comes with 6 x 1-touch cooking functions such as pizza, potato, popcorn, dinner plate, beverage and vegetable.
Other advanced features of this Farberware microwave oven are a digital control, an LED display with clock and kitchen timer, 1 through 6-minute express cooking quick start controls and add 30-secons control.
Farberware FMWO11AHTWHC is loaded with quick controls such as:

1-6 minute quick start
+30 second button
6 quick cook presets
Defrost by weight or time
Multi-stage cooking
Kitchen timer
Custom memory function
Most importantly, the Farberware microwave oven comes in the right size, inside and out. It has 1.1 cubic feet capacity that fits neatly on a countertop and is perfect for warming a bowl of soup, a few slices of pizza or a casserole for two.
Further, most of the Farberware microwave ovens comes with good style and function to give you unique cooking experience. You can choose from varieties of colors, finishes and textures that compliment and accent your kitchen, dorm or office. Read more…
Farberware 1.1 Cu. Ft. Stainless Steel Countertop Microwave Oven with 6 Cooking Programs, LED Lighting, 1000 Watts



$111.99

@ Amazon.com (Save 14%)
Product Description
Spacious & stylish: with 1.1-Cu. feet Of cooking capacity, a sleek Stainless Steel exterior and Stainless Steel interior and 10 power levels, This counter top microwave delivers power, style, and convenience to any kitchen
6 cooking programs: Auto cooking programs (popcorn, potato, pizza, frozen vegetable, dinner plate) provide convenient control and avoid guesswork
Express cooking: Cook your leftovers with just a touch of a button by touching the number pad (1 through 6 minutes)
Digital clock: Easy-to-read LED display lights up the digital clock and highlights each cooking setting
Child lock: Lock the control panel using the child safety lock option to prevent accidental use or access by children
Defrost: For all your frozen foods, defrost by time or Weight so you can enjoy more flavorful foods
Product Details
| | |
| --- | --- |
| Brand: | Farberware |
| Model #: | FMO11AHTBKB |
| Warranty: | 1 year manufacturer's warranty |
| Size: | 1.1 cu. ft. |
| Color: | Stainless Steel |
| Dimensions: | 20.2 X 16.54 X 12.03 Inches (Length X Width X Height) |
| Price: | $111.99 (Save 14%) |
Farberware 1.1 Cu. Ft. Stainless Steel Countertop Microwave Oven with 6 Cooking Programs, LED Lighting, 1000 Watts
---
Farberware Professional FMO13AHTPLE 1.3 Cu. Ft. 1100-Watt Microwave Oven with Smart Sensor Cooking, ECO Mode and Blue LED Lighting, White and Platinum



$150.12

@ Amazon.com (Save 6%)
Product Description
1100 watts of cooking power and 10 power levels allow you to adjust the power from 10% to 100%; Multi-stage cooking for custom-cooked meals and snacks
1 to 3-minute instant start functions, Add 30 second control and 2 automatic defrost options
9 One-Touch cooking programs allow you to heat up everyday items in seconds
Smart Sensor cooking prepares preset menu items and reheats food with precision
Energy Saver power mode allows you to conserve energy when the microwave is not in active use
12.4 inch removable rotating glass turntable; Keypad Lock prevents unsupervised use
Product Details
| | |
| --- | --- |
| Brand: | Farberware |
| Model #: | FMO13AHTPLE |
| Warranty: | 1 year limited manufacturer warranty |
| Size: | 1.3 Cu. Ft. |
| Color: | White/Platinum |
| Dimensions: | 20.43 X 16.65 X 12.36 Inches (Length X Width X Height) |
| Price: | $150.12 (Save 6%) |
Farberware Professional FMO13AHTPLE 1.3 Cu. Ft. 1100-Watt Microwave Oven with Smart Sensor Cooking, ECO Mode and Blue LED Lighting, White and Platinum
---
Farberware Gourmet FMO11AHTBKJ 1.1 Cu. Ft. 1100-Watt Microwave Oven with Smart Sensor Cooking and Inverter Technology, ECO Mode and Blue LED Lighting, Stainless Steel



$149.99 ($149.99 / count)

@ Amazon.com (Save 6%)
Product Description
With 1.1 Cubic Feet of cooking capacity and 1100 Watts of output power, this countertop microwave delivers power, style, and convenience with a sleek Brushed Stainless Steel and Black body wrap design to complement your kitchen
Smart Sensor technology monitors the temperature and amount of steam coming from the food to judge how much water remains and how long it should continue heating with 6 One-Touch cooking programs: Sensor Reheat, Frozen Pizza, Frozen Vegetable, Potato, Meat, and Popcorn. It also includes 3 Pre-Set cooking menus: Melt, Soften, Stew
Inverter Precision Cooking Technology produces even temperatures, consistent textures and prevents overcooking and loss of nutrients. Your food can be prepared to perfection with minimal hot spots and burn risks. Inverter defrost allows you to defrost foods such as meat, poultry and seafood simply by entering the weight, while preventing cooked edges
Multi-Stage cooking functionality adjusts cooking level mid-cycle allowing for the perfect finish. Additional features such as a Memory function for customized settings, 1-3 Minute Express Cooking, a +30-Seconds control button, 10 power control levels, Child Safety Lock function, Blue LED display and Interior LED lighting make this a perfect fit for any kitchen
Exterior Product Dimensions- 20.2 x 16.9 x 12.1 inches (Width x Depth x Height); Interior Cavity Dimensions- 14.49 x 13.9 x 9.09 (Width x Depth x Height); Turntable Diameter- 12.4 inches; Voltage- 120V/60hz
Product Details
| | |
| --- | --- |
| Brand: | Farberware |
| Model #: | FMO11AHTBKJ |
| Warranty: | 1-year limited |
| Color: | Stainless with Smart Sensor and Inverter |
| Price: | $149.99 ($149.99 / count) (Save 6%) |
Farberware Gourmet FMO11AHTBKJ 1.1 Cu. Ft. 1100-Watt Microwave Oven with Smart Sensor Cooking and Inverter Technology, ECO Mode and Blue LED Lighting, Stainless Steel
---
Farberware FMO16AHTBSD Microwave Oven with Smart Sensor Cooking, ECO Mode and LED Lighting, 1.6 Cu. Ft, Black Stainless Steel



$375.99

@ Amazon.com
Product Description
1. 6 Cubic Foot cooking capacity
1100 Watts output power
Smart Sensor cooking function
LED display with kitchen timer and clock
Easy-to-clean Interior with LED lighting
Included Components: Turntable
Product Details
| | |
| --- | --- |
| Brand: | Farberware |
| Model #: | FMO16AHTBSD |
| Warranty: | 1 year limited |
| Size: | 1.6 Cu. Ft |
| Color: | Black Stainless Steel |
| Dimensions: | 22 X 26 X 16 Inches (Length X Width X Height) |
| Price: | $375.99 |
Farberware FMO16AHTBSD Microwave Oven with Smart Sensor Cooking, ECO Mode and LED Lighting, 1.6 Cu. Ft, Black Stainless Steel
---
Farberware 1.1-Cu. Ft. 1000-Watt Microwave Oven, Cu.Ft, Brushed Stainless Steel



$107.95 ($107.95 / count)

@ Amazon.com
Product Description
COOK EASY and POWERFUL: It offers 10 power levels and multi-stage cooking to fully customize your cooking with 6 one-touch cooking programs make quick work of any cooking task
GET A CLEAR VIEW: The LED display with kitchen timer and clock lets you keep track of time while the easy-view interior LED lighting lets you keep an eye on cooking
CONVENIENT: Conveniences such as defrost by weight or by time settings let you get dinner on the table even when you forget to pre-prep your food
STYLE and FUNCTION: Stylish Stainless Steel Front with Black Body gives a stylish, elegant look and the child safety lock function provides an added level of security
SPEED COOKING: 1-6 min. express cooking and plus 30 sec. button offer simple press-and-go speed while the memory function lets your store your most used customized settings
Product Details
| | |
| --- | --- |
| Brand: | Farberware |
| Model #: | FMO11AHTBKL |
| Warranty: | 1-year limited |
| Size: | 1.1 Cu.Ft. |
| Color: | Brushed Stainless Steel |
| Dimensions: | 16.54 X 20.12 X 12.03 Inches (Length X Width X Height) |
| Price: | $107.95 ($107.95 / count) |
Farberware 1.1-Cu. Ft. 1000-Watt Microwave Oven, Cu.Ft, Brushed Stainless Steel
---
Farberware Classic FM09SSE 900-Watt Microwave Oven, Stainless Steel, 0.9 Cu.Ft



$96.99

@ Amazon.com (Save 12%)
Product Description
COOK EASY & POWERFUL: It offers 10 power levels and multi-stage cooking to fully customize your cooking with 6 one-touch cooking programs make quick work of any cooking task
COOK EASY & POWERFUL: It offers 10 power levels and multi-stage cooking to fully customize your cooking with 6 one-touch cooking programs make quick work of any cooking task
CONVENIENT: Conveniences such as defrost by weight or by time settings let you get dinner on the table even when you forget to pre-prep your food
STYLE & FUNCTION: Stylish Stainless Steel Front with Black Body gives a stylish, elegant look and the child safety lock function provides an added level of security
SPEED COOKING: 1-6 min. express cooking and +30 sec. button offer simple press-and-go speed while the memory function lets your store your most used customized settings
Interior Dimensions: 13.66 x 12.36 x 8.7
Product Details
| | |
| --- | --- |
| Brand: | Farberware |
| Model #: | FM09SSE |
| Warranty: | 1-year limited |
| Size: | 0.9 Cu.Ft. |
| Color: | Stainless Steel |
| Dimensions: | 15.9 X 19.1 X 11.5 Inches (Length X Width X Height) |
| Price: | $96.99 (Save 12%) |
Farberware Classic FM09SSE 900-Watt Microwave Oven, Stainless Steel, 0.9 Cu.Ft
---
Farberware 1000-Watt Microwave, 1.3 cu. ft, Stainless Steel



$129.99

@ Amazon.com (Save 19%)
Product Description
1000 watts of cooking power and 10 power levels allow you to adjust the power from 10% to 100%; Multi-stage cooking for custom-cooked meals and snacks
1 through 6-minute Express Cooking quick start controls and Add 30-Seconds control
6 One-Touch cooking functions for popcorn, potato, pizza, frozen vegetable, beverage, or a dinner plate; Memory Function stores and calls up cooking settings instantly
Defrost by time or weight; Digital control and led display with clock and kitchen timer
Removable rotating glass turntable; Keypad Lock prevents unsupervised use
1 Year Limited Manufacturer's Warranty
Product Details
| | |
| --- | --- |
| Brand: | Farberware |
| Model #: | FMWO13AHTBKE |
| Warranty: | 1 year manufacturer's warranty |
| Size: | 1.3 cu. ft. |
| Color: | Stainless Steel |
| Dimensions: | 20.43 X 16.65 X 12.36 Inches (Length X Width X Height) |
| Price: | $129.99 (Save 19%) |
Farberware 1000-Watt Microwave, 1.3 cu. ft, Stainless Steel
---
Farberware Classic FMO07ABTBKA 0.7 Cu. Ft. 700-Watt Microwave Oven with LED Lighting, Black



$135.63

@ Amazon.com
Product Description
0.7 cubic foot capacity, compact countertop design
700 watts of cooking power and 10 power levels
Digital control and LED display with clock and kitchen timer
1 through 6-minute Express cooking quick start controls and add 30-Seconds control
6 one-touch cooking functions for popcorn, potato, pizza, frozen vegetable, Beverage, or a dinner plate
Product Details
| | |
| --- | --- |
| Brand: | Farberware |
| Model #: | FMO07ABTBKA |
| Warranty: | 1 year manufacturer's warranty |
| Size: | 0.7 cu. ft. |
| Color: | Black |
| Dimensions: | 17.75 X 12.91 X 10.1 Inches (Length X Width X Height) |
| Price: | $135.63 |
Farberware Classic FMO07ABTBKA 0.7 Cu. Ft. 700-Watt Microwave Oven with LED Lighting, Black
---
Farberware FMO22ABTBKA with Smart Sensor Cooking, ECO Mode and LED Lighting, 2.2 Cu. Ft, Stainless Steel



$149.99

@ Amazon.com (Save 38%)
Product Description
With 2.2 Cubic Feet of cooking capacity and 1200 Watts of output power, this family-sized microwave delivers power, style, and convenience with a sleek Stainless Steel design to complement your kitchen. Featuring a push button door release, Blue LED display and Interior LED lighting
7 One-Touch cooking programs: Sensor Reheat, Frozen Pizza, Frozen Entrée, Potato, Rice, Vegetable, and Popcorn; 5 Auto-Cook pre-programmed settings: Bacon, Frozen Bread Reheat, Beverage, Chicken, and Oatmeal; 3 Auto-Defrost pre-programmed settings: Meat, Poultry, and Fish; 1-6 minute Express Cooking function, +30-Seconds control button, Memory Function for customized settings, and a Child Safety Lock function
7 Unique pre-programmed cooking options for melting and softening. Melt: Butter/Margarine, Chocolate, Cheese, and Marshmallows; Soften: Butter, Ice Cream/Frozen Juice, and Cream Cheese
Smart sensor technology uses temperature and humidity sensors inside the microwave to determine when the food is ready to avoid overcooking
Exterior Product Dimensions- 24.4 x 19.6 x 13.6 inches (Length x Depth x Height); Interior Cavity Dimensions- 17.8 x 19.1 x 11.2 (Length x Depth x Height); Turntable Diameter- 16.5 inches
Product Details
| | |
| --- | --- |
| Brand: | Farberware |
| Model #: | FMO22ABTBKA |
| Warranty: | 1 year limited manufacturer |
| Size: | 2.2 Cu. Ft. |
| Color: | Stainless Steel |
| Dimensions: | 24.4 X 19.6 X 13.6 Inches (Length X Width X Height) |
| Price: | $149.99 (Save 38%) |
Farberware FMO22ABTBKA with Smart Sensor Cooking, ECO Mode and LED Lighting, 2.2 Cu. Ft, Stainless Steel
---
Farberware Classic Stainless Steel 1-Quart Covered Straining Saucepan, Silver



$21.99

@ Amazon.com
Product Description
SAUCEPAN WITH STRAINING LID AND POUR SPOUT: 1-Quart Straining Saucepan with Lid with Pour Spouts eliminates the need for a colander
DURABLE STAINLESS STEEL PAN: A full cap base on the straining saucepan featuring a thick aluminum core surrounded by stainless steel provides rapid, even heating
VERSATILE HEAT LOCKING LID: Self-basting lid can be rotated to strain liquids or positioned to seal in heat and flavor
OVEN SAFE: Saucepan with straining lid is oven safe to 350 degrees F for stove to oven recipes
EASY CLEANING SAUCEPAN: Straining saucepan is dishwasher safe for fast cleanup
Product Details
| | |
| --- | --- |
| Brand: | Farberware |
| Model #: | 70752 |
| Warranty: | Limited Lifetime |
| Size: | 1 Quart |
| Color: | Silver |
| Dimensions: | 11.25 X 5.75 X 6 Inches (Length X Width X Height) |
| Price: | $21.99 |
Farberware Classic Stainless Steel 1-Quart Covered Straining Saucepan, Silver
---