In Galanz ExpressWave Review, I will focus on important aspects of this microwave. The important pieces are interior capacity, cooking power, inverter technology and ease of use.
Please know that the review is written based on what existing users have written in their reviews.
From the product details, the sensor microwave has 1.6 cu. ft. cavity, 1100-watt cooking power, 10 power settings and patented inverter technology.
The Galanz microwave comes in three different cavity sizes such as 1.3 cu. ft., 1.6 cu. ft. and 2.2 cu. ft. Well, this Galanz ExpressWave review is about the 1.6 cubic feet microwave oven.
It is made with stainless steel material that is good for easy cleaning. Moreover, the stainless steel color makes it a stylish unit to match any kitchen décor.
What Do Users Say about Capabilities and Features?
Dependable – according to Galanz ExpressWave Review, this is a dependable unit. For many customers, this Galanz microwave is a good buy because it has easy to understand settings. It delivers precision for cooking wide varieties of foods.
Cheap quality turntable – many users say that the turntable should be improved because it has balancing issues. Sometimes, the turntable makes a little noise also.
Buy extended warranty – it is advised to buy an extended warranty to be very safe. In fact, many users have purchased an insurance to extend the warranty.
Lovely design – based on Galanz ExpressWave Review, customers loved the design because it looks attractive in the stainless steel finish. For many users, the black cavity was not usual but looks good.
Inverter technology – the microwave lacks explanation on the inverter technology but it works perfectly. Compared to traditional microwave, it comes with more control over the energy distribution. Because of the inverter mechanism, the Galanz sensor microwave cooks food more evenly than others do.
Issues with popcorn mode – some users complain that the popcorn mode sets the timer for only 2 minutes, which is not enough. It should be 2.5 minutes rather than 2 minutes. Since it is on the programmable mode, one cannot add 30 seconds time to cook flexibly.
Lighting issue with the dark interior – the 1.6 cubic feet microwave has a black color interior that has a weak light. So one can hardly see what is cooking inside. Due to this, many customers have complained about this less visible interior. Since the interior is not clearly visible when cooking something, so many people complained about it. Galanz should improve the inner lighting problem and the interior color.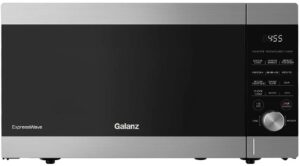 Pros
Lovely look
Specious 1.6 cu. ft. interior
Delivers evenly cooked meals instantly
Inverter technology
Sensor menus
The controls are easy to use.
Easy to set rotary dial
Countless happy customers
Stainless steel material is easy to clean
Cons
Dark interior is not clear to see.
The popcorn mode has some timer issues.
The turntable has balancing issues.
The pros and cons in Galanz ExpressWave Review give an overall picture. You can notice, the Galanz microwave comes with various pros, which are good for easy operation and easy cooking. In addition, it has sensor menus to remove the guesswork.
Look, cleaning ease and dial – the Galanz 1.6 cu. ft. microwave is the best kitchen appliance for countless users on Amazon. In fact, many liked the outside look of this ExpressWave microwave. They say that the control is very easy to understand and use.
Most importantly, they liked the dial of this microwave because it is very easy to operate. Since it is a rotary dial, so one can easily configure cook time according to his/her preference. The easy to clean microwave is a little larger than expected, so one needs some kitchen space for the placement.
Conclusion – Galanz ExpressWave Review
In short, the 1000 watts microwave has received great appreciations from its existing customers. Many customers are happy with the purchase of this Galanz microwave that does not cost much.
Based on Galanz ExpressWave Review, the stainless steel microwave has several features that make it easy to use. To clean the unit, you will not have any difficulties because stainless steel is usually easy to clean.
For the overall performance, the 1.6 cu. ft. microwave did not receive any complain because it prepares meals instantly and evenly.
I noticed three issues in this microwave based on complaints by its previous users. These issues are related to turntable, popcorn mode and interior. So, I would advise the future buyers to research more on Galanz ExpressWave Review Sensor Microwave Oven then take your buying decision.
Visited 1 times, 1 visit(s) today