Seeing high popularity of this Galanz microwave, I visited its store page on Amazon.com. I found that most if Galanz products are kitchen appliances. Further, one question came in my mind related to its origin, so I googled and found that Galanz is based in China.
Well, according to my experience, majority of products that sell on Amazon are from China. So, it all depends on particularity. Some Chinese products are good, while some are bad. In case of Galanz GLCMKA07BER-07 Microwave, it has a self-turning on issue, about which many customers have complained. Well, I hope the manufacturer knew it and can be corrected in coming days or months.
Based on colors, the Galanz microwave is available in four different colors. These colors are Bebop Blue, Retro Red, Surf Green and Vinyl Black. Please note that you will find a little price deference depending on specific color you choose. Anyways, this review is on Bebop Blue Galanz Microwave.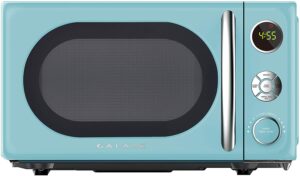 Features & Capabilities of the Galanz Small Countertop Microwave, Bebop Blue Attractive Color
Rotatable turntable – Galanz GLCMKA07BER features a glass turntable with a 360° rotation capability. Which means anything cooked in this microwave, will evenly be cooked with the maximum efficiency. In fact, evenly cooked foods are healthy, delicious and it is an eating standard adopted by majorities.
700-watt cooking power – the 0.7 cu. ft. Galanz microwave has 700-watt cooking power, which is considered good for preparing meals for a small family.
Six power settings – the small family microwave features six variable power levels to cook foods based on your desired power setting. You can choose a power setting based on the power requirement of specific food. However, this capability is available in almost all microwaves. Even, some microwaves come with 10 different power levels and more.
Defrost – actually, defrosting is an essential cooking task, so this Galanz microwave comes with a defrosting capability. Using the defrosting option, you can effortlessly defrost the frozen foods. Impressively, it allows defrosting either based on time or weight.
LED display – most microwaves feature an LED display, this Galanz 700-watt microwave also has an LED display that is easily readable. With the help of this LED panel, you will be able to know the remaining cooking time. As soon as the cooking is finished, the unit alerts you with three beeps.
Interior bulb – well, you can say that the interior bulb is a cooking light, which is good to see the cooking process. To see the cooking process, you don't have to open the door.
Child lock – the Galanz 0.7 cu. ft. microwave features a safety lock to disallow unauthorized access to the unit. The unit has a child lock feature that you can find located on the control panel. In fact, this is a useful feature to stop accidental use or unsupervised access.
Shipping box contains – 1 x Galanz 700 Watts microwave, 1 x power cord, 1 x shaft, 1 x glass tray and 1 x roller ring.
Specifications – 0.7 Cubic Foot Capacity Microwave Oven with 700W Cooking Power
Brand name: Galanz
Model No.: GLCMKA07BER-07
Package weight: 25.9 pounds
Package size: 17.81 x 13.75 x 10.31 inches
Cooking power: 700 watts
Input power: 120v
Placement style: countertop
Sound level: 42 dB
Cavity capacity: 0.7 cubic foot
Advanced features: eco mode, safety lock, preset, chrome handle style
Material used: carbon steel and ABC
Color: bebop blue
FAQs – Galanz Retro Design Stylish Microwave Oven (Frequently Asked Questions & Answers)
Why did Galanz microwave oven receive complaints about turning on automatically?
The problem is yet not fixed, it is due to the large knob on the front, which is accidently touched or responses heavy bumps. However, some users found a fix by setting the clock.
Can a senior citizen operate this microwave comfortably?
Yes, this is a good microwave oven for a senior citizen. The buttons are very easy to press by a senior citizen.
Is the black color microwave available in stock?
Currently, Galanz microwave is available in four colors such as Bebop Blue, Surf Red, Vinyl Black and Retro Red. I'm not sure if you meant on of them.
Does the microwave come with a warranty period?
Yes, it comes with one-year manufacturer warranty. Impressively, if you can pay $7 extra, you will get 4 extra years of warranty.
Does this Galanz 0.7 cu. ft. microwave also come with a timer?
According to some users, you can consider the bottom knob as a timer. You just need to turn it until you see the time you want.
To mount it on a wall, does it come with the mounting brackets?
According to the manufacturer, it doesn't come with mounting brackets.
Does the Galanz microwave come assembled?
For the protection, the unit comes assembled. The glass tray, shaft and roller ring are put together insider the oven to avoid any kind of damages during shipping. One needs to unwrap and place them in the oven before you use the oven.
Can I use a magnetized cover on this Galanze microwave oven?
No, because a magnetized covers may be an arc threat for a microwave. Also, it may disturb the microwave energy supply. Which means, the microwave will perform poorly. From the manufacturer, it is recommended to use a plastic microwave safe food cover to maintain the safety and efficiency.
User Experience on Galanze 700W Microwave Oven
One – one of the Amazon customers is unhappy with this Galanze microwave oven. He complained about the known self-turning on issues. According to him, if you have limited kitchen space then there are chances of accidental start. Due to this problem, his microwave was on fire whole night. According to him, if the accidental start happens, there should be internal mechanism to limit the time, instead of keeping it on for unlimited times.
Two – this Amazon customer purchased the Beebop Blue style microwave. He says that this is one of the favorite of all microwaves he purchased in past.
The 700-watt unit looks impressive in the Beebop blue color with the retro design. The microwave handle is very convenient and stylish. The microwave door facilitates easy opening and closing. Even, it is better than the push button method that he previously owned.
Also, he loved the dial featured on this microwave, rather than pushing numbers. However, this 0.7 cu. ft. microwave takes a little longer to heat foods compared to microwaves that are more powerful. However, it doesn't make much difference, it is acceptable!
Three – according to this user, he liked the look of this microwave, he has the red color microwave. To this user, the owner manual is not very clear, a little confusing to him. Further, he says that this unit is very small; it is not perfect for a family. In fact, he already owned a small microwave but this Galanz 0.7 cu. ft. microwave is even smaller to his previous microwave.
Four – this customer says that the Galanz microwave arrived one day earlier. The customer received a black color microwave but ordered the Beebop blue color microwave. According to this customer, the microwave works impressively. The button sequence is according to the American user preferences.
Upon the receipt of this microwave, the customer did too many testing by reheating foods and rereading the owner book to understand the unit very well. According to the user, it is a simple small unit with a round auto dial. The dial needs to be pushed after dialing in the desired time.
Since, the microwave looks good in the black color, the user decided to keep it even it was not the ordered color.
Five – according to this user, the Galanz 700-watt microwave looks stylish in his house. Since, he lives in a big city with his pets with limited kitchen space, so this small-size microwave is perfect according to his needs. In fact, the placement of this beautiful unit made his house look stylish. However, he admits that the microwave works a little differently compared to other microwaves he owned in the past.

Pros of Galanz Microwave Oven
Small size perfect for small family
Very stylish, will surely advance the look of the place where it is placed.
Available in four beautiful colors to choose from
The setting dial is preferred by American users because it is simple to figure out.
Appropriate price
One-year warranty
Rotatable glass plate works nicely.
Cons of Galanz Microwave Oven
Directions are a little confusing
It has a problem of automatic switch on; due to this, the unit has received several complaints on Amazon.
If your children are often in the kitchen, it is not recommended to buy this unit because of the self-turning on issue.
The outer parts are made of low quality material with plastic coating, which is not liked by many customers.
Conclusion – The Ending Thoughts on This Galanz Countertop Small Microwave Oven
At the end, Galanz 0.7 cu. ft. microwave oven looks popular because it has countless happy users. It comes at an affordable price, which is very suitable to those budget oriented customers. For a small kitchen, the Galanz 700 watts microwave oven is a perfect cooking appliance.
The retro look of this microwave reminds you about the old times but at the same time, it is perfect for a modern kitchen. Because of the elegant look of this microwave, your kitchen's overall design is improved.
On a negative note, I found that it has a major issue of automatically turning on, about which several customers have complained on Amazon. Since, it is a major issue, so if the manufacturer is aware of this, they may correct it soon.