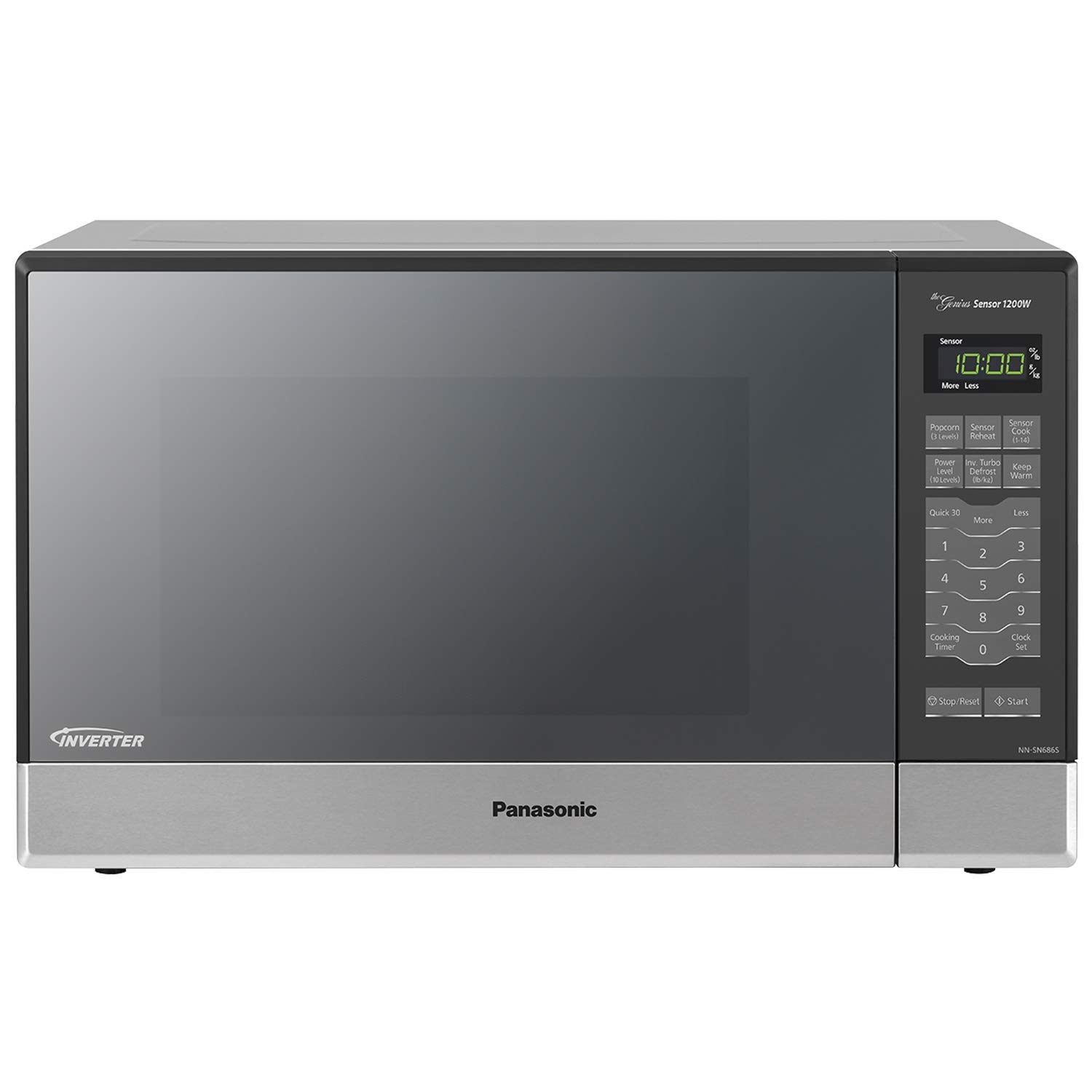 Panasonic has become the most popular home and kitchen appliance brands. It has also a big name in electronic products. Panasonic NN-SN686S is a high power unit that has 1.2 cu. ft. capacity. This is a countertop microwave oven that delivers impressive cooking power to cook foods evenly and deliciously.
Panasonic NN-SN686S uses Inverter Technology with Turbo Defrost feature. Since the Panasonic microwave is based on the patented Inverter Technology so it generates good cooking power and it offers consistency to prepare foods that are evenly baked without overcooking.
The Panasonic countertop microwave oven is powered by patented Inverter Technology with Turbo Defrost. Because of the powerful technology it is able to give a good stream of power and offers regular, evenly prepared meals without overcooking. Further, it comes with advanced Inverter Turbo Defrost that makes the defrosting speedy.
Further, the Panasonic countertop microwave oven carries a compact design because it has 13.4 inches turntable that is very thin, light and efficient. It allows you to use less kitchen space and have more to interior capacity. The internal dimensions are 9-15/16 inches high, 13-15/16 inches wide and 13-3/8 inches deep.
Panasonic NN-SN686S is a good way to keep your meals warm all the times because it features 'keep warm' feature. You will be keeping soups fresh and warm until ready to serve. The power source is 120V and power consumption is 1480W.
Since Panasonic NN-SN686S uses the patented Inverter Technology, the microwave is capable to provide a steady stream of cooking power for even results. It takes less cooking time along with consistent and evenly prepared food, edges to center, across a wide range of cooking techniques.
Whether you have to poach, braise and steam, Panasonic NN-SN686S microwave will surely perform with the perfection because it is powered by Panasonic Inverter Technology that produces a consistent stream of microwave power at all levels of temperature. Of course, you will be getting consistent, evenly prepared food without any doubts.
On the other hand, the inverter technology is for delivering microwave energy in a way that allows delicate foods to simmer without overcooking. More importantly, the foods retain the actual color, texture and nutrients for fast, easy and delicious results.
Further, Panasonic NN-SN686S is advertised as maximum interior and minimum footprint. Because it is a compact and smart microwave unit that takes less space to electronics and provides far more interior capacity. More importantly, the compact Panasonic NN-SN686S microwave's control units are up to 8 pounds lighter than other microwave components. Read more…
[home]
Visited 1 times, 1 visit(s) today