A refrigerator freezer can help to keep foods fresh for a long period of time, and it has become an essential kitchen appliance in the fast paced lifestyle that people lead in the 21st century. Because this is a vital piece of appliance in the kitchen, people don't want to take a chance on their refrigerator freezer and tend to spend top dollar to buy from a reliable brand. To help customers in their endeavors, this article will list the top refrigerator freezers that money can buy in the market currently.
Frigidaire Gallery Series Refrigerator
The Frigidaire Gallery Series Refrigerator will cost you less than $1000, which is a reasonable price considering the price tags of some other top brands. It will offer you with a no frills experience, getting all the basic tasks done with ease without any gimmicky features that you will seldom use. The design language of this refrigerator freezer is simple, and it will occupy minimal space in the kitchen while offering a great value for your money.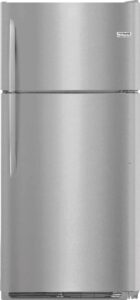 LG Bottom Freezer Refrigerator
The LG Bottom Freezer Refrigerator will offer you with excellent temperature controls, and a design language that is uniform throughout the exterior shell. The compartments inside this LG refrigerator freezer are designed in such a way that will prevent any kind of liquid spillage, and the overall energy efficiency of this product is sure to keep your electricity bills on the down low.
Whirlpool Side by Side Refrigerator Freezer
The Whirlpool refrigerator freezer features by a side-by-side design that is both modern and pleasing on the eyes. The fridge operates with low noise and the controls are simple and easy to learn. It is also an Energy Star certified product, meaning it offers you with an efficient cooling experience.
[home]
Visited 1 times, 1 visit(s) today