For a mid-size microwave requirement, Sharp ZR331ZS can be the best unit. The Sharp countertop microwave oven has 1.1 cu. ft. cooking space and 1000W cooking power. From outside, the unit looks very stylish because it is made of brushed stainless steel materials. Surely, you will get attracted from its lovely look.
For good cooking performance, the 1000W cooking power is not bad. I will say that the 1000W cooking power is neither too high nor too low; it is perfect for middle level cooking requirements.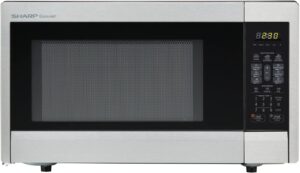 Suitable Features & Proficiency of Sharp Stainless Steel Microwave Oven
One-touch start – the Sharp 1000-watt microwave allows its users to start the unit by pressing a button. As soon as the microwave starts, you can start choosing the next function.
Auto defrost – the microwave oven features auto-defrost option, which does the thawing process very efficiently, speedily and accurately. In fact, thawing via a microwave is considered one of the best methods for thawing foods, meats, vegetables etc.
Carousel turntable – this unit features an 11.25-inch carousel turntable, which helps food cook evenly. The food is cooked evenly because the carousel turntable keeps revolving for the equal temperature exposure on the food being cooked.
Special button for favorite foods – the 1000W microwave oven allows one-touch operation for frequently cooked items such as popcorn, beverages etc. In fact, this option is convenient and time saver because you don't have to go deeply on the setting panels to cook your favorite foods.
Versatility –  because, Sharp ZR331ZS microwave oven comes in a moderate size with 1.1 cu. ft. interior, so it is pretty suitable not only for reheating meals, but also for everyday cooking needs. Such middle-size microwave oven with 1000-watt cooking power is perfect for small to middle size families, office goers, meal preparation for students etc.
Small footprint – the countertop microwave comes in small footprints, so it offers the flexibility to place anywhere you want. You can easily place this microwave on your kitchen countertop, in offices, restaurants, school and anywhere else according to your microwaving requirements.
1000W cooking power – the 1000W power is sufficient to cook most foods. The Sharp microwave oven cooks food at a fast speed. In fact, 1000W power falls in a middle range because you can find microwave oven with 700W power, 1500W power, 2000W power and above.
A User's View on Sharp 1.1 Cu. Ft. Microwave
A happy customer of this Sharp countertop microwave oven shares his experience with us. According to this user, purchasing a microwave oven is not a small task. You have to go through lengthy research work if you are conscious to your pocket.
Actually, he was looking to buy a microwave unit that is capable to fit 10-inch plates very well. Also, the microwave should be powerful enough for the heating efficiency.
In short, he wanted a microwave oven that has a fair price, a button to open the door, user-friendly control panel. Amazingly, this Sharp 1000W microwave oven is good for all the things mentioned above. Further, he mentions that Sharp ZR331ZS was his first microwave purchase, so he was totally new to purchasing a microwave oven.
Luckily, the Sharp microwave oven made him happy. Physically, when he saw this microwave, he was very happy having got this microwave. According to him, the inner space is satisfactory, gives a normal size feel.
Especially, he was very happy with the rotatable carousel in 11.25-inch distance. The unit has the capability to fit the standard 10-inch plate. According to him, cooking food in this microwave doesn't take too much time. The unit can heat up leftovers in two minutes, and the 1000-watt power is enough for most of the cooking items. Now he says that overall, I'm happy with the performance.
Newest look – the Sharp countertop microwave comes in a modern look, which is finished with stainless steel material. To make it more stylist, the microwave features a mark-proof crystal door that can match styles of the modern time.
FAQs – Sharp 1.1 Cu. Ft. Microwave Oven
Q: does this Sharp microwave oven come with a light?
A: yes, it features an interior light that switches on only when there is cooking something.
Q: can I be able to mute the beep coming out from this microwave?
A: no, you will not be able to do that. However, the manual says that it can be done using the "custom help" button but many users complain that the unit doesn't come with a "custom help" button.
Q: what is the overall dimension of the Sharp ZR331ZS microwave oven?
A: the dimensions are 20.25-inch width, 12-inch height and 13.5-inch depth.
Q: does it feature a timer?
A: yes, the Sharp countertop microwave has Kitchen Timer. To use the timer function, you need to press and hold the '0' button for 3 seconds. Please note that this function can be used only when microwave is not running.
Q: does it show fingerprints?
A: no, it doesn't have the fingerprint issues. Also, the clean-up is very easy.
Pros
Reasonable price
Middle-size microwave is suitable for all.
Cleaning the interior is very easy because stainless steel is typically easy to clean.
1000W cooking power is good for heating rapidly.
Small footprint is good for the placement flexibility.
Door opening button
It can fit plates in 10-inch diameter very easily.
Rotatable turntable to cook food evenly
Easy to use countertop microwave
Cons
According to some users, the power button should be located at different place for the convenience.
It should come with a backlight.
On a win-win note, the Sharp 1.1 cu. ft. microwave oven has numerous positives, which are directly converted into its overall good performance. The convenient microwave oven can easily be placed on a small kitchen countertop because it has small footprints.
Ending Thoughts on Sharp Countertop Microwave Oven
At the end, I will say that this Sharp microwave scores high, so it becomes a good kitchen appliance to buy. Undoubtedly, it is recommended to buy because it has numerous useful features such as 1000W cooking power, rotatable turntable, specious interior, easy cleaning profile, door opening button and a host of useful features.
Because, it is a mid-size unit, so it is perfect for all families: small and large. It is even perfect for office going persons, students, offices, shops and many others.
[home]
If you are looking for a highly rated microwave oven for a large size family, please check Sharp Countertop Microwave Oven ZR331ZS. It has 1.1 cu. ft. capacity, which is good for preparing meals for a large family.
Apart from the high capacity, it comes with 1000W of microwave power for cooking foods evenly.
This Sharp brand microwave oven is available in three different colors such as black, stainless steel and white colors.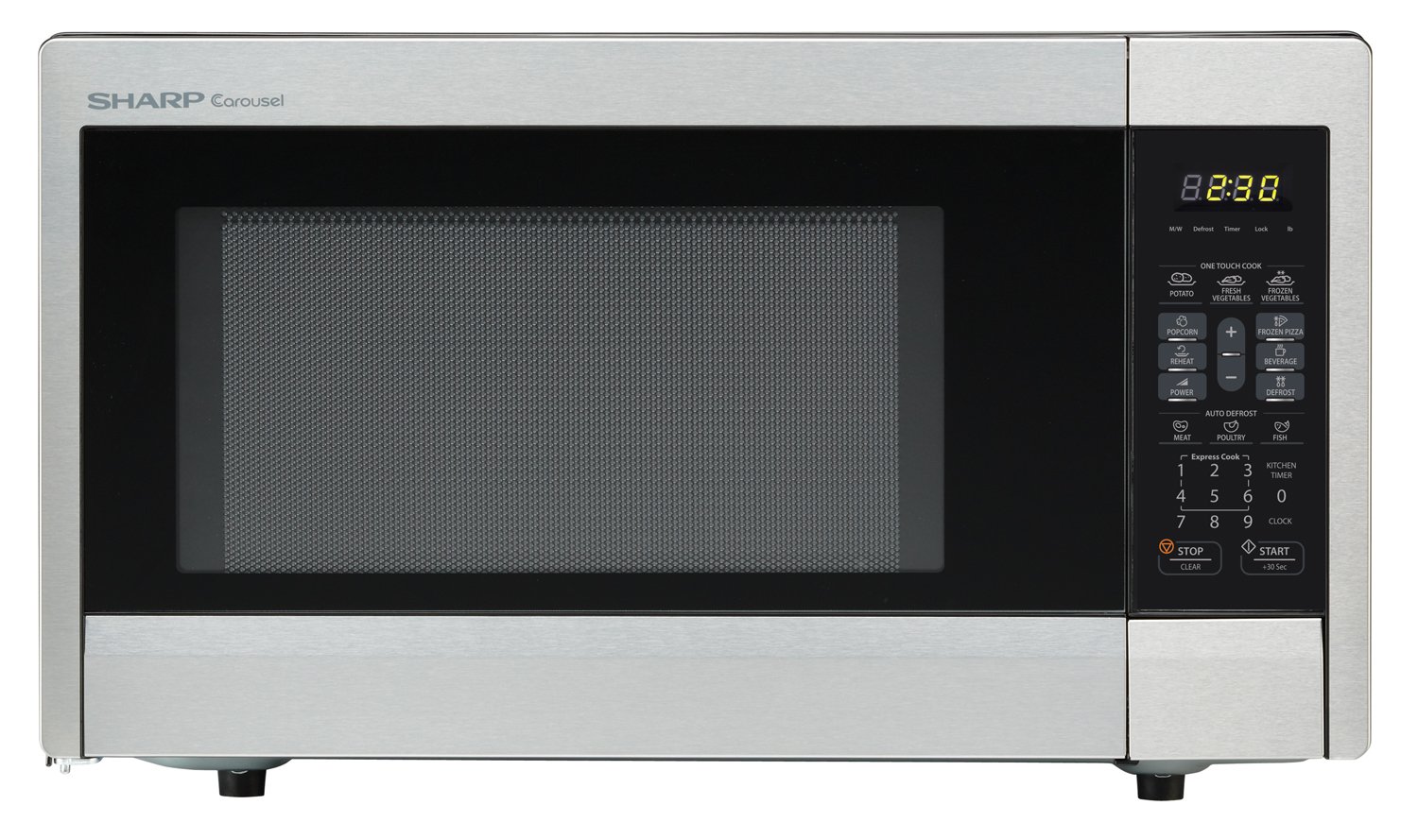 Also, Sharp Countertop Microwave Oven ZR331ZS is available in three product packaging such as Ecommerce Ready Packaging, Standard Packaging and Frustration-Free Packaging.
Further, Sharp Countertop Microwave Oven ZR331ZS comes with +30 seconds key for instant start. It also comes with one-touch start for the most popular cooking items. If you are looking for microwave oven with auto defrost feature, Sharp Countertop Microwave Oven ZR331ZS is a good unit for such feature.
Sharp ZR331ZS comes with 11.25 inches carousel turntable for even cooking. It has convenient one-touch popcorn and beverage settings. Read more…
Visited 1 times, 1 visit(s) today