Overview
Looking for the best cookware that will enhance the convenience in your kitchen? Worry no more; the fantastic Yedi 9-in-1 programmable pressure cooker will serve your needs well. It's the defined features that put it to rank among the best kitchenware that is currently trending in the leading markets! It's a design that accords convenience, versatility and also the delicacy in every cooking!
Key features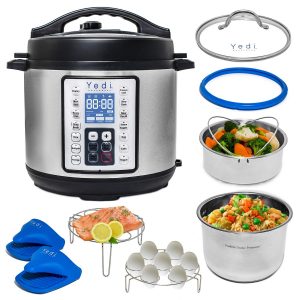 Technology in every form of the cookware has been the reason why some cookware is highly rated! With the 15 instant touch microprocessor cooking programs, the Yedi instant programmable pressure cooker proofs to be the better choice for those seeking the modernization in the kitchen. You can have a versatile cooking procedure for every meal when you have this option. The Yedi is a cookware that can replace 9 of your cooking appliances. It will serve in preparing the porridge, stew, soup, cake rice and also eggs. It has the best abilities to steam, pressure cook, and warm or even slow cook! You will have the convenience to manually input your cooking times when you are not interested with the automatic options
The Yedi instant programmable pressure cooker can also deliver sufficient food for a large family within a short time. 8 Quart capacity is adequate for a large family or even a small group of people. Notably, the efficiency and the size makes it's a better choice for persons with a larger family. You will also get other accessories when you decide to buy the cookware. They include the glass lid, the two streaming rivets for eggs, ladle rice paddle and also the cooking mitts. You will also be entitled to other accessories such as the extra silicone, the sealing ring, the stainless steel inner cooking pot and some measuring cups.
Yedi 9-in1 programmable pressure cooker is a choice that will give the consumer an incredible two warranty years. You can have your purchase replaced it faults before the lapse of 2 years. It's one of the rare cookware options that simplify every task. You get a recipe book and the cheat sheets. It also has a mobile app that uploads the contents every week.
Conclusion
This amazing Yedi cookware is a choice for the chefs seeking convenience and total control over there cooking process. Get one from amazon and enjoy the best consumer services from this leading platform! Read more…